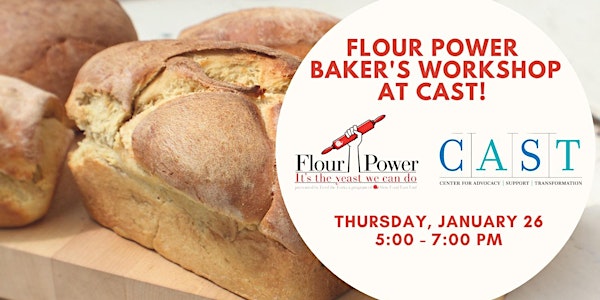 Flour Power Baker's Workshop at CAST
Let's Bake Bread for CAST!
When and where
Location
CAST Center for Advocacy, Support and Transformation 53930 Main Road Southold, NY 11971
About this event
Thursday, January 26, 2023
Join - the baking hands of our community and Bake bread for CAST! Be a part of this Baker's Workshop at CAST from 5-7pm to learn more about the Flour Power program and how you can volunteer and help provide freshly baked bread for families in need.
Event is FREE to attend Register by Jan 23rd!
Flour Power is a way members of the community can provide home-baked loaves of bread to local food pantries. The goal is to nourish and bring joy to people through a personal touch.
How Does Flour Power Work?Anyone can register to bake. Simply sign up and Slow Food East End will send you the recipe designed for 4 loaves; each baker keeps one loaf and donates three. Baking dates and all of the necessary details are listed on the Slow Food East End website and you will receive reminders for each baking cycle via email. There will be a designated drop-off point at the CAST building in Southold (when you register you will receive detailed instructions for the drop-off procedure).
We hope you'll sign up and participate in as many baking cycles as you can. We understand how busy everyone is and all we ask is to bake when you can.
The workshop is designed to help you get started on your baking journey. Come meet the Slow Food team and learn more about the recipe we specifically created for this program, sample some bread and find out how you can be a volunteer to help provide freshly baked bread for families in need.
This is a Slow Food East End and CAST Collaboration.
Learn more about SEE Flour Power and sign up online to bake for CAST here -
https://slowfoodeastend.org/flour-power-2-2/