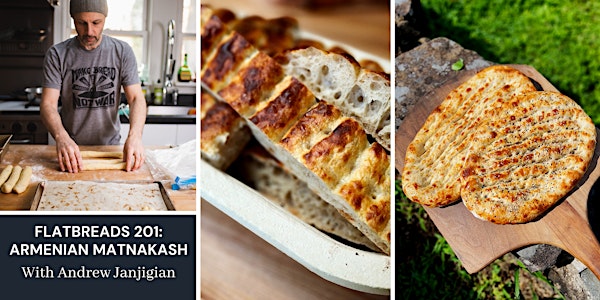 Flatbreads 201: Armenian Matnakash with Andrew Janjigian
Join guest chef Andrew Janjigian to add Armenian matnakash to your flatbread repertoire!
About this event
NOTE: iphone and ipad users, CLICK HERE to register for class.
Is "matnakash" in your vocabulary? If you love flatbreads, it should be. This soft, fluffy, dimpled Armenian flatbread is the perfect addition to any mezze spread or dinner table. Typically served as a table bread as a welcome accompaniment to robust entrees or an array of small plates, this bread is overdue to become a regular part of your dinner routine. Join guest chef Andrew Janjigian, self-proclaimed breadhead and the creator of the popular blog and newsletter Wordloaf, for an interactive class where you'll learn the secrets to perfect matnakash. We'll start with a little language lesson: matnakash literally means "drawn by fingers," referring to the way the fluffy, furrowed bread is shaped by dimpling and stretching the dough with fingertips before being slid into a hot oven to bake. It's a spiritual cousin of numerous other regional "fingerprint" flatbreads, including Iranian barbari bread, Afghan naan, Turkish pide and Lebanese manaqish. Andrew's recipe draws upon methods and ingredients found in each of these breads, along with the classical European baking techniques that are the foundation of his practice, all of which make it an easy-to-make, ultra-tender, and deeply flavorful bread. Come learn to create this bread (in both yeasted and sourdough versions) and come away with a beloved addition to your repertoire.
About Andrew: Andrew Janjigian spent 11 years at America's Test Kitchen and Cook's Illustrated magazine as their unofficial breadhead, and where he developed more than a hundred recipes, including many of their most popular bread and pizza formulas. In spring of 2020, he rode the sourdough wave into a new career as a full-time freelance recipe developer, writer, and baking instructor. The main focus of his work is Wordloaf (wordloaf.substack.com), an IACP-nominated email newsletter, with more than 7500 subscribers. Additionally, he writes and develops recipes for Serious Eats, King Arthur Baking, Epicurious, and Edible Boston, among others, and teaches bread baking workshops (virtually and in-person) at King Arthur Baking Company, Maine's Kneading Conference, and The Bread Baker's Guild of America (and now Milk Street!). Andrew lives in Cambridge, MA, where his neighbors help him out by taking surplus bread off his hands.
Want to give this class as a gift? You can purchase gift cards here.
Bonus: All attendees of this class will receive a one-time 15% off coupon to the Milk Street Store after class.
This event has limited spots, and you must register in advance via Eventbrite. One sign-up covers one device. Closed Captioning is available for this event.
Immediately after registering, you will get a confirmation email that contains the Zoom meeting log-in information. One week prior to class (or within 48 hours of registering, if you sign up less than a week in advance), you will receive an email with the ingredients, equipment and prep you'll need to cook along with us, if you choose.
After class, you will receive a recording of the event, as well as a folder of recipes and resources that we discuss during the event. Class recordings are available to all registered attendees for two weeks following each event.
Payments for Milk Street live stream classes are non-refundable. If you find yourself unable to attend, you may transfer the ticket to someone else, but we are unable to refund fees and all payments are final. Classes are subject to cancellation at any time. In the case of cancellation by the event organizer, all paid tickets will be fully refunded.
Proceeds from live stream cooking classes support Milk Street's non-profit work with The Big Sisters Association of Great Boston, The Boys & Girls Club of Dorchester, and other partners.
If you have any questions about this class, please don't hesitate to get in touch via cookingschool@177milkstreet.com.