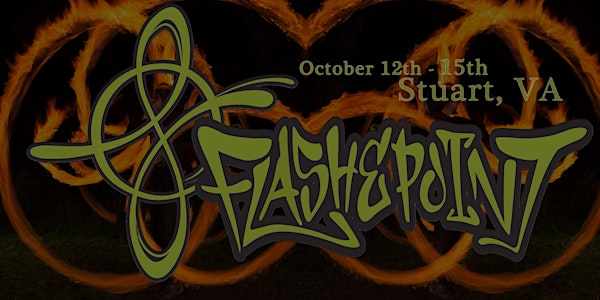 Flashepoint 2017
When and where
Location
Spirithaven 677 Spirithaven Lane Stuart, VA 24171
Description
Flashepoint is an annual gathering of aspiring and innovative flow artists and jugglers coming together for a weekend of exploration in the beautiful East coast mountains.
Join us in October 2017 for dozens of workshops, a wide variety of amazing performances, a lively fire circle every night, and a lineup of fantastic musicians and DJs to keep us going at night.
You've trained all year long, and now it's time to get together one last time before the season comes to a close. Hone in on what you've learned this year, spread your knowledge as much as you can, and take advantage of one more opportunity to learn from some of the best flow artists in the community at Flashepoint 2017.
Follow us on Facebook: https://www.facebook.com/flashepoint
FAQs
Are there ID or minimum age requirements to enter the event?
You will need to have a valid state issued ID when you arrive at the gate. Flashepoint is an all ages event. We offer youth tickets up to 14 years with strict guidelines around responsibility of the guardian.
IF YOU PLAN TO BRING A MINOR, please contact the event personally.
The ID requirements are a state driver's license, or identification card. We don't have an age limit to our event as we encourage children's involvement in our community;There are some specific conditions and age based guidelines. The youngest age an attendee may be with a signed waiver from guardians is 15 years old.
Is this a camping only event? Can I car camp?
Flashepoint IS a camping only event. You must sleep in a tent, as there is no car camping allowed, per the landowners' request.
What are my transport/parking options getting to the event?
This is a drive in/bring your own transportation event, and please try to carpool. If you need assistance with arranging transportation, contact us! We'd be happy to assist in whatever way we can. Once you're on the way, go to the address found on your ticket. Keep your eyes peeled for specific details on entry!
If you're flying into Flashepoint the nearest airports are Piedmont Triad International Airport (GSO/KGSO) & Roanoke Regional Airport (ROA/KROA) both of which are under 80 miles from Stuart, VA. Other domestic and local options include Lynchburg Regional Airport (LYH / KLYH), Raleigh-Durham international Airpoty (RDU / KRDU), & Virgina Tech Montgomery Executive Airport (BCB / KBCB).
You are able to drive your car onsite to unload all your camping supplies. After unloading, you'll need to move your car to the parking lot until you're ready to pack up and leave. There is NO car-camping allowed.
Will there be music?
We have an INCREDIBLE line-up for this year; We're sure you'll be pleased. We have some quiet/ambient music playing during the day to encourage activity in the workshops. During the evening we have live performances from various DJ's and musicians to move and entertain the fire circle.
What can I bring to the event?
You CAN bring tea, your own cup, chocolate, snacks, water, food, drinks, white gas to contribute, and plenty of readiness to learn! Please be aware, this is a Leave No Trace event (You should pack out, what you brought in).
What CAN'T I bring to the event?
You CANNOT bring weapons, drugs, illegal items, glass bottle, alcohol, pyrotechnics(including poofers), or animals to Flashepoint. You're joining us for a weekend of learning and performing. This is not a party.
If you have a service animal, you must contact us in advance with your paperwork or you may be turned away at the gate. Send an email to info@flashepoint.com with your story and we'll go from there.
Service animals are handled case-by-case, AND you must get in touch with our team in advance to discuss this with us, as the land owners have numerous lovely four legged friends.
Are there volunteer tickets?
We do not offer discount tickets pre-event for volunteers. We do, however, offer an after event refund for anyone who fulfills 3-4 volunteer slots.
That shift must be attended and signed into WITHIN 15 minutes of the start time to acquire 1 'credit' towards your discount (in addition to numerous other tokens of appreciation).
Will ice be available for sale?
No. Please acquire your ice, water, and food before you arrive onsite.
Is there an ATM onsite?
No. The nearest ATM / Walmart is 23 miles from the event ( Walmart Supercenter, 19265 Jeb Stuart Hwy, Stuart, VA 24171).
Can I leave and return?
No. Unless given express permission from a Director or GM OR an emergency arises.
Is my registration/ticket transferable?
Yes. Please send us an email with the original ticket holder's first name, last name, and email, as well as the new ticket holder's first name, last name, and email to info@flashepoint.com OR see section below.
What is the refund policy?
All ticket purchases are final. Once you buy a ticket, you're expected to sell or gift it to someone else if you can't make it. If you are an instructor who purchased a ticket before finding out you were receiving a ticket for compensation, please contact us.
Tickets are always easiest to sell as we get closer to the event, especially if you have a lower priced ticket from an earlier tier.
Can I update my registration information?
Yes. Please read This Article From Eventbrite for directions on changing the information for your ticket(s). You'll need to square away the financial side of it between you and the person you're selling or gifting your ticket to. Once that's done, go in and change the ticket to their information so they receive a copy of it in their email.
If you run into problems, please send an email to info@flashepoint.com with the original ticket buyer's first and last name, and include the First Name, Last Name, Email, and Phone Number of the new ticket holder.
Do I need to print my ticket before arriving on site?
No. You do not have to print your ticket. Once your name is in our registration system, you're okay to show up to the front gate with your ID so we can find you on our list.
If you suspect that your first and last name is not on your ticket, please read This Article From Eventbrite for directions on changing the information for your ticket(s) or contact us at info@flashepoint.com
If your ticket does not match your ID, please send us an email with that information so we can fix your ticket. All tickets must have the legal first and last name of each attendee.
The name on the registration/ticket doesn't match the attendee. Is that okay?
No. All tickets must match the legal first and last name of each attendee. If you need any tickets adjusted, please send an email with those details to info@flashepoint.com. If you arrive at Flashepoint with an unregistered name/ticket, you MAY be asked to purchase a gate ticket to acquire entry.
Where can I contact the organizer with any questions?
You can email info@flashepoint.com or contact us, via private message, on Facebook : https://www.facebook.com/flashepoint/