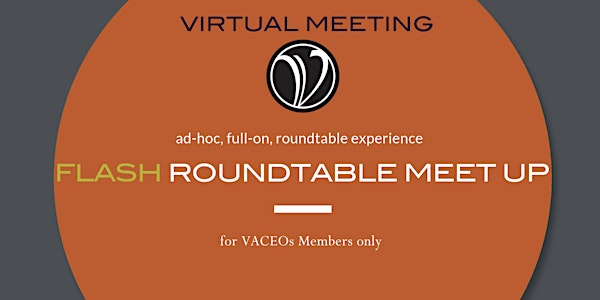 Date and time
Friday, April 3, 2020 · 1 - 3pm EDT
Description
Come VIRTUALLY participate in this one-time FLASH roundtable. This is a pilot to test the concept of a random, one-time VIRTUAL roundtable. This FLASH roundtable is open to all Members and will enable all to experience share outside of their existing roundtable. The group will "meet" through a Zoom call.
Facilitators: David Bender, Weeded! Lawn Service
Members only.
Agenda
1:00 Hard Start (Zoom instructions will be sent a few days before meeting date)
1:30-2:25 Updates/Presentations
3:00 Adjourn
Ground Rules for FLASH Roundtable
Commit to being present
- Arrive on time and stay the entire time
- Focus on your peers
- Phones are put away during the meeting. Phones can be used during breaks.
Observe Confidentiality
- Everything that is said in this meeting is confidential.
- Do not share stories, or even parts of anything shared here with anyone – spouse, friends, colleagues.
Stick to time and agenda
- Respect the leader and timer
- Stay on point, don't wander
Use the Gestalt Language Protocol. During this Roundtable, if you are speaking, these are the rules:
- I will speak about my own experience rather than give advice.
- I will speak in specifics telling my exact stories rather than generalizing.
- I will avoid using the words "you," "you should," "I would," "one," and "did you think of?" Instead, I will focus on saying "I" when sharing my experiences.
About the organizer
We connect CEOs of small and mid-sized Virginia companies through peer roundtables and exclusive learning events.