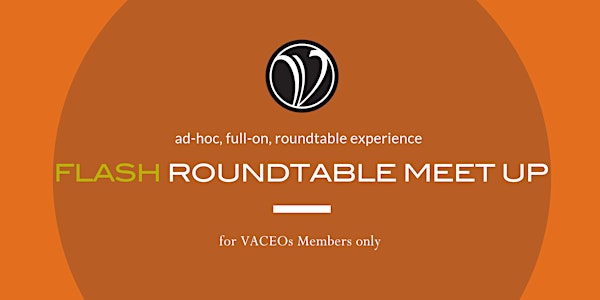 FLASH Roundtable
When and where
Location
VACEOs HQ 1500 Mactavish Ave RICHMOND, Virginia 23230
Description
Come participate in this one-time FLASH roundtable. This is a pilot to test the concept of a random, one-time roundtable. This FLASH roundtable is open to all members and will enable members to experience share outside of their existing roundtable. The group will only meet this one time.
Facilitator: Connie Hom, Buckingham Greenery
Members only.
Agenda
12:30 Soft Start (Bring lunch and complete Update Forms)
1:00 Hard Start
1:30-3:25 Updates/Presentations
4:00 Adjourn
Ground Rules for FLASH Roundtable
Commit to being present
- Arrive on time and stay the entire time
- Focus on your peers
- No phones or laptops on the table
- Phones are put away during the meeting. Phones can be used during breaks.
Observe Confidentiality
- Everything that is said in this meeting is confidential.
- Do not share stories, or even parts of anything shared here with anyone – spouse, friends, colleagues.
Stick to time and agenda
- Respect the leader and timer
- Stay on point, don't wander
Use the Gestalt Language Protocol. During this Roundtable, if you are speaking, these are the rules:
- I will speak about my own experience rather than give advice.
- I will speak in specifics telling my exact stories rather than generalizing.
- I will avoid using the words "you," "you should," "I would," "one," and "did you think of?" Instead, I will focus on saying "I" when sharing my experiences.