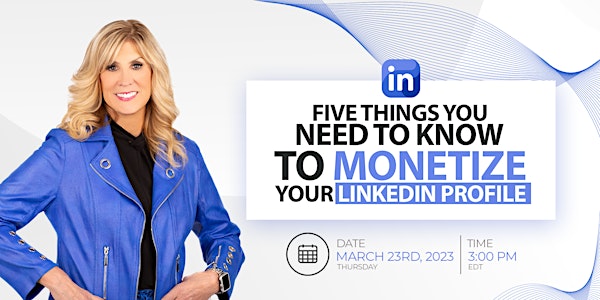 Five Things You Need to Know to Monetize Your LinkedIn Profile
Network After Work is proud to present a special webinar on Thursday, March 23rd | 3pm EDT.
Date and time
Thursday, March 23 · 12 - 1pm PDT
About this event
Did you know that 4 out of 5 LinkedIn members drive business decisions? With a LinkedIn profile that is upgraded and optimized and the RIGHT strategy, you can get in front of your ideal prospects, referral partners and decision makers converting them into potential clients.
Rhonda Sher will be training you personally with the same techniques and strategies that her clients have paid her thousands of dollars for to create profiles that convert relationships to revenue.
You will learn what MUST be on your LinkedIn profile to be positioned as the ONLY logical choice for the product or service you offer so you can generate more appointments and more business while creating visibility and credibility.
Rhonda Sher's students include top leaders in every industry. Her clients have generated thousands of dollars in new business from LinkedIn over and above what they were already earning.
Without a client centric, optimized professional LinkedIn profile, you are potentially losing business every single day.
Nothing else matters if you don't appear credible on LinkedIn since people are 2x more likely to believe what they see on LinkedIn than any other platform.
If you are ready to stop "hiding out" on LinkedIn and want to start "standing out", join Rhonda Sher on this free webinar
RSVP FREE NOW
About the organizer
Network After Work is a professional community consisting of Entrepreneurs, Professionals, Executives and thought leaders who understand the importance of building meaningful connections. Built on the idea that professionals in every industry across the world all share a common goal, to develop strong relationships that help grow their businesses and careers. Through meeting in-person and virtually, Network After Work provides a platform that makes connecting easy. Hosting live events in 86 US locations with plans to add additional US cities and international locations, growing your business and relationships has never been easier.
For 10 years, we have been at the forefront of face-to-face business connections. As social media and virtual relationships have been all the rage over the past decade, we have found that live interactions are still the best way to build solid connections. Shaking hands and looking someone in the eye is an invaluable skill and builds the strongest foundation for long-lasting connection.
Though meeting in-person is our foundation, meeting virtually is a great accompaniment to our signature live events. With our goal to make your business connections long-lasting and sustainable, our mission is to do everything for you, all you need is the desire to seize new opportunities and the willingness to help others.