Learn more about Matrix Parent Network and Resource Center!
About this event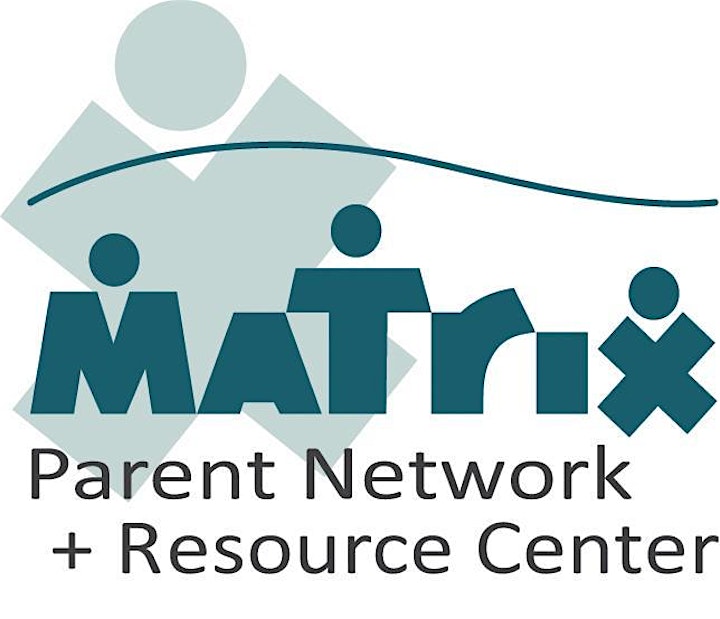 Matrix Parent Network and Resource Center is a parent-founded, parent-operated nonprofit organization founded in 1983.
We are parent-operated by intention and design. More than 50% of our Board of Directors are parents of children with diverse abilities and needs. Additionally, most of the staff at Matrix have children with special needs; they have a deep understanding of what families are experiencing. All of our services are free, supported through grants, contracts, donations, and fundraising activities.
Matrix provides both direct services to families and technical support services to other federally-funded parent centers.
Speaker: Margaret Johnston, Senior Parent Advisor
Margaret Johnston serves as Senior Parent Advisor for Matrix Parent Network and Resource Center. She joined the Matrix staff in 2011, after participating in a parent support group there. As a Parent Advisor, she assists families of children with special needs access the support systems that serve them. Much of the work involves helping parents navigate the Special Education system. About 10% of students in Marin County are eligible for special education and their families represent a broad range of economic, social and cultural communities in the County.
What Margaret enjoys most about her present position at Matrix is working in a flexible and supportive environment with wonderful and dedicated co-workers, and being able to assist parents in their efforts to obtain the educational and other supports their children need. As Senior Parent Advisor, Margaret is instrumental in developing and delivering training workshops for parents and recruiting and training new Parent Advisors, as well as answering questions on the Matrix helpline and working one-to-one with parents who need additional support.