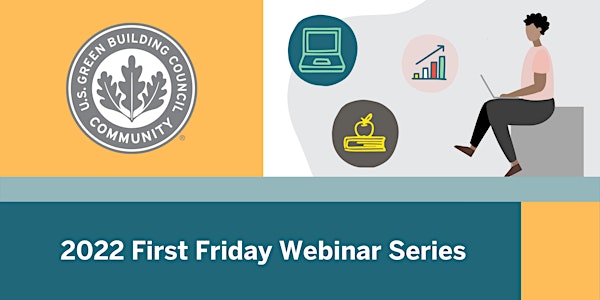 First Friday Webinar: Accelerating Building Decarbonization with LEED
Join us for our 2022 monthly First Friday Webinar education series. Earn LEED specific CEU credits.
Refund Policy
Contact the organizer to request a refund.
About this event
Our December 2022 online webinar will be on Friday, December 2 at 10:00 am PT / 11:00 am MT / 12:00 am CT / 1:00 pm ET. Login From your computer. Please note that registration closes one hour before the event starts to make sure everyone can get the proper links.
This collection of LEED specific courses is available to anyone but is free with an individual membership supporting your local community. Code for free entry is sent quarterly or request at https://usgbc.wufoo.com/forms/qnwormn1w34s5j/ If you have any event registration issues or access to the event, please contact Suzanne Haerther, shaerther@usgbc.org.
This course is approved for 1 hour LEED specific for BD+C, ID+C, O+M, and the LEED Green Associate.
About:
The green building community is committed to decarbonizing the built environment, but what does that mean in terms of LEED? Thought leaders share strategies and techniques for cutting operational energy and embodied carbon emissions of buildings.
LEED v4.1 represents a renewed focus on carbon reductions throughout the building lifecycle. From designing for zero energy building operations, to tackling the embodied carbon of materials we make buildings out of, LEED v4.1 rewards innovative strategies to cut carbon.
Speakers at this session outline how LEED addresses carbon holistically throughout the rating system, then dig into the details for practitioners looking to decarbonize their buildings. These experts, fluent in LEED will cover:
Tips and tricks in achieving the revised Energy and Atmosphere credit category in LEED v4.1
The new GHG metric used in the Optimize Energy Performance prerequisite and credit.
Strategies for reducing embodied carbon of materials
The role of EPDs and waste prevention in reducing embodied carbon emissions, including tips for selecting products with low-carbon footprints.
Perspectives on additional high-impact carbon sources found in buildings and sites that are also targets for decarbonization, such as from landscapes and building sites.
Listen to a lively and thought-provoking session on the present and future of decarbonization in LEED. Subject matter experts take a deep dive into strategies included in the Energy and Atmosphere and Materials and Resources credit categories of LEED v4.1 including strategies under consideration for the future of the rating system.
Opening hosted by the Big South Region.
Objectives
Understand how to maximize carbon reductions through the revised LEED v4.1 BD+C and ID+C credit: Optimize Energy Performance
Learn how to cut embodied carbon by leveraging Materials and Resources credit: Building Life-cycle Impact Reduction.
Gain insights into the embodied carbon impacts of products and materials as found in the MR credit: Environmental Product Declarations
Explain the present and future role of decarbonization in LEED v4.1 and beyond
If you have any event registration issues or access to the event, please contact Suzanne Haerther, shaerther@usgbc.org.