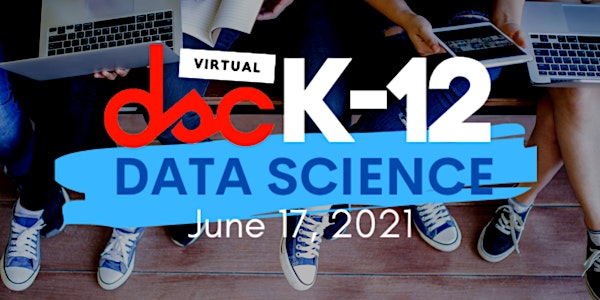 FIRST EVER K-12 Data Science Conference 2021
The K-12 Data Science Conference 2021 will expose K-12 students, educators, and parents to data science concepts, paths, and careers.
Refund Policy
Refunds up to 30 days before event
Eventbrite's fee is nonrefundable.
About this event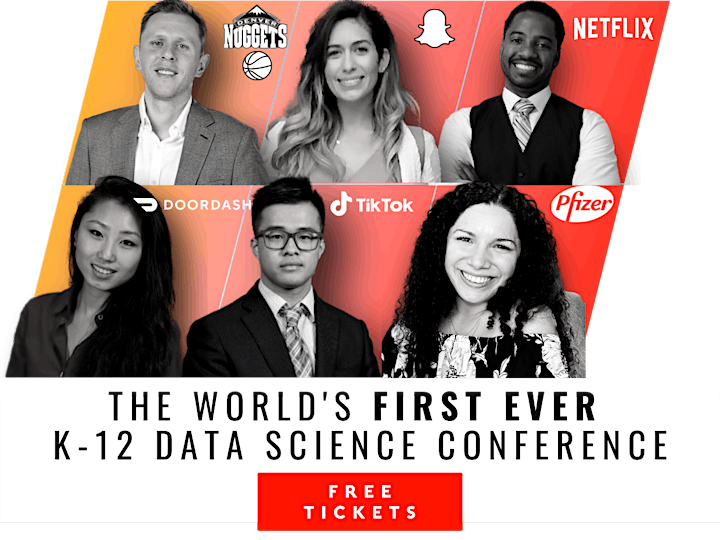 Data scientist is now the highest-paying job for students graduating with a bachelor's degree in the United States and is projected to grow from a $138.9 billion market in 2020 to a $229.4 billion market by 2025. However, experiences with data are rare in today's K-12 classrooms and curriculum.
This program will introduce K-12 students, educators, and parents to foundational data science concepts and examples of data science careers across industries with a combination of workshops and presentations, divided into three levels for age-appropriate content. *K-12 educators and parents are encouraged to attend!*
THIS CONFERENCE WILL BE MULTI-TRACK:
⭐ GRADES K-4 📊
FOUNDATIONAL CONCEPTS: Establish intuition and core ways of thinking about and visualizing data
⭐ GRADES 5-8 💻
TOOLS & TECHNIQUES: Focus on platforms and tools that support data analysis and bring insight
⭐ GRADES 9-12 🚀
BECOMING A DATA SCIENTIST: Learn what it takes to be a data scientist -- including skills, training and education
⭐ K-12 EDUCATORS 👩🏽‍🏫
WHO, WHAT, WHEN, WHERE, & WHY: We'll incorporate presentations, panels, and other hands-on sessions that are specific to K-12 educators
CURRENT SPEAKERS & INSTRUCTORS INCLUDE:
📸 Sarah Nooravi | Data Scientist @ SnapChat
🎬 Rene Simon | Senior Data Scientist @ Netflix
🐯 Shreya Chaudhary | Developer Advocate Intern @ TigerGraph and 12th Grader at Keystone School
🎵 Zhejian Peng | Machine Learning Engineer @ TikTok
🏀 Tommy Balcetis | Assistant General Manager @ Denver Nuggets
💉 Nechama Katan | Director of Data Science @ Pfizer
🥙 Dawn Lu | Data Scientist @ Doordash
📲 Frances Boykin, PhD | Principal Advanced Analytics Manager @ AT&T
🏫 Debbie Durrence | Chief Data Officer @ Gwinnett County Public Schools
🐯 Gaurav Deshpande | VP of Marketing @ TigerGraph
🏥 Farhana Faruqe | Data Scientist & Researcher @ Children's National Health System/George Washington University
🏫 Holly Windram | Chief Executive Officer @ Learnatric
📊 Bill Franks | Director of the Center for Statistics and Analytical Research @ Kennesaw State University, School of Data Science and Analytics
📰 Simon Kingaby | Manager, Global Data & Analytics @ Deloitte Global
🎨 Wendy Kallina, PhD | Founding Faculty Director of Data Visualization Program @ Agnes Scott College
👜 Morgan Cundiff | Data Scientist @ ShopRunner
🏈 Kratik Malholtra | Head of Data Science @ Texas A&M Football Team
🏨 Brian Mink, Esq | General Counsel @ InTown Suites
🐅 Jonathan Herke | Manager of Developer Relations @ TigerGraph
🚁Joyce Myers | Chief Data & Analytics Officer @ U.S. Army Aviation and Missile Command
💊 Krystal Perez | Data Science Manager @ Pfizer
🎓 Ginger Baxter | Director of Ziff Graduate Career Center @ University of Miami Business School
📑 Afrozy Ara | Director of Data Science @ Incedo Inc.
📈 Anish R. Verma | Chief Data Officer @ STEM Fellowship
👩‍🏫 Jennifer Priestley, PhD | Professor of Statistics and Data Science Analytics @ Kennesaw State University
🧼Jai Prakash | Head of Analytics and Automation @ Reckitt
🐼 Hannah Arnson, PhD | Director Data Science @ Pandata LLC
💻 Ganapathi Pulipaka, PhD | Chief AI Scientist @ Accenture
🚀 Meg Ray | K-12 Education Advisor @ Cornell Tech
👨🏾‍⚖️ Vienna Thompkins, MPA | Senior Data & Policy Specialist, Crime and Justice Institute @ Community Resources for Justice (CRJ)
🎇Mo Medwani | Founder @ Big Bang Data Science
👩🏽‍💻 Sharon Torrence Jones PhD | Founder & CEO @ thedot.Consulting & The Dottie Rose Foundation
📚 Vika Viktoria | Founder @ Stories That Shift
💡 Vida Williams | Chief Data Officer/Chief Diversity Officer @ SingleStone
👨🏽‍⚕️ Tom Murickan | Student Ambassador @ AIMed
👉 EVENT WEBSITE HERE 👈
sponsor inquiries: sponsors@datasciconnect.com