Description
Fire Toxicity 2016
, is a three day conference held at the University of Central Lancashire (UCLAN), in Preston, UK, bringing together experts from across the world to highlight research and open discussion in this key area.
The event runs from Mon 21st March to Wed 23rd March. Each day is themed allowing participants to focus on their most important issues. For those staying in Preston, there will be a programme of evening social events.
Call for Posters
Programme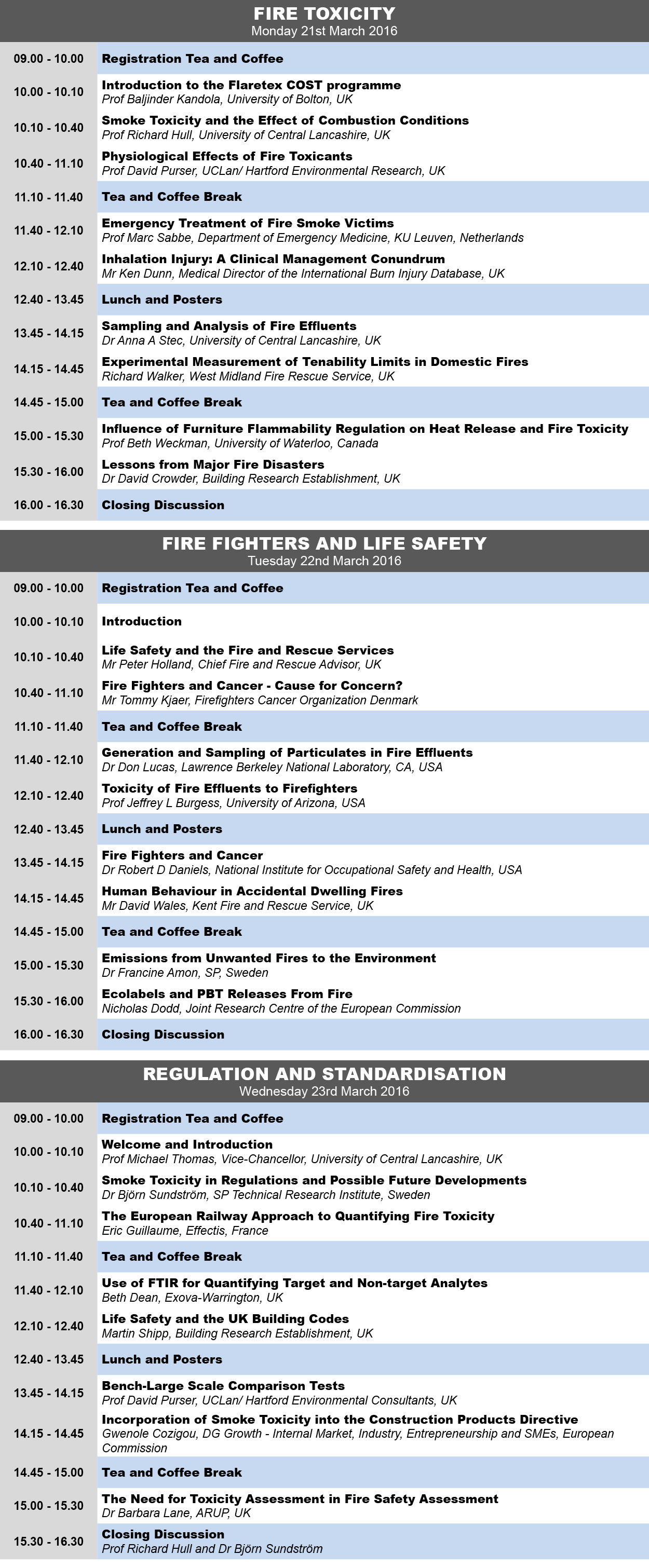 Conference Location
The conference is being held at the University of Central Lancashire (UCLan) in Preston. Preston is a city in the north west of England about an hour from Manchester and Liverpool. There are three major international airports – Manchester, Liverpool John Lennon and Blackpool International close by. There are direct rail links from Manchester Airport, London, and elsewhere to Preston.
A map and further information on how to get to UCLan at Preston by air, road, rail can be found at http://www.uclan.ac.uk/visit/how_to_find_us.php
The UCLan campus map can be seen here. The lectures and exhibition will be held in the Darwin (the first two days) and Vernon Building (the last day). The Fire Laboratories are in the J B Firth Building and lunches will be in The Refectory in Foster Building (for the first two days) and Vernon Building (for the last day).
Car Parking
If you are bringing a car to the conference you MUST let us know by 1st March as we have to pay the university to reserve a space for you in either the Darwin or the Marsh Car Parks adjacent to the Darwin Building (the cost of parking in the university car park will not be passed on to delegates, but we will only reserve the number of spaces requested and the attendant will have the list of names).
Accommodation
Accommodations options can be seen here.