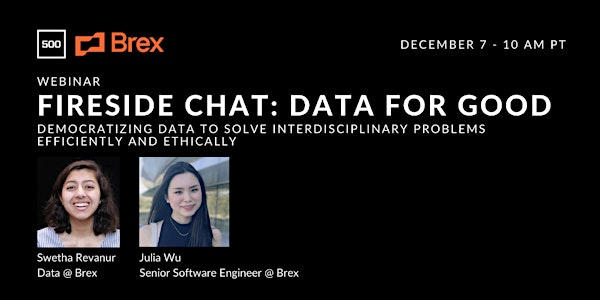 Fireside Chat: Data for Good with Brex
Explore the possibilities in democratizing data to solve interdisciplinary problems and increase diversity across the ecosystem.
About this event
OUR SPEAKERS
Swetha Revanur
Swetha cares about democratizing data and machine learning to solve interdisciplinary problems efficiently and ethically. While a student at Stanford University, she cofounded and taught the first class in AI for social good, and pursued technical projects in disaster relief, human trafficking, and education. With the same principles in mind, she joined Brex in January to enable diverse organizations to make informed decisions with their data. In the months since, Brex has processed nearly ten million transactions from thousands of card users across an assortment of startups and small businesses. As a data engineer, Swetha has harnessed this new volume to build platforms for OCR-based bank statement processing, automated transaction categorization, and most recently, spend anomaly detection. Her work has impacted all active customers, dramatically reducing the time and number of manual touchpoints necessary for them to access capital. Swetha looks forward to driving more bold projects that allow growing businesses to meaningfully improve people's lives.
Julia Wu
Julia is a senior software engineer at Brex on the Financial Infrastructure team. Her current focus is on protecting Brex and its customers against card fraud, though she previously worked on APIs. Prior to Brex, Julia was a backend engineer at Apple Siri and Microsoft. She has received funding and scholarships from Pioneer (a remote accelerator), Google, Facebook, and Square. She graduated from Brown University as a first-generation college student with a Bachelor of Science in Computer Science-Economics. Julia fell in love with hackathons in college and hasn't stopped tinkering since. At Brown, Julia also founded Lean In on campus and was president of the Women in Computer Science and Women in Business groups. Julia grew up between Brazil and China before moving to the US for college.