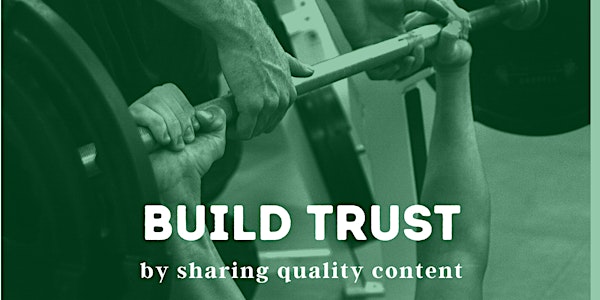 Firecat First Friday February: Build Trust with Quality Content
People work with those they know, like, and trust. How do we build trust without face-to-face meetings? One answer: Quality Content.
About this event
We're all familiar with the opt-in marketing model, where a vendor offers compelling content free — if you give up your email address. When you lead with a generous offer of valuable, regular content, you can build stronger trust with prospects, faster. That approach can feel very transactional, even coercive.
Michael Espinoza will cover 5 steps to building trust with targeted prospects, then turn them into loyal customers. After establishing trust and your reputation, sales are a natural outgrowth. This trust process is the same for all business relationships, from small businesses to large enterprises, and works not just with prospects, but with existing customers, employees, and partners too.
He'll share a content marketing system for businesses to get their brand in front of a target audience to generate more meetings and sales.
This session is relevant for:
sole proprietors, freelancers, and business owners
content strategists and marketers
content creators, UX and CX practitioners
product and service owners and leaders
communications and PR professionals
About the Presenter
Michael Espinoza is Co-Founder of Technology Coaching, a company that offers consulting and tools to teach business owners and marketers to select and use technology to reach potential customers — and convert them.
Michael teaches technology and networking classes at the University of Texas at San Antonio, LiftFund, Women's Business Center, and Alamo Community College, as well as other adult education classes.
His LocalBusinessCalendars.com websites publish curated networking and business events for business communities in San Antonio, Austin, Houston, Dallas, Tampa, and San Diego.
In addition to enterprise technology experience with Microsoft, Apple, Intel, AMD, and Blackberry, Michael has run his own successful small business for more than 20 years.
About Firecat First Fridays
Firecat Studio sponsors free monthly UX and marketing lunch-and-learn sessions to keep our clients and the UX/creative community stoked and humming. If you're curious, register!
Firecat Studio Online Zoom Webinar (register to receive the info)
We'll start the topic session right at noon and wrap it by 1 pm. 
Download and test your Zoom before 12 Central Time (UTC - 5) so you're ready to rock! Please enable your camera to ensure you're able to interact with the group.
About Firecat Studio 
We are a human-centered design agency in San Antonio, Texas. We help organizations innovate, transform and win using UX and human-centered design, marketing strategy, and service design. Our team of experienced idea producers and workshop titans are ready to help you clarify your vision, align your team, and reach your business goals. We specialize in connecting strategy to execution.