Location
Smart-Space FinTech
Level 4, Core E, Cyberport 3
Hong Kong
Description
It's the end of the beginning. Fintech entrepreneurs, decision-makers in large financial firms and developers in tech giants are getting down to the nitty-gritty of developing and implementing fintech solutions. It's time to get down to brass tacks.
Two leading lights and experienced hands are not only looking at solutions but actual implementation in companies from around the world.
Tim Grant is leading the Lab and Research Centre for R3, the leading firm in New York bringing together the world's finest minds in finance and technology to deliver the world's next-gen solutions. He runs the genius shop. In addition to looking into the future, he will look at how blockchain, big data, VR and AI are colliding when being implemented in firms like Numerai, Gen.Life, and Decentraland. From hedge funds to insurance and beyond, leading firms aren't planning - they're doing. Jehan Chu, leading blockchain guru will be drilling deep into the shale with Tim Grant.
Paolo Sironi's successful FinTech firm was brought into IBM Watson Financial Services. He just published his book - recently a blockbuster in China post-translation - FinTech Innovation: From Robo-Advisors to Goal-Based Investing and Gamification. He'll get real with NexChange Chief Strategy Officer Andrew Economos as they discuss how cognitive banking is being combined with knowledge digitalisation to not only enhance the customer experience but guide the consumer to smarter behaviors that work for financial firms and the customer alike.
Download the
NexChange app
now and sign up so you can ask direct questions about how fintech is being made real in leading firms around the world.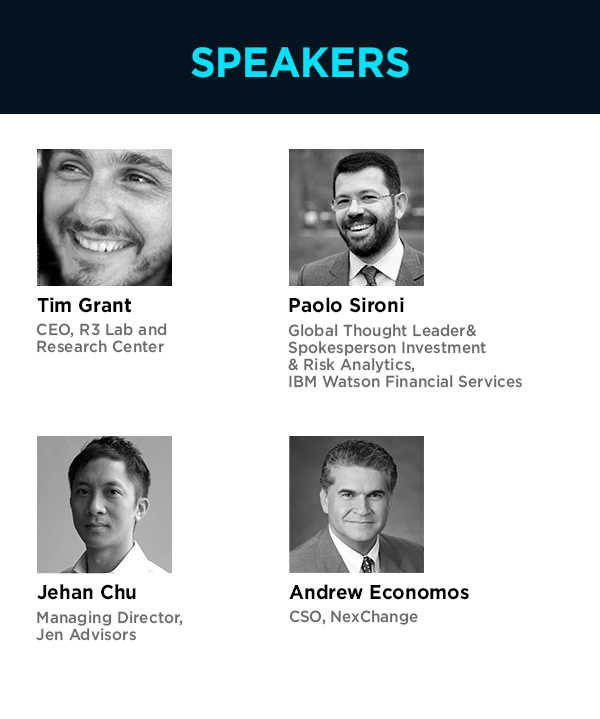 Agenda:
15:30 - 16:00 Registration
16:00 Event Kickoff
Opening Remarks
Juwan Lee, Founder and CEO at NexChange
Dr. Toa Charm, Chief Public Mission Officer at Hong Kong Cyberport Management Company Limited
Fireside Chat #1
Tim Grant, CEO at R3 Lab and Research Center
Jehan Chu, Managing Partner at Jen Advisors, moderator
Networking break
Fireside Chat #2
Paolo Sironi, Global Thought Leader and Spokesperson Investment and Risk Analytics at IBM Watson Financial Services
Andrew Economos, CSO at NexChange, moderator
Closing Remarks
Networking Cocktail