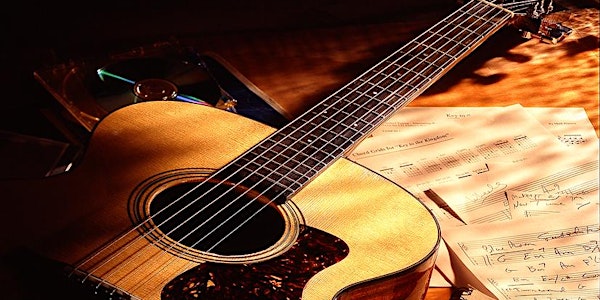 Fingerstyle Guitar Workshops with Mark Hanson
For the first time, Mark Hanson's most popular workshops will be offered online so fingerstyle guitarists across the world can participate!
When and where
Date and time
March 28, 2020 · 10am - May 9, 2020 · 12pm PDT
Refund Policy
Contact the organizer to request a refund.
Eventbrite's fee is nonrefundable.
About this event
All workshops will be held on Saturdays from 10am-12pm PDT, which is 1-3pm EDT and 17:00-19:00 GMT.
TOPIC #1: Basic Music Theory, Made Understandable and Fun for Guitarists!
Saturday, March 28 from 10am-12pm PDT
Many guitarists are intimidated by the thought of music theory, or feel that understanding it is unnecessary. ("Paul McCartney never learned it!" Ah, but he did, in his way!) However, learning the basics of theory will enable you to be a more discerning listener as well as player.
In this workshop, I present my step-by-step method of understanding how Western harmony works and how it applies to the guitar.
Together, we will:
Review a short history of the development of Western harmony ("It's physics, my friend!");
Analyze and understand scales, chords, progressions and compositional structures—all with the purpose of making you a better guitarist;
Learn how to use chords more effectively on the guitar.
As our model we'll use my updated and thoroughly expanded tune "Taylor's Ferry" (in two keys, with new sections!). In addition to understanding its scales, chords and structure, you'll have a cool tune to play—the way that only I play it!
TOPIC #2: Secrets of Smooth Fingerstyle Playing
Saturday, April 18 from 10am-12pm PDT
Would you like to play as smoothly as the professional fingerstyle players you admire? Let me help you understand and master techniques and approaches that can make a world of difference in your playing.
In this workshop, we will cover numerous picking and fretting techniques that will enhance the flow of your playing, including:
Timing (an essential element!);
Balance of volume between voices;
Recognizing the melody in a composition;
Making the melody stand out over the accompanying voices;
Independent movement of fretting fingers for individual voices;
The workshop will include exercises to improve all of the covered techniques. As our model, we'll practice my recent tune—"Jim Hill"—and learn to make it really sing!
TOPIC #3: Fingerstyle Jazz for "Folkies"
Saturday, May 9 from 10am-12pm PDT
Have you ever wanted to play "In the Mood" for solo guitar, or "Georgia On My Mind" with jazzy chords? This workshop will help you learn how! In this workshop you'll learn:
An overview of required picking-hand techniques, including exercises;
How four-note jazz chords differ from their folky cousins, and how to build, fret and visualize them, using Mark's unique method;
A new understanding of how this style is built, and how to make it swing!
This workshop will include exercises to prepare you for my arrangements of "In the Mood" and "Georgia." This workshop will be somewhat more demanding of the fretting hand and will be especially suitable for folks at an Intermediate level or higher, though all are welcome.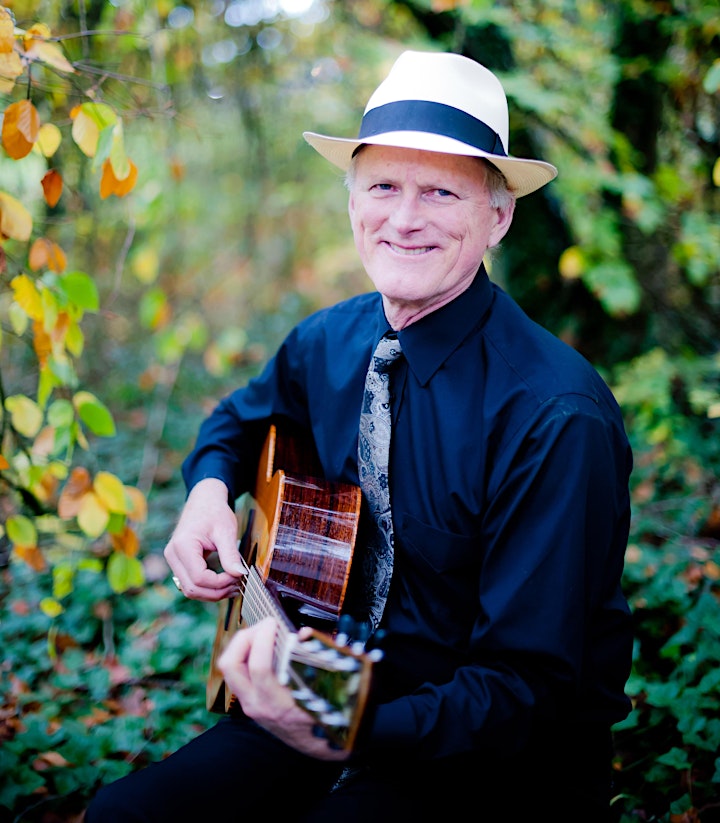 About Mark Hanson
Grammy-Award winner Mark Hanson is a well known performer, author, and instructor in the acoustic guitar field. He has authored over two dozen guitar books/DVDs on a variety of topics, released 10 solo and group recordings, and contributed to numerous tribute CDs, one of which – Solid Air Records' "Henry Mancini Pink Guitar" – won a Grammy for best pop instrumental album in 2005.
A number of Mark's recordings have been – and are currently – heard on syndicated radio and television, including NPR, Martha Stewart Living and American Idol. Mark played for the President of the United States in 2009.
Mark and his wife, Greta Pedersen, founded Accent On Music LLC in 1985, publishing his many titles and hosting the annual Accent On Music Fingerstyle Guitar Seminar in Portland, Oregon. Performers/teachers such as Tommy Emmanuel, John Renbourn, Alex DeGrassi and Laurence Juber have joined Mark for the fest.
Mark earned a music degree at Stanford University and performed and taught for many years in the San Francisco Bay Area.
FAQs: Ask Mark
What levels are these workshops geared towards? What level am I?
These workshops are for everyone, regardless of level, though I recommend you have some basic knowledge of fingerpicking. I have considerable experience tailoring my delivery to the attendees. You'll be asked to identify your level when you register so I can do just that.
Here's a quick guide to assess your approximate level:
Beginner: you can strum songs; you've practiced for <50hrs
Advanced Beginner: you can fingerpick some patterns like "Canyon Canon" or "Wheels"
Intermediate: you can fingerpick "Freight Train" or equivalent; have taken private lessons and/or can keep a steady rhythm while fingerpicking a variety of patterns;
Advanced Intermediate: you can fingerpick a solo tune like "Drake's Passage" or "Postscript"
I've never participated in an online workshop before. How will it work?
Workshops will be held via a video-conference app called Zoom. You'll be able to see and hear me, ask questions, and receive feedback. These online workshops will be structured just like regular workshops: interactive, informative, and fun! Zoom login information will be circulated 24hrs prior to the workshop.
Is there a discount for signing up for all three workshops?
Yes! Each workshop is $40 each, but you can sign up for all three for just $99.
I want to sign up but don't know if I can make that exact time. Will the workshops be recorded?
Workshops will be recorded, and a password-protected link will be circulated to all registered participants within 48 hours of the workshop. This link will be accessible for three weeks after the workshop.
What platform will we be using? What do I need in order to participate?
We will be using Zoom, a video-conference app. Learn more about system requirements for PC, Macs, and Linus online here. We recommend that you have reliable internet connection and install the most up-to-date version of Zoom and of your computer's operating system. This workshop will be interactive, so plan to have your video and microphone enabled. Zoom login information will be circulated 24hrs prior to the workshop.
What if I have to cancel my registration? Can I get a refund?
Refunds will be available through Eventbrite until 7 days prior to the workshop.
What if I have other questions?
Contact Marta Hanson at marta.hanson@gmail.com.
About the organizer
http://www.accentonmusic.com/calendar.asp