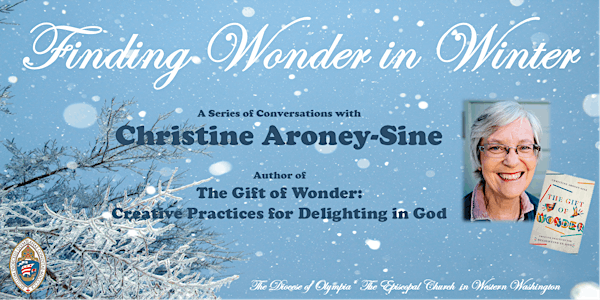 Finding Wonder in Winter: Discussion Series with Author Christine Sine
In the deep mid-winter, join author Christine Aroney-Sine for a wonder-filled conversation inspired by her book.
About this event
You can infuse your life with joy, even right in the middle of winter when you need it most...
Join Christine Aroney-Sine for a series of five inspiring conversations, based on her book, The Gift of Wonder: Creative Practices for Delighting in God.*
Put another log on the fire and then let's gather via Zoom on Wednesday nights from 7:00 - 8:00 p.m. to explore these themes:
January 19 - The Awe of Wonder (Introduction)
January 26 - Wonder & Trauma
February 2 - Play!
February 9 - Reminiscing
February 16 - The Joy of Gratitude
* We will mail you the book with your $10 registration. If you already have the book, the series is free.
Sponsored in part by the Diocese of Olympia, the Episcopal Church in Western Washington. Many thanks to Sue Dimmitt, Director of Faith Formation at Holy Cross, Redmond, for her assistance in coordinating Christine's participation.
About Christine...
Christine Aroney-Sine M.D. is the founder and facilitator for the popular contemplative blog Godspace, which grew out of her passion for creative spirituality, gardening and sustainability.
Christine describes herself as a contemplative activist, passionate gardener, author, and liturgist. She loves messing with church traditions and inspiring followers of Jesus to develop creative approaches to spirituality that intertwine the sacred through all of life. She facilitates workshops on contemplative and creative spiritual practices, spirituality and gardening, simplicity and sustainability as well as on how to develop a more spiritual rhythm for our lives.
Christine is inspired by Celtic Christian spirituality, which has opened her eyes to the God who is present in every moment, every experience and every place. She is open to learning from everyone and everything around.
Together with her husband, Tom, Christine also co-founded Mustard Seed Associates a small organization that encourages followers of Jesus to think about how the world is changing and how we need to change to be more effective in the future.
In a former life Christine trained as a physician in Australia practiced in New Zealand and developed and directed the healthcare ministry for Mercy Ships. She spent 12 years on board the mercy ship M/V Anastasis facilitating the development of a program for cleft lip and palate repair and cataract removal as well as setting up medical and dental clinics to help bring health care to the world's most vulnerable. She has worked extensively in Africa, Asia, Caribbean Islands, Central America and South Pacific. She no longer practices medicine but delights in guiding people towards the health and wholeness of God's new world.
Her latest book, published in March 2019 by InterVarsity Press is The Gift of Wonder: Creative Practices For Delighting in God. Other books include Rest in the Moment: Reflections for Godly Pauses.(2016), Return to Our Senses: Reimagining How We Pray (2012), To Garden with God (2010), Light for the Journey (2010), GodSpace: Time for Peace in the Rhythms of Life (2006), and Tales of a Seasick Doctor (1996). Christine and Tom Sine also co-authored Living on Purpose: Finding God's Best for Your Life. (2002).
"The wonder of God's presence is everywhere. Explore its power to bring joy, healing and stress relief through creative practices like wonder walks, laughter, and play, that renew and transform. Stir your imagination and create your own wonder pathway."
- Christine Sine
You can connect to her on: