When and where
Location
Barker 30 Broad St 4th FLOOR New York, NY 10004
Description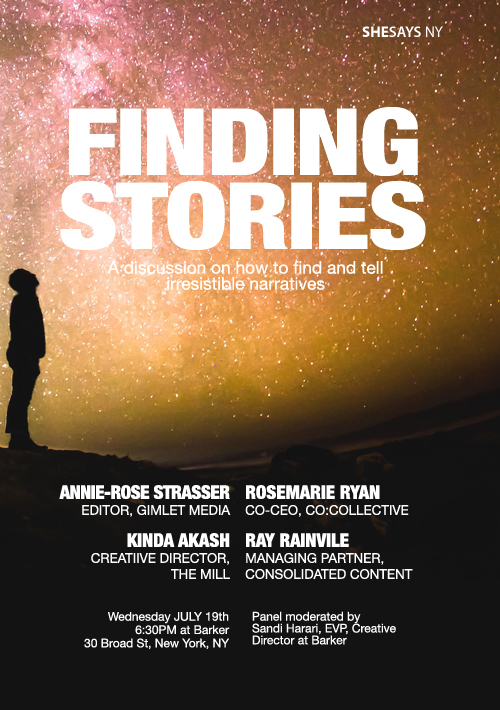 Here's a story Steven Spielberg should know about: Irena Sendler is 'the female Schindler'. A Polish nurse, Sendler smuggled approximately 2,500 Jewish children out of Warsaw and, with the exception of diplomats who issued visas, Sendler saved more Jews than any other individual during the Holocaust.
So, how do we find more stories like Irena's? How do we come across mind-blowing narratives that will move and entertain? That will make you laugh, or cry - or both?
This month we'll have a panel of expert story-tellers. Whether it's podcasts, branded content, film or VR experiences, our panelists will discuss what makes a good story, how to find one and how to keep people begging for more.
Come to this free event and binge on how to create irresistible content.
SPEAKERS
Annie-Rose Strasser - Senior Editor at Gimlet Media
Rosemarie Ryan - Co-CEO at Co:Collective
Kinda Akash - Creative Director at The Mill
Ray Rainville - Managing Partner/EP at Consolidated Content Company
Panel moderated by Sandi Harari, EVP, Creative Director at Barker
AGENDA
Drinks and networking / 6:30pm - 7:00pm
Panel and Q&A / 7:00pm - 8:00pm
More networking / 8:00pm - 8:30pm
TICKETS
Access to this event is limited and our events get booked up quickly. We kindly ask that if you find out that you are unable to attend on the night, do release your ticket via Eventbrite or let us know via email at shesays.ny@gmail.com so that someone can make use of your spot.
CREDITS
Photo by Greg Rakozy on Unsplash