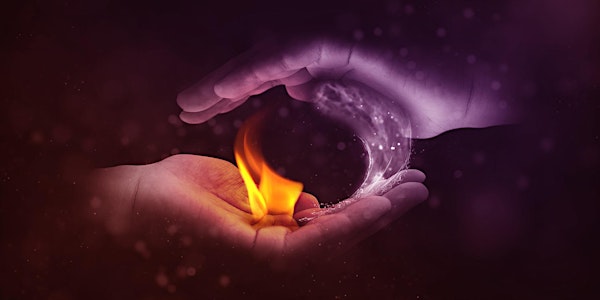 Multiple dates
Finding Balance Another Way, a Series of Conversations
We all have an inner sanctuary of peace within ourselves, where all things are in balance. So how the hell do we sustain it?!
Date and time
April 11, 2021 · 4pm - August 27 · 5:30pm PDT
Refund Policy
Contact the organizer to request a refund.
Eventbrite's fee is nonrefundable.
About this event
Sunday 3/19 Topic TBA
--
Have you been on the great hunt for meaning? Do you find moments of peace fleeting? Have you tried any or all of the following: praying, meditating, yoga, vegan diets, fasting, exercise, reading, TEDx videos, panels, retreats, spas, life coaches, expensive seminars, workshops... oh my! Can you add to this list?
Me too. My name is Emileena Pedigo. As a dao practitioner and artist development coach, I've been on the search for a larger purpose to all the madness and chaos in our lives. After twenty years of working with creative minds, I've developed an innovative approach to navigating uncertainty. I call it the Sustainability Cycle.
But this event is not a lecture or workshop. I'm hosting a weekly conversation on the dualities that are causing friction in pop culture, such as:
Is technology killing Art?
Is science trumping religion?
Is virtual replacing the office?
Each week, we'll pull a new topic from pop culture to put through the Sustainability Cycle. Attendees are also encouraged to bring their own conflicts to share with the group. I can't promise we'll find solutions to everything, but I can promise an hour and a half of presence, awareness, and mindful conversation.*
Every event will start with a short grounding exercise and an introduction of the topic at hand. There will be a brief review of the Sustainability Cycle and some suggested dualities to cover in the following conversation. The group discussion will be moderated by your host Emileena.
This event is also being streamed on CLUBHOUSE so attendees are encouraged to share the stage! Join the Club, Finding Balance. Participation is not required but sharing your insights can bring clarity to those around you, should you so choose.
*There are three simple rules that will be reinforced:
Respect yourself.
Respect others.
Respect the sacred space we build together.
Keep the conversation flowing in the Facebook group: ArtsMeetsBiz
------
A note from your host:
"My path has been anything but calm or easy. But as I layered on complicated levels of meaning to make sense of my own alienation, I became further detached from my purpose. As a producer and manager who considered myself an artist, I became stuck inside a self-perpetuating system of exploitation. I witnessed many artists around me losing that fight. I would have been lost too if not for an excursion to an ayahuasca retreat in the Peruvian mountains. Upon my return, I reconnected with a purpose that feeds my soul: Guiding the artistically-inclined in finding #AnotherWay to navigate the uncertainty of life. This is my art."
Emileena Pedigo, The Show Goes On Productions (TSGO)
Emileena entered the NYC Arts scene producing an international theatre festival, working with artists from around the world hungry to get their work into the theatre capital of the world. For seven years she developed a structure for the annual festival that grew to over 60 shows in seven venues. Emileena also general-managed for various nonprofits, assisted on Broadway, worked various film and music festivals, and managed singer/songwriters. She toured theaters, music arenas, and schools across the country, working with artists from all artistic disciplines. After launching TSGO, her work began to focus on emerging trends in entertainment. Emileena is now building sustainable careers #AnotherWay by using entrepreneurial strategies and prioritizing the artist over the art. She co-founded ARTSLAB, an incubator program that cultivates #ArtsMeetsBiz, and served on the board of Conscious Capitalism NYC. She is a graduate of the Commercial Theatre Institute, SUNY/Kaufmann's Fasttrac program for entrepreneurs, and a Purdue University alum.
#artistdevelopment #paradigmshift #Clubhouse #Conversation
-------
Past topics (replays are available on Clubhouse)
3/12: Oscars 2023: Public Accolades vs. Personal Best
2/26: Palo AltoModernity: Aspiration vs. Grounding
2/12: Competition vs Community
2/5: Playlist: When Everybody's Hungry
1/29: ChatGPT: Shortcuts vs "Doing the Work"
1/15: Playlist: Warrior Spirit
1/8: Ethics vs Potential
1/1: New Year vs. Old Perspectives
12/11: Branding: Personal or Professional
12/4: Playlist: Hold This Memory
11/27: Balancing Gratitude for the whole year round
11/13: Playlist: Evolution is Now / Paradigm Shift
11/6: Digital Reproductions: Early Adapter or Off-the-grid?
10/30 Playlist: Butterfly 🦋 Arrival / Development Never Ends
10/23: Wildcard Night: Fall Winds
10/16: Playlist: Empathy
10/9: Community, Make You or Break You
10/2: Playlist: Take a Breath
9/25: First-gen Immigrants: Assimilation vs. Innovation
9/18: Playlist: The Call to Adventure
9/11: Quiet Quitting: Appropriate vs. Exceptional
9/4: Playlist: This is the Dao
8/28: Space Hotel 2025: Low Pressure vs. High Pressure
8/21: Another Way Playlist: Detachment
Aug. 14th: Human Trails vs. Nature Trails
Aug. 7th: Love Another Way Playlist: Cover Me in Roses
July 31st: Emotions: Isolation vs. Integration
July 24th: Psychedelic Patents: Pharmaceuticals vs. Holistics
July 17th: Disillusionment: Dig Deeper or Dig Out
July 10th: The Nature of Creativity: Subjective Imagination or Objective Reality
June 30th: Web 3.0 Jump Ahead or Hold Back
June 26th: Google's Sentient AI: To whistleblow or suffer the consequences?
June 19th: Father's Day 2022: Fathers and Mothers
June 5th: Art vs Algorithm
May 29th: Amendment vs. Permanence
May 22nd: Creativity in Liminal Times: Routine vs. Liminality
May 15th: Inflation & the new economics: Conversation vs. Confrontation
May 8th: Processing Wetiko The Dream State vs Consciousness
May 1st: Twitter & Social media: Public vs. Private Spaces
April 24th: Time Management Giving vs Collecting
April 17th: The Culture Wars Agitation vs. Discipline
April 3rd: Will Smith Thinking Ahead vs. Damage Control
March 27: Human Sustainability vs Earth's Sustainability
March 20th: In-person vs virutally connected
March 13th: Underwater vs. Land-dwelling
March 6th: Nature vs. Nurture
Feb. 27th: "I Don't Know": Useful Distractions vs. Ego's Distractions
Feb. 20th: Angry Power vs. Empowered Anger
Feb. 13th: Acknowledging Sacred Land w/guest co-host Kate Spencer
Feb. 6th: Year of the Tiger
Jan. 30th: Emotional Intelligence vs. Artificial Intelligence
Jan. 23rd: Development vs Stagnation
Jan. 16th: Numbers vs. Letters
Jan. 9th: Revivals vs. Originals
Jan. 2nd, 2022: Authenticity vs. Broken Systems
Dec. 19th: Wildcard Night
Dec. 12th: Water: chemical or esoteric?
Dec. 5th: The Media: Arbiters of Justice or Injustice?
Nov. 14th Artists vs. Management: Astroworld Music Festival tragedy.
Nov. 7th: Time vs. Money: Shooting on the set of Alec Baldwin's 'Rust'
Oct. 24th: The Great Resignation: Work for Money or Work for Purpose?
Oct. 17th: Music, Time vs. Memory: Tony Bennett Performs w/ Alzheimer's
Oct. 10th: Social Media: Connecting or Isolating?
Oct. 3rd: The Legacy of History, Fact or Fiction?
Sept. 26th: The future of entertainment.
Sept.19th: Gathering vs. Avoidance
Sept. 12th: K-pop vs. America
Sept. 5th: Wildcard Night
Aug. 22nd: Aging: Dying or Living?
Aug. 15th: Mental Illness or the Road Less Traveled?
Aug. 8th: Nuclear Waste: Disposal or Termination?
Aug. 1st: Is Street Art for Art or Advertising?
July 25th: Climate Change: Doomed to Destroy or Poised for Evolution?
July 18th: Space Travel: Freedom vs. Disillusionment
July 11th: Wildcard Night
June 27th: The Cheetos Guy: Authenticity vs. Artistic License
June 13th: Psychedelics, Recreational or Therapeutic?
June 6th: Britney Spears' Conservator, Family vs. Work
May 23rd: Man vs. Machine
May 16th: Deepfakes, for entertainment or deception?
May 9th: Natural power vs. Man-made
May 2nd: Elon Musk's SpaceX vs. Jeff Bezos' Blue Origin
April 25th: Religion vs Spirituality
April 18th: Netflix's first movie franchise, streaming vs. theaters
April 11th: NFTs, for artists or for crypto traders?
Image by Comfreak
#ArtistDevelopment #AnotherWay #paradigmshift #ArtsMeetsBiz
About the organizer
TSGO is led by Emileena, the Artist Whisperer.
Emileena's Vision is a world where every artist is empowered enough to represent themselves, where there is no need for exploitation because artists are clearly standing in their own purpose. There is no Arts world versus a Business world - we are all one.