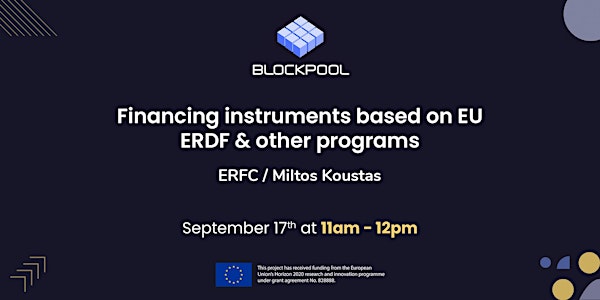 Financing instruments based on EU ERDF & other programs
This presentation is part of the Blockpool online Bootcamp on September 17 -18, 2020.
About this event
In this course, we will go through the different sources of funding that exist and how these sources can fuel new funding schemes between funds-of-funds, national—regional/local funds, public-private funds, or new joint funds from single or multiple EU countries, and outside EU borders.
The EU has several different funding programmes that you may be able to apply for, depending on the nature of your business or project. There are two different types: direct funding and indirect funding.
ERDF(European Regional Fund), ESF(European Social Fund), and EAFRD (European agricultural fund for rural development) have a specific budget allocated per EU country, while the rest of the EU programs are not earmarked for each EU country, but depend on competitive bidding by the county, eligible stakeholders concerned.
EU policies are implemented through a wide range of programmes and funds which provide financial support to hundreds of thousands of beneficiaries such as farmers, students, scientists, non-governmental organisations (NGOs), businesses, towns, regions, and many others.
Bootcamp agenda
Tap on the links for more information about other events within the framework of the Blockpool Bootcamp: https://bit.ly/338Dwn9
Details
Location: Zoom (access data will be emailed shortly before the start of the event)
Language: English
Registration required via Eventbrite; dial-in via zoom (installation required); maximum number of participants: 300.
Disclaimer: This project has received funding from the European Union's Horizon 2020 research and innovation programme under grant agreement No 828888.