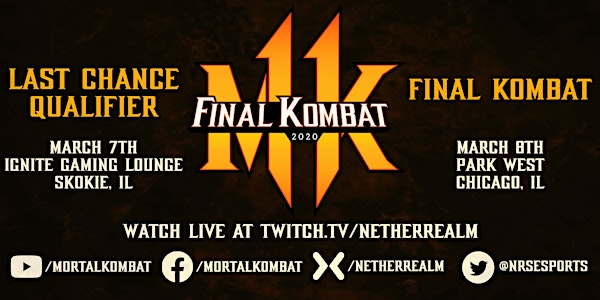 Final Kombat 2020
WB Games & NetherRealm Studios presents:
Location
Park West
322 W. Armitage Ave.
Chicago, IL 60614
United States
The 2019/2020 Mortal Kombat 11 Pro Kompetition concludes with Final Kombat 2020!
About this event
Final Kombat 2020 will be held on March 8 at Chicago's historic Park West theater and bring together the top sixteen Mortal Kombat 11 players from around the world, including regular season tournament winners from North America, Latin America, Europe, Australia and the Middle East, along with one finalist from the Last Chance Qualifier event to be held on March 7 at the Ignite Gaming Lounge in Skokie, Ill. All sixteen Kombatants will then compete in Final Kombat for their share of the $100,000 USD prize pool.
EVENT DETAILS
Last Chance Qualifier: March 7th, 2020 @ Ignite Gaming Lounge (8125 Skokie Blvd, Skokie, IL 60077)
Final Kombat: March 8th, 2020 @ Park West Theater (322 W Armitage Ave, Chicago, IL 60614)
FINAL KOMBAT APPEARANCES AND ACTIVATIONS
• Special appearances by Todd McFarlane (Creator of Spawn), Keith David (voice of Spawn in Mortal Kombat 11), Cary-Hiroyuki Tagawa (voice of Shang Tsung in Mortal Kombat 11) and Ed Boon (Creative Director, NetherRealm Studios and Co-Creator of Mortal Kombat).
• Exclusive first look of the Mortal Kombat 11 Official Spawn Gameplay Trailer, along with other content reveals. Spawn will join the Mortal Kombat 11 roster on March 17 (early access) as part of the Kombat Pack.
• Attendance by MK Kollective ambassadors Boss Logic (Digital Artist), Alicia Marie (Costume Designer) and Kickstradomis (Shoe Designer/Artist).
• On-site experiences for attendees, including a Spawn-themed photobooth, McFarlane Toys Mortal Kombat 11 action figure display and exclusive Mortal Kombat 11 Final Kombat 2020 promotional products for all attendees. Mortal Kombat 11 merchandise will also be available for purchase.
FINAL KOMBAT 2020 QUALIFIERS
• SonicFox (U.S.)
• BC Dragon (U.S.)
• CGL NinjaKilla_212 (U.S.)
• NASR Tekken Master (Bahrain)
• PXP A F0xy Grampa (U.K.)
• AF DizzyTT (U.K.)
• UYU Deoxys (U.S.)
• PG Hayatei (Canada)
• UYU Rewind (U.S.)
• END Scar (U.S.)
• CGL Tweedy (U.S.)
• Noble Semij (U.S.)
• LOK Nivek (Greece)
• D2-Stabs (Canada)
• Konqueror249 (Brasil)
• Last Chance Qualifier Winner (To be determined on March 7)
LAST CHANCE QUALIFIER INFORMATION
To participate in the Last Chance Qualifier bracket, you MUST purchase a "LCQ" ticket type with the same email that is associated with your Smash.GG account. Within 48 hours of purchasing your "LCQ" ticket, your email associated with your ticket purchase will be sent a private invite via Smash.GG to enter the Last Chance Qualifier bracket at no additional fee.
Attendees who have purchased the "General Admission" ticket type will be allowed to spectate the Last Chance Qualifier but will not be invited to join the bracket. There will be absolutely no on-site registration allowed for the Last Chance Qualifier past the cut off date of February 28th, 2020 at 11:59 PM EST.
The winner of the Last Chance Qualifier will receive an automatic bid as the 16th seed in the Final Kombat event the following day at Park West Theater and are expected to adhere to all provided timelines for tournament operations.
RULE SET
Please visit www.mortalkombat.com/esports/rules for more information.
HOTEL BLOCK INFORMATION
Final Kombat 2020 will feature discounted rooms at the Hotel Lincoln (1816 North Clark Street, Chicago, IL 60614) down the street from the Park West Theater. Discount pricing is available for Friday, March 6th through Monday, March 9th.
Reservation discounts are available until February 12th. Book now at www.hyatt.com/en-US/group-booking/CHIJL/G-INTE
CAN I ATTEND AN 18+ EVENT AT THE PARK WEST IF I'M UNDER 18 YEARS OF AGE?
Underage persons can only attend 18 and older events at the Park West if their own parent or legal guardian accompanies them for the duration of the show. Proof of parent or legal guardianship relationship is required with valid identification.
CAN I BRING MY PURSE OR BAG TO A SHOW?
The only bags allowed inside must be smaller than 12 inches by 12 inches. If your bag is larger, you will not allowed to bring it inside the venue and it cannot be held at will call. Please note small bags will be searched upon entry.
WHAT OTHER ITEMS ARE NOT ALLOWED INTO THE PARK WEST?
The Park West bans guns on the premises. Also prohibited are any other type of weapon, selfie-sticks, large umbrellas, outside food & beverages, cameras with an external flash or detachable lenses, audio/video recording devices, outside food or drink, e-cigarette and vapes, drugs, drug paraphernalia and other items subject to the discretion of management. Laptops and tablets are also not allowed. If a prohibited item is found, you will be required to secure it elsewhere or dispose of it before entering Park West. Coat check will not hold these items for you.