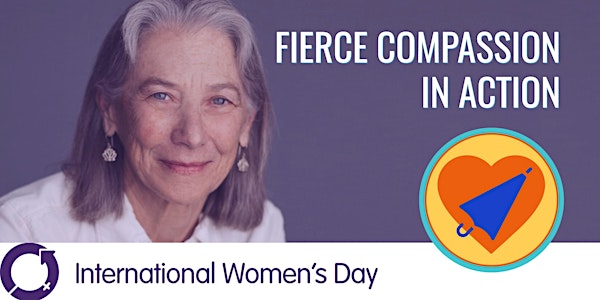 FIERCE COMPASSION in ACTION with Mare Chapman
When and where
Location
First Unitarian Society of Madison 900 University Bay Drive LANDMARK ROOM Madison, WI 53705
Description
Beloved meditation teacher and author Mare Chapman is offering a FREE Gathering and Meditation for Women - NOTE NEW VENUE!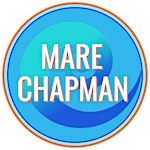 We're all familiar with the tender, comforting side of compassion, though often less acquainted with a fierce compassion that requires us to say "No. Stop. You may not treat me, or another, in this harmful way."
It's time to courageously stand up for ourselves, with love in our hearts, to oppose all forms of misogyny and social injustice.
In honor of International Women's Day, Mare will explore fierce compassion through powerful storytelling, discuss how to practice with ourselves and others, and complete with a guided meditation aimed toward cultivating fierce compassion to renounce any and all abuse, mistreatment, or denigration that women's gender conditioning has trained us to tolerate.
Compassion allows us to remain stable and open to our own and other's pain. Through heart-felt sympathy and wise action we can prevent further suffering. Wise teachers say compassion is our only hope for creating peace within ourselves, each other, and the planet.
May all women throughout the world feel empowered to put fierce compassion into action with love in our hearts.
As a vital organization that supports Fierce Compassion
we will be fundraising

at the event

to support
with a brief presentation by Erin Thornley-Parisi, RCC Executive Director

---
Grab your Girlfriends and Join In! Event is FREE
Seats are limited, so no walk-ins.
Early registration is recommended! We booked up quickly last year.
You must register in advance, have your mobile or printed ticket ready at check in.
Mare is raffling 3 signed copies of her book Unshakeable Confidence. Must 'BE PRESENT' to Win. :)
We will also have lots of fun GIFTS to carry your Fierce Compassion forward into the world!
Books will be available for purchase at a SPECIAL PRICE for this event only!
Just $15.00/tax included, Cash/Check only

If you already have Mare's book, bring it along and she'll sign it for you!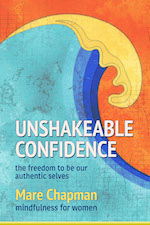 ---
Event Schedule: PLEASE ARRIVE ON TIME
5:00 - 5:15 - Check in to FUS/LANDMARK ROOM, get settled, chat, enjoy tea and cookies.
5:15 - Mare begins her talk on Fierce Compassion in Action and a reading from her book Unshakeable Confidence
5:30 – Settle in for Mare's beautiful guided meditation to empower ourselves and honor women around the world
6:00 – Brief presentation by Erin Thornley-Parisi, RCC Executive Director,
Announce raffle winners, Purchase books, book signing, networking
6:30 - Closing and thank you
---
900 University Bay Drive
Madison, Wisconsin 53705
(608) 233-9774
Transport and Parking: https://fusmadison.org/welcome/directions-and-parking/
Plan your bus trip HERE: https://www.cityofmadison.com/metro/planyourtrip/
---
FAQ:
I've never meditated before, can I come?
Absolutely, beginners welcome!
What should I bring?
Come as you are! Perhaps you might like a journal, and maybe your business card for networking with other wonderful women. Bring cash/check if you want to purchase a book or make a donation.
What do I wear?
Comfortable clothing for sitting is great, but you can wear anything. Come straight from work! If you get chilly, bring a shawl or sweater and warm socks. Shoes are removed at the door.
Bring cushions?
Zafus, cushions and chairs are provided.

Can I buy your book?
Yes! Books will be sold at a special price for this event only $15.00/tax incuded cash/check only. (reg. $21.95)

Will you sign it for me?
Yes of course! I'd be happy to!


---
Social Please share!
Facebook: @MareChapmanAuthor
Twitter: @Mare_Chapman
Instagram: @MareChapman
#FierceCompassion #UnshakeableConfidence #MindfulnessforWomen #IWD2019 #RapeCrisisDane
www.internationalwomensday.com