Event Information
Refund Policy
Contact the organizer to request a refund.
Eventbrite's fee is nonrefundable.
An online event that connects you to higher aspects of yourself with breath work, a sound bath meditation, astrology and plant medicine.
About this Event
On the Virgo Full Moon come tap into high vibrations with a sound bath/guided meditation by Ruby Mountain and Epiphaunye. Hear an astrology reading by Roots to Herbals and connect with your breath in guided exercises by Phruu.
Join us in tapping into our joy, feeling at ease and attuning to our inner magic. We're experiencing the transition into the new paradigm. Honor any feelings that have been coming up and if you feel ready, come plant seeds with us for our collective future.
Femmifest Offerings:
Ruby Mountain offers a live sound bath with guided crystal channeled meditation by Epiphaunye. The crystal and earth tuned meditation will connect you to higher aspects of yourself to honor, love and celebrate you this full moon. It will raise your vibration to femmifest for yourself and the collective.
Phruu will be performing three songs, and doing breath work to open hearts and release any trauma held in our etheric bodies, assisting in unlocking our fullest potential as multidimensional beings.
Britt from Root to Star will talk about the astrological energies we can expect with the coming Virgo full moon; how we can move with what's at play in the cosmos at this moment as well as information about plant allies that may assist us with aligning with the energies that the full moon brings.
Musical performances by
Ruby Mountain
Phruu
BIOS:
Ruby Mountain is a visionary producer whose music, visuals, and products enhance the high-vibe culture.
Growing up singing Afghan music with her family in Oakland, Ruby was taught that all objects and beings have an acoustic resonance. Her concerts generate experiences where everything feels possible, leaving the audience with a sense of cosmic nostalgia. She is a family-taught singer, professionally-trained audio engineer, electronic music producer, dancer and healing artist.
Ruby is certified in Angelic Universal Regression Alchemy (A.U.R.A) by Rising Phoenix Aurora. A.U.R.A. is a self-healing hypnosis technique that connects you to higher aspects of yourself. It utilizes reiki, angelic energies, ancient alchemy symbols for quantum healing and past life regression.
Phruu is a multidimensional artist & visionary who seeks to share wisdom (true knowledge of self) through the creation of music and cultivation of spaces for the expansion of consciousness and activation of our highest potential. Phruu is a songwriter, rapper, community uplifter, video editor, audio engineer (live/studio), event curator, host, and does music publishing admin assistance.
Root to Star Herbals produces Black folk-based herbal remedies aligned with astrology. They create customized plant medicine based on the elemental and astrological properties of the plants and your astrological chart.
Root to Star Herbals was created by Britt Hart. Britt's herbalist offerings honor and continue the work of their ancestors and North Carolina family's herbalism. They create ancestral plant remedies to heal, soothe, cleanse and uplift, combining these with their love for astrology.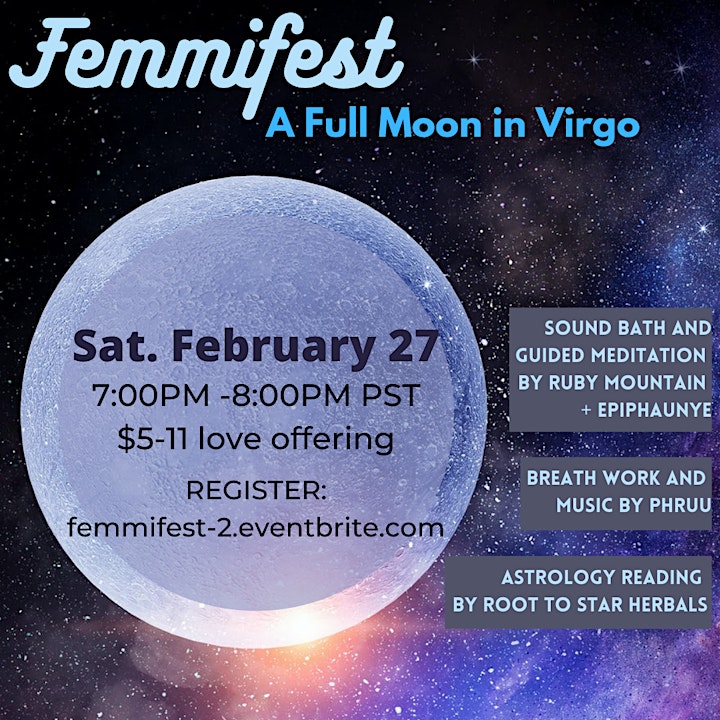 Date and Time
Location
Refund Policy
Contact the organizer to request a refund.
Eventbrite's fee is nonrefundable.