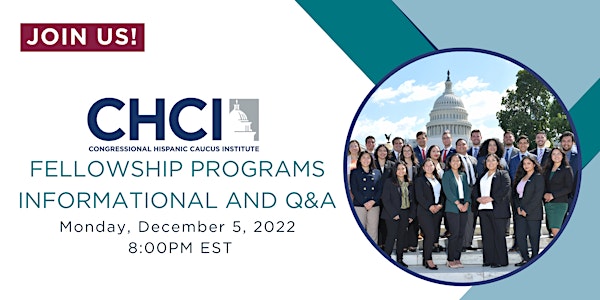 Fellowship Programs Informational and Q&A
Fellowship Programs Informational and Q&A
About this event
Join CHCI for a virtual information session on our Fellowship Programs!
EVENT DETAILS
Interested in making an impact on your community and the nation? Want to work on public policy with the people making it happen every day, explore new ways to apply your expertise, expand your network, and grow as a leader? Apply today for CHCI's D.C.-based immersive fellowship programs!
Date: Monday, December 5, 2022
Time: 8:00 PM EST
SELECTED PARTICIPANTS WILL RECEIVE:
Domestic round-trip transportation to Washington, D.C.
Health insurance (premium covered by CHCI)
Professional development funds
Monthly transportation stipend
Weekly leadership training, networking, and more
Available Post Graduate Fellowship Focus Areas:
Child Welfare/Social work (focus on families/foster care)
Finance and Business
Housing/Urban Development
K-12 Education
Environment
Health
Foreign Affairs/International Relations
Law
Technology
Available Public Policy Fellowship Focus Areas:
All majors are eligible Including:
Nutritional health, marketing and communications, journalism, business, economics, finance, technology, international relations, and STEM (including oil and gas).
Visit our website to learn more about our programs and eligibility requirements!
COVID-19 Protocols
While we are thrilled to convene together, COVID-19 remains a worldwide concern and CHCI is committed to creating safe meeting spaces; protecting our guests and staff at our events. CHCI will stay up-to-date on the evolving mandates. In addition, you can expect the following:
For the health and safety of our guests, CHCI will require all attendees to be fully vaccinated for COVID-19 to attend.
Facial coverings will be encouraged, but not required. We will have masks readily available at registration, if requested.
We will create socially distanced seating, to the best of our ability, at all sessions and catered events.
Enhanced sanitization protocols will be adhered to throughout the event space including regularly disinfecting surfaces throughout the event and hand sanitizer provided to all attendees.
CHCI will request any individual experiencing symptoms of COVID-19 to NOT attendee an event due to the risk of exposing others.
**This event has been structures to comply with the Senate and House Ethics rules.**