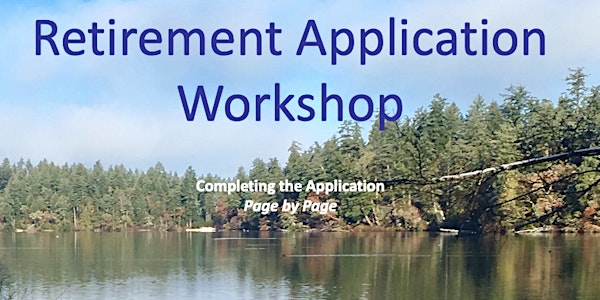 Federal Retirement Application Virtual Workshop
Page by page, line by line guidance in completing your federal retirement application
Refund Policy
Refunds up to 1 day before event
Eventbrite's fee is nonrefundable.
About this event
                                     A Federal Retirement Application Virtual Workshop 
No outside vendors, financial planners or retirement counselors please.  PPS/FBS pride themselves in not soliciting attendees or selling any type of financial products/services.  These sessions are 100% instructional training and **limited to federal employees.**
Featuring Deborah Hatch, CEO and primary instructor for both Pinnacle Personnel Services, LLC., and its subsidiary Federal Benefits Services, LLC.  Presenter brings experience garnered from working in and with the federal government for over 24 years.  First as a federal benefits and human resources specialist within Departments of Veterans Affairs and Defense; then as a government contractor.  She has presented hundreds of retirement seminars, for dozens of federal agencies worldwide.  She has trained thousands of employees: special provisions and traditional, title 5, 10, 32, and 38.    This is the same information normally presented in the classroom but being provided virtually because of the current social situation and COVID-19 pandemic. 
This workshop is designed for federal employees who plan to retire within the next 12 months.  During this workshop, attendees will be guided through the federal retirement application.  Attendees will receive a list of hyperlinks with which to download forms, and a copy of slide handouts, prior to class. 
In class, we will complete:  
Application for Immediate Retirement, CSRS SF-2801, FERS SF-3107
Spouse's Consent to Survivor Election, CSRS SF-2801-2, FERS SF-3107-2
If applicable, Election of Former Spouse Survivor Annuity or Combination Current/Former Spouse Survivor Annuity      SF-2801-3
Continuation of Life Insurance, SF-2818
We will also discuss all designated beneficiary forms and,
If applicable, Voluntary Contributions Election RI 38-124
This session is open to federal employees under any retirement system (CSRS, CSRS-Offset, FERS).  This is a live virtual session:  not a pre-recorded webinar.  You will have an opportunity to ask qustions during the session via a chat room. 
Complete your federal retirement application in the privacy of your own home but get guidance as you do it. 
Cancellations will be refunded if made 24 hours or more prior to training.  
As the instructor does travel frequently and may be in different time zones, a phone number is not provided.  Should you have questions about the training, feel free to email her at debbie@pinnaclepersonnelservices.com