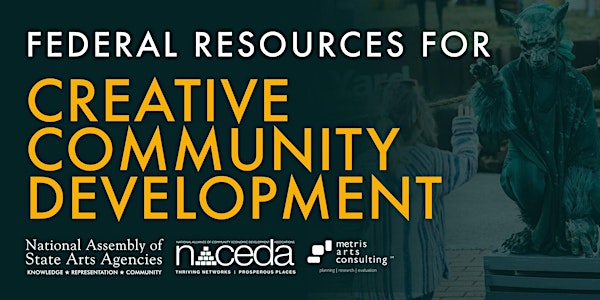 Federal Resources for Creative Community Development
A webinar designed to help access federal funds and harness the power of the arts and culture to achieve community development goals.
About this event
Please join us on Tuesday, February 9, 2021, for a webinar designed to help you access federal funds and harness the power of the arts and culture to achieve your community development goals.
Brought to you by the National Assembly of State Arts Agencies (NASAA) and the National Alliance of Community Economic Development Associations (NACEDA), this seminar helps you navigate the new Creative Placemaking Public Resources Guide. You'll learn how the guide offers:
a curated selection of federal funding sources that you can use to advance equitable community development,
examples of initiatives that have transformed local community development efforts through creative partnerships, and
practical tips on accessing federal grant programs.
This Zoom session runs from 4:00 to 5:00 p.m. Eastern. In just one hour you'll gain valuable insights about federal funding programs. You'll receive a live demonstration of how to use the guide's search functions to reveal often-overlooked federal resources applicable to equitable community development, creative placemaking and the arts. You'll also hear from practitioners who have successfully leveraged public funding opportunities for creative placemaking.
This seminar is designed for arts groups, public agencies, community development placemakers and NACEDA's membership of state and regional community development and affordable housing networks. All stakeholders in local or state creative placemaking efforts are welcome to participate.
After you register, you'll receive an automated confirmation from Eventbrite. Login details will be distributed a few days before the session takes place.
This webinar is made possible by a partnership between NASAA, NACEDA and Metris Arts Consulting. We look forward to seeing you there!
If you have any questions, please email thomas@lookingglasscreative.net.