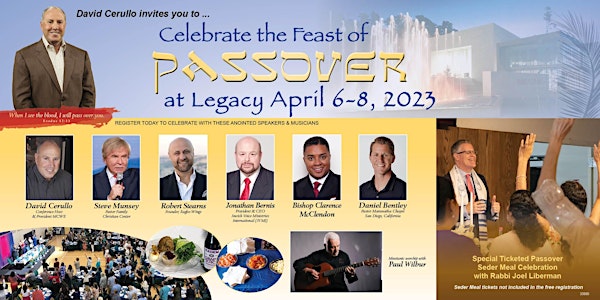 Feast of Passover Conference at Legacy!
Celebrate the Feast of Passover at the Legacy International Center!
By Morris Cerullo Legacy International Center
Date and time
April 6 · 3pm - April 8 · 9pm PDT
Location
Legacy International Center 875 Hotel Circle S. San Diego, CA 92108
Refund Policy
Contact the organizer to request a refund.
Eventbrite's fee is nonrefundable.
About this event
2 days 6 hours

Mobile eTicket
David Cerullo invites you to Celebrate the Feast of Passover at the Legacy International Center and join him plus special ministry guests: Steve Munsey, Robert Stearns, Bishop Clarence McClendon, Jonathan Bernis, Daniel Bentley and worship with Paul Wilbur and more!
Speaker Schedule
Thursday, April 6
3pm: Pastor Daniel Bentley
7pm: Bishop Clarence McClendon
Friday, April 7
9am: Robert Stearns
7pm: David Cerullo - Special Good Friday Communion Service
Saturday, April 8
9am: Pastor Steve Munsey
*Noon-3:00PM Feast of Passover Seder Meal Experience - $45
7pm: Jonathan Bernis
Join Rabbi Joel Liberman and Feast of Passover Conference attendees for an unforgettable Passover Seder Meal Experience on Saturday, April 8th from Noon - 3PM!
Feast of Passover Seder Meal Experience includes:
* Seder Meal Menu
Matzo Ball Soup
Middle East Salad
Marinated Beef
Boneless Chicken Breast
Middle East Rice
Middle East Potatoes
Grilled Vegetables
Hummus
Baba Ganoush
Assorted Drinks
Chocolate Fountain
The Hebrew word 'seder' means "set order." At the conference Passover Seder, you will be transported back in time to the era which preserved a memory of the "set order" of the ancient Passover celebration!
We will reflect together on a "trilogy" of Seders; 1) Israel's original one, conducted in Egypt, as they prepared to experience the mighty deliverance power of God; 2) Messiah's Seder, which He shared with His disciples, just prior to His execution and sacrifice nearly 2,000 years ago; 3) Our Seder, conducted at The Legacy Center, consisting of an interactive experience at your Seder table via symbols and foods, as if we ourselves were actually a part of the original experience!
This Seder will connect you with the first followers of the Messiah Yeshua (Jesus) who would have commemorated His death every year on its anniversary - on Passover. Learn how His "Last Supper" was a traditional Jewish Passover Seder meal!
Legacy Center International
875 Hotel Circle South
San Diego, CA 92128
Special Feast of Passover Hotel Rates while rooms are available:
LEGACY Hotel Resort & Spa: (619) 782-9155 (Dial 0) $169 per night plus tax (With Balcony $189)
Days Inn (619) 297-8800 $129 per night plus tax
Marriott Courtyard: (619) 291-5720 $209 per night plus tax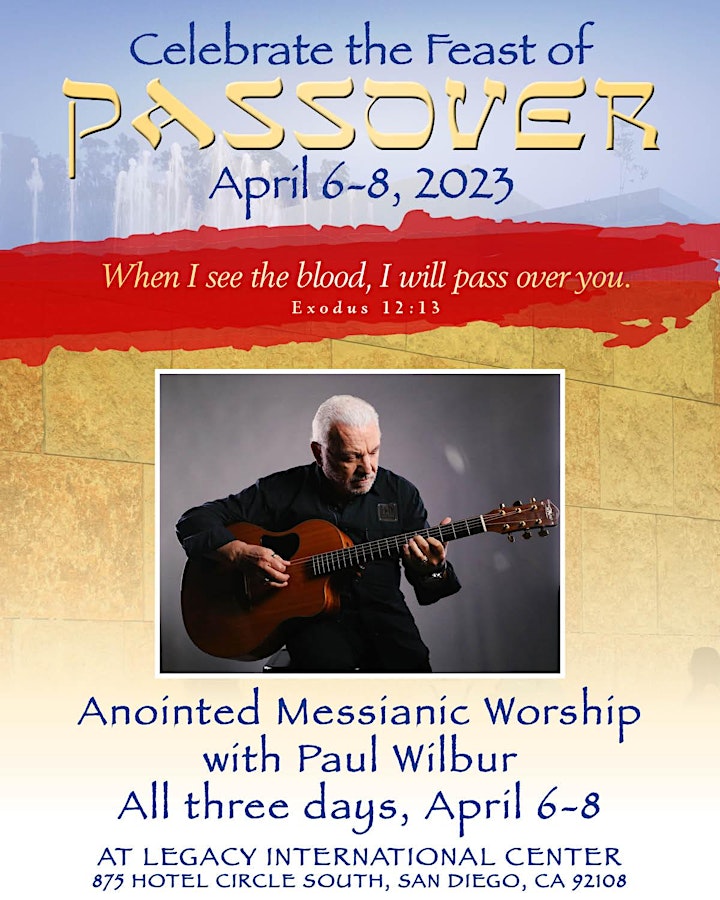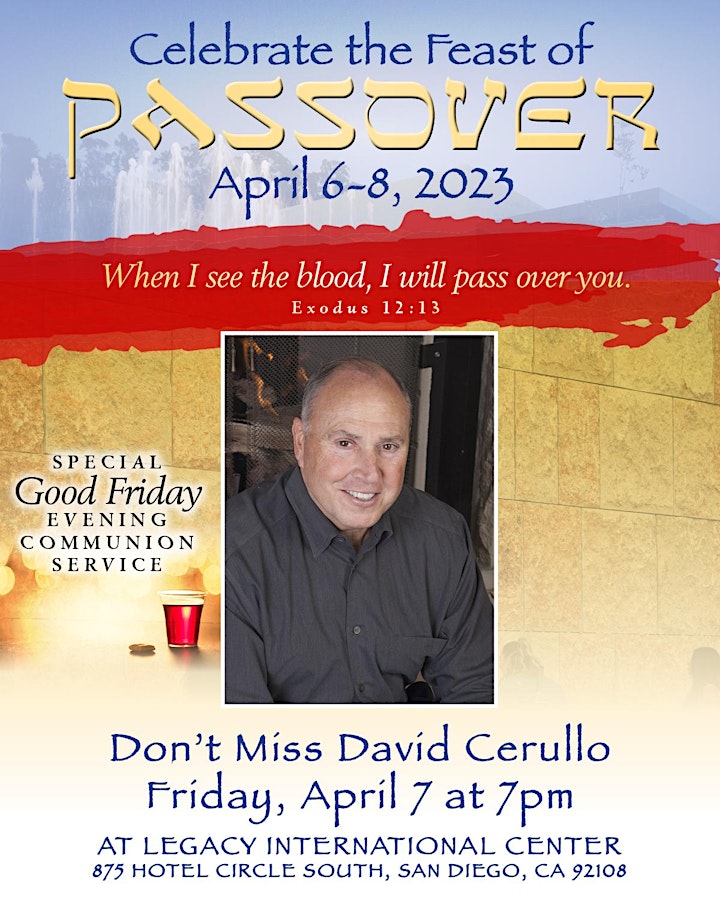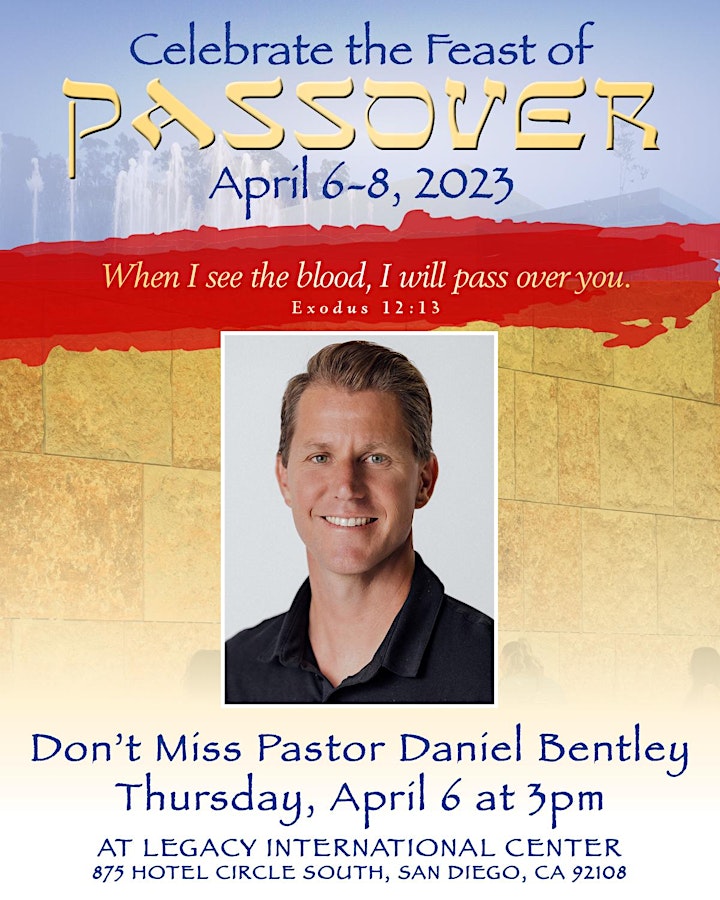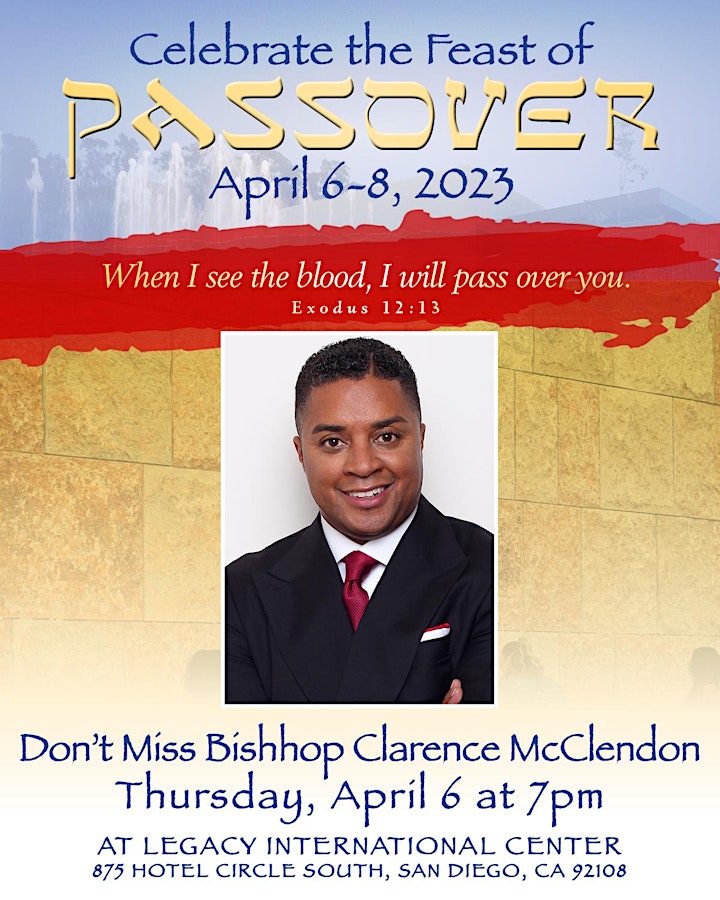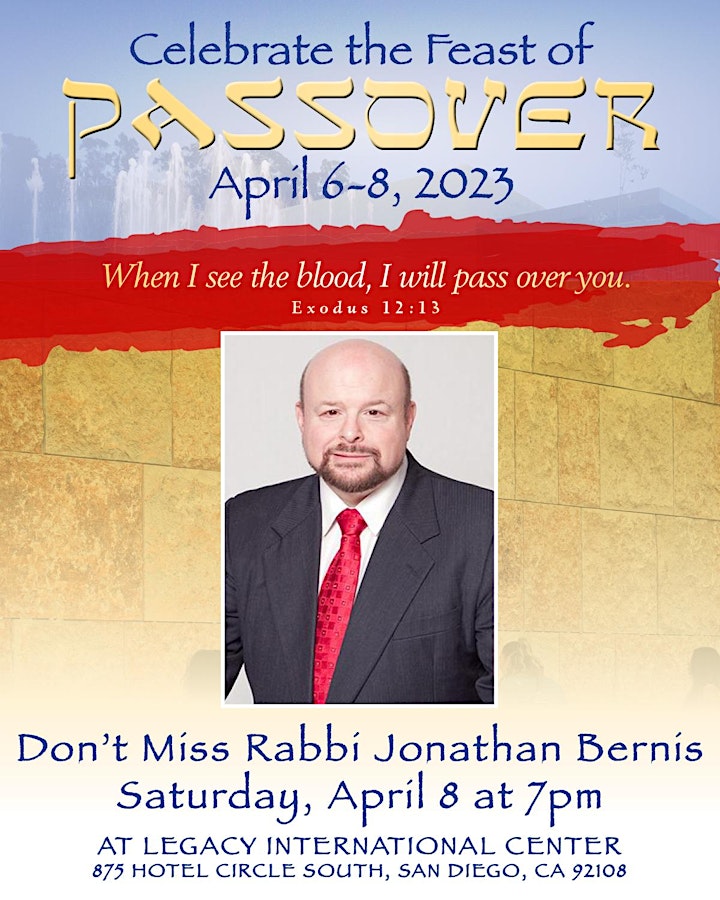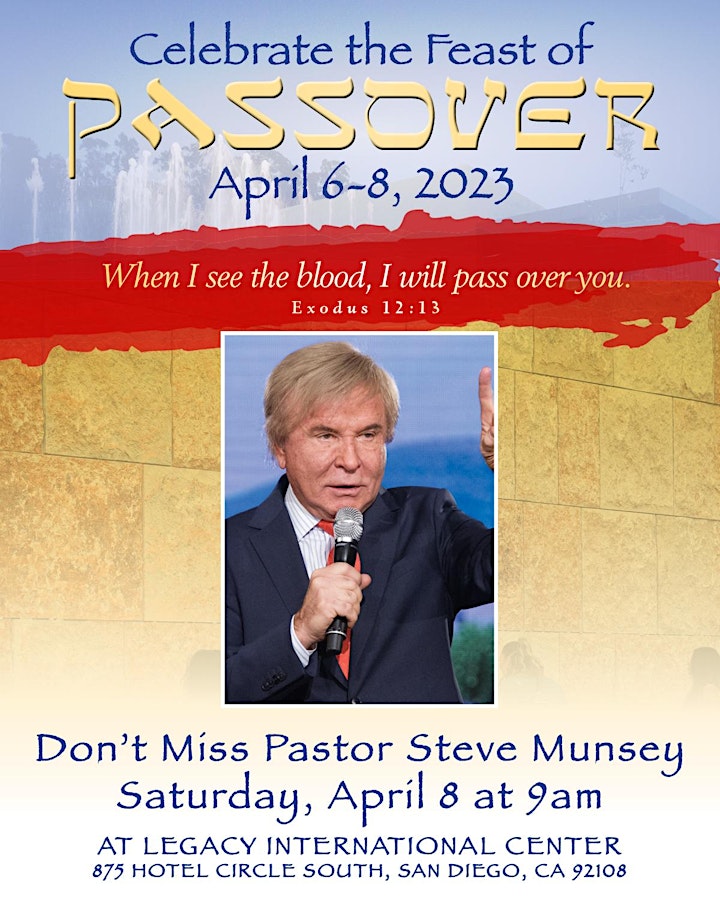 About the organizer
The Morris Cerullo Legacy International Center was a dream born by God in the hearts of Morris and Theresa Cerullo to be a unique place of refreshing, blessing, impartation, worship, prayer, ministry and miracles that would be marked by the unmistakeable presence of God. Legacy is a multi purpose 18 acre campus adorned in Jerusalem stone that includes a luxury hotel and spa, Theresa's Restaurant, state of the art 500-seat theater, plus over 15,000 squre feet of additional meeting space. The Legacy Center also featrues Prayer Gardens, a stunning replica Western Wailing Wall, dancing water fountains, a 100 seat 4D motion theater that presents two mutimedia experiences: "Soaring Over Israel" and "Journey Through The Bible". In addition to Morris Cerullo events, Legacy is also available for private and corporate events inclusing weddings, conferences, retreats, meetings, concerts, retreats and more.