FEARLESSFEST NYC
When and where
Location
Metropolitan Pavilion 123 West 18th Street The Gallery, 4th floor New York, NY 10011
Description
Women You Should Know® is proud to present Fearless Fest...
AN EVENT EXPERIENCE PACKED WITH TONS OF WOMEN-POWERED AWESOME THAT YOU DO NOT WANT TO MISS!
FLY SOLO. COME WITH FRIENDS. HAVE A BLAST. GET EMPOWERED.
Connect with Awesome Women. Learn from Experts. Taste. Shop Women-Makers. Take Fitness Classes. Play with Power Tools. Build Your Skills. Meet Founders, Leaders and History-Makers. Explore Women-Authored Books. Train in Feminist-Self Defense. Have a Cocktail. Get a Killer Gift Bag.
5 ACTION-PACKED HOURS. HANG ALL DAY. POP IN FOR A FEW.
---
FEARLESS FEST ACTIVITIES... THE DETAILED RUNDOWN:

Unleash your inner and outer strength in one of our live, optional fitness classes, designed for all levels, taught by fearless instructors, and powered by Lauren Foundos' innovative platform, FORTË.
11:15am - 12:00pm - Sheryl Oleksak/Yvette Lenhart, Yoga/Pilates
12:15pm - 1:00pm - Cindy Lai, Abs/HIIT (interval training)
2:15pm - 3:00pm - Mackenzie Pretty, Boxing
3:15pm - 4:00pm - Katye Stanzak, Dance Cardio + Strength
Important: You must register for a fitness class in advance as space is limited. Please do so during check-out on the ticket purchase page. Limit one class per guest.
---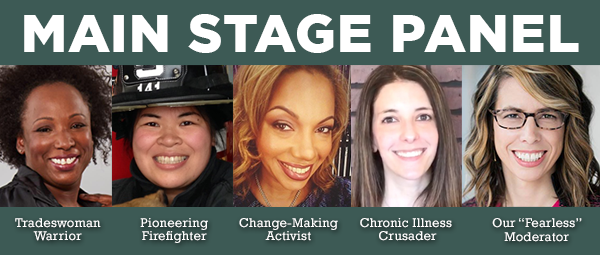 Be inspired as our fearless panelists share their stories and answer your questions.
Tradeswoman Warrior, Judaline Cassidy: First woman plumber to be accepted into the Plumbers Local Union 371 in Staten Island, NY, and founder of the non-profit for girls, Tools & Tiaras
Pioneering Firefighter, Sarinya Srisakul: First and only Asian American woman FDNY firefighter, President of United Women Firefighters, and first-ever recipient of the 2017 Glamour Women of The Year Freedom Award
Change-Making Activist, Depelsha McGruder: Founder of Moms of Black Boys (MOBB) United, Inc. & MOBB United for Social Change, Inc., and CEO of 651 ARTS and MoCADA (Museum of Contemporary African Diasporan Arts)
Chronic Illness Crusader, Nicole Rios: Special education teacher living with chronic illnesses, and nationally recognized speaker on a determined mission to raise awareness of Lupus
Our "Fearless" Moderator, Sally Hubbard: Lawyer-turned-investigative journalist, and host of Women Killing It! podcast
Panel runs from 1:00pm - 2:00pm
---

Learn. Do. Build... in this hands-on workshop that's macked out with power tools and materials. Sharpen your skills and discover new ones under the expert instruction of the fearless Do-It-Herself team from The Home Depot. BONUS: you get to take home whatever you make. Workshop runs all day.
---

Tips, toys, and fun... oh, YES! The team of Sex Educators from the women-founded, women-friendly Babeland, will take us on an exciting and fearless confidence-building journey. Workshop runs from 12:15pm - 12:45pm.
---

Lisa Rosado's We Are Women Owned has curated an incredible showcase of lifestyle products from 20 emerging woman-founded brands so you can browse, shop, and directly support these fearless women makers, doers and creators. Marketplace powered by Signature Bank.
---

Learn how to kick ass, fearlessly, with Brazilian Jiu-Jitsu specialist Rachel Piazza, who combines her martial arts expertise with her work in women's leadership in this empowerment-based self-defense course. Workshop runs from 3:00pm - 4:00pm.
Important: You must sign-up for this workshop in advance as space is limited. Please do so during check-out on the ticket purchase page.
---

Raise a glass as we toast the fearless women icons who came before us and cheer on those who continue to fight for progress with Jane Walker by Johnnie Walker. The legendary Scotch Whisky maker will showcase and sample its award-winning Black Label blend in its newly released, limited edition Jane Walker bottles, which are designed to support organizations that champion women's causes.
Signature cocktails honoring the non-profit, Monumental Women, will be served from 2:30pm - 4:00pm. Must be 21+ to drink.
---

Get a boost of energy at our coffee bar powered by the woman-founded Kohana Coffee, fearless makers of the world's first organic cold-brew concentrate and organic slow-roasted coffee that are 100% sourced exclusively from women farmers.
Find GRATITUDE - in unlikely places as the fearless Christine D'Ercole, founder of WORDSHOP™, a workshop about self-talk, takes you through a totally practical process for changing the way we hear the words in our heads. Workshop runs from 12:00pm - 12:45pm.
Roll up your sleeves and start spreading the love. Our Helping Hands Helping Others Volunteer Area supports One Sandwich At A Time, a non-profit grassroots effort to feed the hungry in NYC and beyond, founded by the fearless Erin Dinan. You can give back by helping them hit their Fearless Fest goal of making 1,000 PB&J sandwiches that will then be distributed to people in need immediately following the event.
Calling all writers! The fearless editors from Feminist Press at CUNY will be on-hand to offer their expert tips on how to get your work published, and they'll showcase a selection of women-authored books that advance women's rights and amplify feminist perspectives.
Learn how to make your voice heard and your vote count at the League of Women Voters station all day. Civic Engagement workshop runs from 11:15am - 11:45am.
---
THANK YOU TO OUR FEARLESS PARTNERS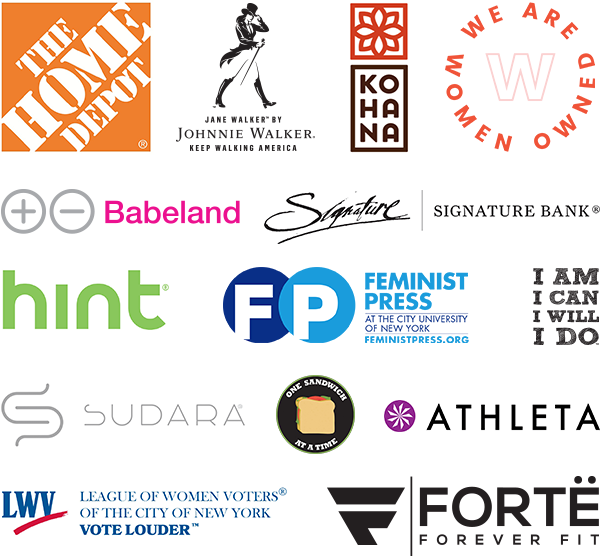 *Gift bags are first come, first served. The physical bags are sewn together with hope and love, and provided by Sudara, the woman-founded lifestyle brand that empowers women in India who have escaped from, or are at the highest risk of, human trafficking to live in freedom by providing living-wage employment, skills-training & restorative care.