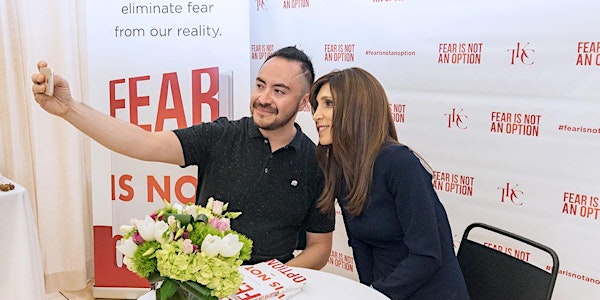 Fear is Not an Option Lecture, Signing and Q&A with Monica Berg
By The Kabbalah Centre New York
When and where
Date and time
Thursday, October 26, 2017 · 7 - 8pm EDT
Location
The Kabbalah Centre New York Midtown 155 East 48th Street New York, NY 10017
Description
Join Monica Berg as she introduces her new book Fear is Not an Option, shares her own experiences with fear, and offers tools for how to remove fear from your own life.
About the book:
The way we experience fear is the difference between leading a life of purpose and joy or a life of disappointment and stagnation. We do not need to learn to live with fear or find ways to cope with it, but instead to live fearlessly and to our highest aspirations. We have the ability to eliminate fear from our reality.
Thought provoking and inspiring for women and men alike, Fear Is Not an Option is both a story of personal triumph and a handbook for transformation. For those that desire to find their highest self, to achieve their dreams and to live a life of joy and fulfillment, fear is not an option.
#FearIsNotAnOption Tour
Monica is passionate about change, a "Change Junkie" if you will. She will be traveling the world sharing how to eliminate fear and live fearless. Help your friends live fearless by inviting them to join Monica's #FearIsNotAnOption tour.
Toronto, Canada - Oct 24th
New York City, USA - Oct 26th
London, UK - Nov 6th
Mexico City, MX - Nov 28th
Miami, USA - Dec 9th
LA, USA – Dec 18th
In the New Year: Brazil, Panama, Berlin, Moscow. *Keep checking http://rethinklife.today to find out dates and times soon!
About Monica: Mother, wife, sister, daughter, teacher and friend, Monica integrates all that she is into her mission of sharing what she's discovered with others. Monica is a fresh voice that channels the powerful internal spark of Light living within us all. Authentic and fearless, she reminds us of our extraordinary potential and pushes us onward with compassion and understanding. While informed by her many years of kabbalistic study, Monica also draws heavily on her own personal life experiences. Her combination of wisdom and real-life awareness has made her classes compelling to a wide range of men and women at different stages in their lives. With her trademark blend of humor, insight, and honesty, she shows individuals how to create a life that feels like it is working, like it makes sense, and most importantly, a life in which they are living and loving as the powerful, fulfilled person they've always wanted to be.
Monica serves as Chief Communications Officer for Kabbalah Centre International and lives in New York with her husband Michael and their children David, Joshua, Miriam, and Abigail.

About the organizer
The Kabbalah Centre is a not-for-profit organization whose goal is to translate the ancient wisdom of Kabbalah and make it relevant to life today. We are committed to making these mystical writings accessible to anyone with a desire to learn them.