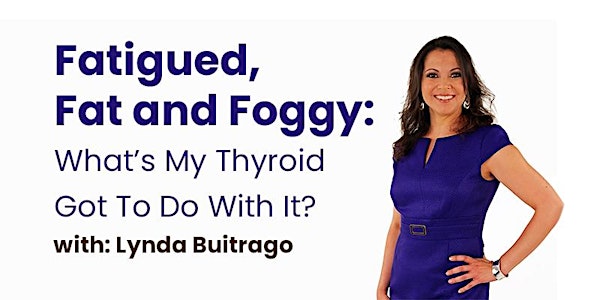 Fatigued, Fat and Foggy: What's My Thyroid Got To Do With It?
Learn effective alternatives and complements to thyroid medication or surgery.
When and where
Location
Staples Costa Mesa 241 East 17th Street Costa Mesa, CA 92627
About this event
Are you on thyroid medication but you don't feel any better? Are you newly diagnosed with thyroid disease and you want to know if you can avoid drugs or surgery? Do you just feel run down and depleted and wonder if it's a slow thyroid, but your doctor says your labs look normal?
Are you really "just getting older," or is there more to it?
If you've experienced fat around your midsection, fatigue, poor sleep, brain fog, forgetfulness, depression/moodiness, you feel cold all the time, your hair is falling out (thinning eyebrows, anyone?), anxiety, racing heart or palpitations, fatigue, feeling sensitive to heat, brittle hair, or trouble sleeping, you could have a thyroid problem.
Did you know there are really effective alternatives and complements to thyroid medication or surgery?
In this workshop, you will learn why you may not have the complete picture on your thyroid condition, how to work with your doctor, and what else you can do to start to feel better.
About the Facilitator
Lynda Buitrago, MS is a master nutritionist who helps people who feel fat, fatigued, foggy, and frustrated to let nature heal their bodies every day while still living their modern life so they can pursue their purpose with energy, ease, and joy. She's been a student of natural health for 25 years and has been practicing as a functional nutritionist for 7 years. Lynda recognizes what nourishes us is more than just food. She helps people who've slowed down and want to feel fully energetic again in an era of widespread chronic health challenges and ever-increasing environmental toxicity.