A conference for web developers to get things done faster!
About this event
The web is changing, fast! As a web developer, you need to evolve with it, or risk being left in the dust.
fastr_conf aims to inform and empower web developers to be more productive, level-up their skills, and ultimately fast-track their projects and their careers.
This is a one-day, single track, crash-course on disruptive technologies such as JAMstack and Static Site Generators that are making an impact in the industry.
We've partnered with HackerYou, and established web developers, to deliver meaningful, and action-able sessions.
SPACE IS LIMITED - RSVP NOW TO SAVE YOUR SEAT!
Agenda
9:00 – 9:30 - Registration + Breakfast
9:30 – 9:45 - Welcome
9:45 – 10:15 - Zach Dods, Full Stack Developer @ Blackcreek
Session: GatsbyJS x Dynamic Data Sources
GatsbyJS has an immense repository of plugins for integrating with various services and software. Most popular of these plugins are for pulling data from a CMS or embedding things like Google Analytics. In a world of constantly changing data sources, how do you pull from all the places you need to, while still containing everything to one application. GatsbyJS to the rescue! Connect with Zach on Twitter & GitHub.
10:25 – 10:55 - Nadia Rasul, Front-end Developer, Reason One
Session: How you can start building accessible websites today (... and why!)
Accessible websites not only benefit people with disabilities, they've been proven to have the best user experience for all types of users, with increased performance and SEO. But as a developer, what does it mean to create an inclusive website? Building accessible websites doesn't have to be difficult and frustrating. In this session we will talk about the collaborative process of launching an inclusive website and look at some simple things you can start doing today. Connect with Nadia on Twitter.
11:05 – 11:35 - Daniel Favand, Senior Consultant @ Deloitte Digital
Session: JAMstack with TypeScript: Going faster without breaking things
It's easy to create complex and performant experiences very quickly on the JAMstack. But how do you maintain momentum with confidence as a project evolves and includes more people? Learn about the sorts of problems Typescript can help you avoid, how it can speed up team and solo developers, some of the bumps to watch out for along the way, and how to get started quickly using Next.js.
11:45 – 12:15 - Developer Panel: Fighting Impostor Syndrome, Learning from your Mistakes
12:15 – 1:30 - Lunch (provided and sponsored by Agility CMS)
1:30 – 2:00 - Andrew Brown, CEO @ ExamPro
Session: The Fast Track from Bootcamp Grad to Senior Dev
In this session, Andrew unveils his 3-box model mentorship system which gives graduates without a Computer Science degree a clear and actionable path to fast-tracking their career to senior full-stack developer. Through repetition and time-management, Andrew will show you how to close the gap on production-level technical and team skills. This system can be self-administrated but works best with a mentor. At the end of this session, you will have the means to map out your journey and measure your progress towards becoming a senior developer. Connect with Andrew on Twitter & GitHub.
2:10 – 2:40 - Mike Zheng, Software Developer @ Blackcreek
Session: JAMstack on AWS
Static sites are blazing fast. To fully leverage its speed, we need infrastructure that can match its performance. AWS has become the front runner in the industry for cloud computing. This is a match made in heaven. For this talk we are going to leverage the AWS infrastructure by using various extremely low cost services to host your own static website.
2:50 – 3:20 - Gemma Varty, Developer
Session: The Bottleneck of Impostor Syndrome
3:30 – 4:00 - Arjuna Shankar, Director of Technology @ Dotfusion Digital
Session: Laziness, Impatience, and Hubris: Cross-Project Front end Components
Slideshows, modals, buttons, lists, menus and more. Many sites we code up use these - all slightly differently - with slightly different behavior, slightly different styles and varying data sources. How can we think about often reused client side component libraries to spend less time repeating ourselves and more time being creative? Connect with Arjuna on Twitter.
4:10 - 4:45 - James Vidler, VP of Product & Operations @ Agility CMS
Session: How a Headless CMS Can Make you a 10x Developer
Traditional CMSs have a bad rep. Limitations, poor performance, security and implementations can quickly sink a project.  Learn how a Headless CMS can bring all the benefits an editor has become accustomed to, while allowing you, as a developer to build re-usable components in your tech stack, your way.  You'll be able to do more with less and be the hero you were born to be. Connect with James on Twitter & GitHub.
5:00 – 6:00 - Happy hour OPEN BAR / Networking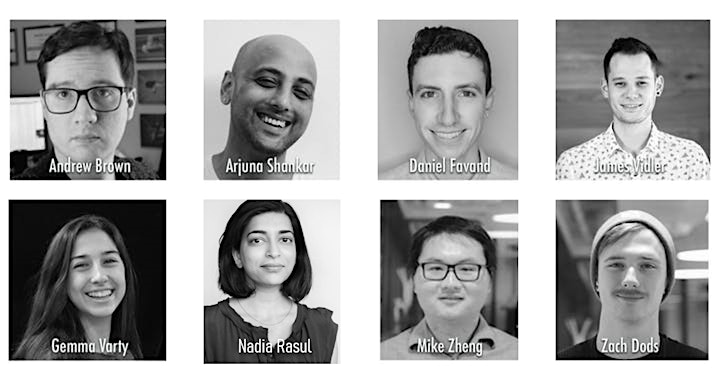 What to bring?
All sessions will be in a classroom setting, so bring a laptop or a notepad to take notes. There is no dress code.
Your ticket includes:
full day of learning + breakfast + lunch + open bar with local craft beer + prizes and t-shirt + VR gaming experience + becoming a part of the Toronto's best tech community
Presented by:
Agility CMS - The fastest Headless CMS to build and deploy your website.