Sales Have Ended
Ticket sales have ended
Thank-you for registering for the Farming Evolution 2018, February 13 & 14 at the Fairgrounds in Holyoke, CO.
Sales Have Ended
Ticket sales have ended
Thank-you for registering for the Farming Evolution 2018, February 13 & 14 at the Fairgrounds in Holyoke, CO.
Description
WALK INS ARE WELCOME BUT WE CANNOT GUARANTEE LUNCH. Tickets are no longer available on the website.
Make plans now to join farmers and ranchers at the 2018 Farming Evolution event. The Farming Evolution will be held Tuesday and Wednesday, February 13 & 14, 2018, at the Phillips County Event Center in Holyoke, CO. If you farm or graze cropland you will want to plan to be there. Bring your questions about no-till, cover crops and grazing livestock on cropland.
The headline speaker will be Allen Williams. Allen Williams is a 6th generation family farmer and founding partner of Grass Fed Beef, LLC. Allen specializes in whole farm & ranch planning for a healthy agricultural system. He has consulted with more than 4200 small and large farmers and ranchers in the U.S., Canada, Mexico, and South America. Allen is featured in a number of the YouTube video series Soil Carbon Cowboys (www.soilcarboncowboys.com).
Allen will guide the audience through the complexities of soils - what makes a soil 'healthy' or not. He'll look at cover crops and livestock grazing case studies across the country.
Allen's presentation will be an open conversation with the audience, not just a talk to the audience. He particularly wants to address objections and questions in an open and honest dialogue with attendees. Whether the topic is no-till, soil health, cover crops and/or grazing cropland, bring your hard questions to the Farming Evolution!
Joining Allen will be Jonathan Lundgren. Jon is the founder of Blue Dasher Farms. Their focus is on cutting edge science, pairing "hands-on" experience with frontline information and demonstration projects. Jon will discuss why understanding plant and insect biodiversity is important. For example, there is always a reason why insects are present. When we know the reason, then we can use biodiversity to control their populations, says Jon.
Tying directly into the topic of biodiversity will be Julie Peterson, from the University of Nebraska-Lincoln. Julie's research looks at the impacts of beneficial insects on the cash crops common to Eastern Colorado and Western Nebraska. Her recent research focuses on encouraging beneficial insects that attack the Western Bean Cutworm and Western Corn Rootworm. She will share ideas on the use of multiple types of pest management practices to create robust and profitable agroecosystems.
On day two, Allen will get to the 'brass tacks' of how to implement these ideas on the farm. This will be a working session where producers can share information about their operation and get feedback from Allen. He will also discuss how one can access the value added grassfed market, if desired.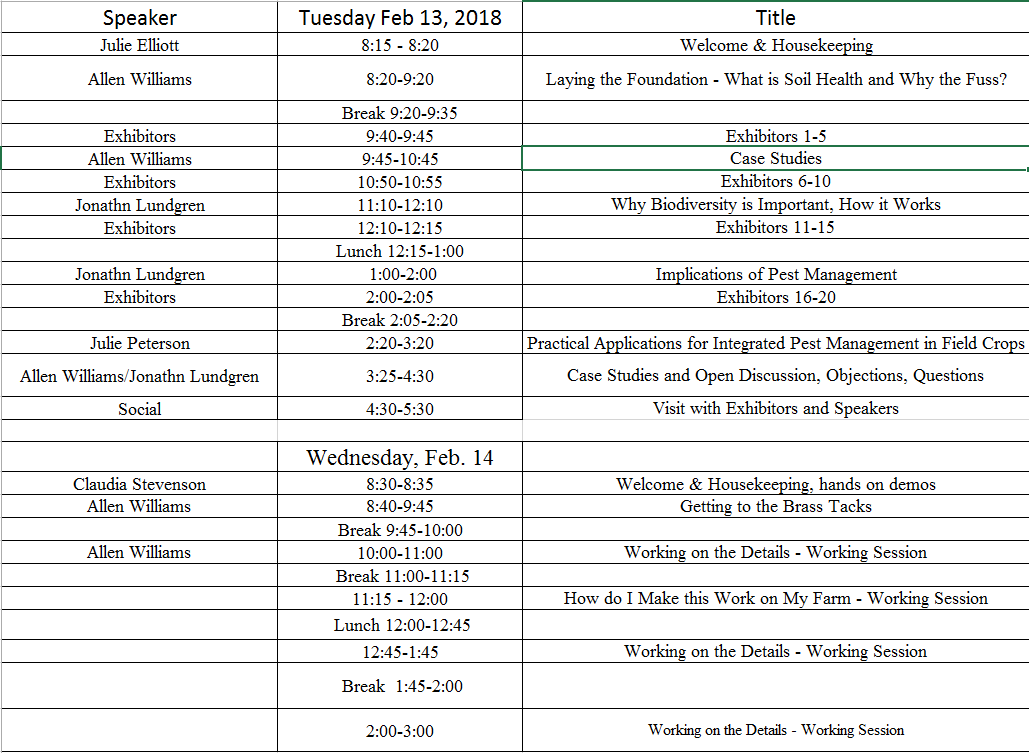 Lodging Options in Holyoke, all are located along Hwy 385.
The Burge Hotel (Historic Building) 970-854-2261 (north end of town)
Cobblestone Inn & Suites 970-854-3222 (south end of town)
Golden Plains Motel 970-854-3000 (south end of town)
Holyoke has a number of places to eat. Unfortunately, several are closed on Monday's. You will find Kardales (local diner) & Los Parras (Mexican) on Hwy 385 north of the stoplight, Subway south of stoplight, and the grocery store (also on Hwy 385 north of the stoplight) has awesome fried chicken (if it's not gone!).