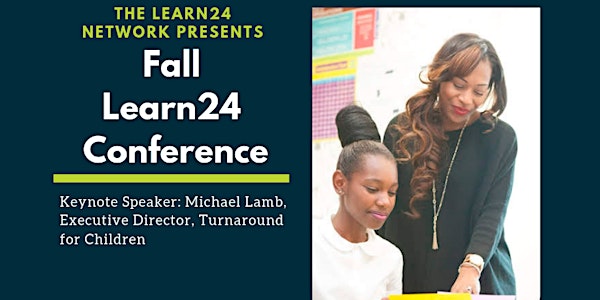 When and where
Location
University of the District of Columbia 4200 Connecticut Avenue Northwest Student Center Washington, DC 20008
Description
On Friday, October 11, 2019, join Learn24 at the Fall Learn24 Conference hosted by the Institute for Youth Development. This one-day conference invites youth development practictioners that work and interact with youth in Out-of-School Time (OST) programs throughout the District of Columbia. Attendees will learn best practices, innovative strategies, gain knowledge and skills necessary to improve youth outcomes in the District.
The lunch keynote speaker is Michael Lamb, Executive Director, Turnaround for Children, a national organization that acts as a catalyst for change by raising awareness about and addressing the challenges that affect any school facing adversity, particularly those in high-poverty communities. Lamb will discuss tools and strategies, grounded in science, that cultivate a safe environment, reduce stress, increase readiness to learn and accelerate student development and academic achievement.
Conference Objectives:
1) Learn – An opportunity to learn about best practices that can be integrated into OST programming
2) Network – Network with others in the field and strengthen relationships across programs
3) Equip – Provide valuable tools, resources and experiences that equip OST providers with essential information that will help improve daily interactions with youth in an OST setting.
Please review the workshops below as you will be asked to select your workshops during registration.
Conference Registration - 8:30 am - 9:00 am
Welcome Session - 9:00 am - 9:30 am
Breakout Session One - 9:40 am - 10:55 am
Preventing Burnout with Mental Resilience Superpowers - Susan Comfort, Nonprofit Wellness
Identify how multiple layers of oppression affect mental health.
Learn the latest brain science related to stress and how we manage the "safe and social" state of our nervous systems.
Engage in new skills (mindfulness, stretching, activities that challenge comfort zones) that participants can take back to their programs.
Developing Student Voice Through Debate - David Trigaux & Dara Davis, Washington Urban Debate League
Highlight how to integrate high quality debate programs into existing instruction, and review resource(s) available for instructors.
Discuss the ways debate develops skills and confidence for students.
Leveraging Engagement through Inquiry-Based Instruction - Jessica Kesler & Jason Porter, TGR Foundation: A Tiger Woods Charity
Learn how to leverage engagement using an inquiry based activity that can be customized to your class needs.
Understand how using an inquiry mindset to build discovery-based lessons with strong content objectives, lead to both high engagement and a connection to higher learning.
Describe the different types of engagement and inquiry, identify key inquiry elements in model activities, and plan for how they can incorporate inquiry into their learning environments.
Breakout Session Two - 11:05 am - 12:20 pm
Social Media for Nonprofit Organizations - Christian Benjamin, StoryMKTG

Learn the importance of having engaging social media campaigns, grow awareness for initiatives.
Create unique and consistent content to be highlighted on their social media pages.
Empowering Youth within Behavioral Health Services and Beyond - Leslie-Ann Byam, Department of Behavioral Health
Identify three ways to infuse youth voice into an organization.
Understand at least two key processes for ensuring young adults feel supported in engaging with behavioral health services.
Identify the primary reasons to tailor behavioral health services for youth.
The Power You Carry: How to Become A Brain Builder - Michael Lamb, Turnaround for Children

This presentation will progress through an integrated arc of learning topics, including an introduction to brain science, the centrality of relationships, the stress response system, the science of trauma and adverse childhood experiences, why context matters, and Turnaround for Children's Building Blocks for Learning Framework for comprehensive child development. Participants will be equipped with strategies to support healthy development for all children, and leave with new strategies to apply right away.
Lunch Keynote Speaker - Michael Lamb, Executive Director, Turnaround for Children - 12:30 pm - 1:30 pm
Building Strong Partnerships - 1:30 pm - 3:00 pm
The OST Commission Coordination and Collaboration Subcommittee invites you to participate in a focus group that helps the OST Office, Government agencies, Community-Based Organizations (CBOs), etc. identify what has worked in the past and what can be improved upon.
This conference is ideal for frontline staff, volunteers, program directors, executive directors and any individual seeking to improve outcomes for youth in the District of Columbia.
Visit learn24.dc.gov for more information.