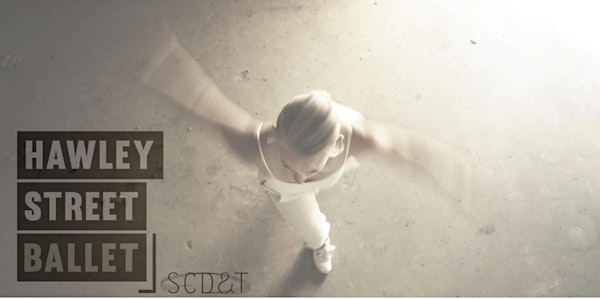 Fall 2022 Contemporary Ballet Wednesdays/ Saturdays (zoom option available)
Location
Northampton Community Arts Trust
33 Hawley St
Northampton, MA 01060
Refund policy
Contact the organizer to request a refund.
Eventbrite's fee is nonrefundable.
Drop-in, or register for the entire fall session! Weds 9:00 am-10:30AM and Saturdays 10:30-12PM at 33 Hawley!
About this event
Contemporary Ballet
Open to all levels who want to train together in a supportive environment. This program is for anyone who loves ballet, especially the people whom ballet has left out. Reimagine the standard components of a ballet class and prioritize joy, generosity, play, mutual admiration, and virtuosity.
Wednesdays 9-10:30 AM, Saturdays 10:30-12 PM, STARTING SEPT 7!
Open to all who want to train together in a supportive environment.
BOTH CLASSES HAVE A ZOOM OPTION! SEE IN TICKET OPTIONS! ( starting Sat Sept 25)
CLASS FEES:
Student/Low Income: $5-$25
Employed/Financially Stable: $15-$50
Arts Supporter/Able to Give: $25-$500
SPECIAL GUEST SAKINA IBRAHIM ON SATURDAY SEPT 17!
COVID-19 SAFETY:
COVID safety protocols will be strictly followed. Masks are suggested of all participants at ALL TIMES while in the Hawley St. building, and class sizes will be limited to allow for social distancing.
Learn more about our COVID-19 safety policies and find updates HERE >>>>
Questions? Call or email our program coordinator Jen: +1 (413) 695 1799 // jenscdt@gmail.com
HAWLEY STREET BALLET
Ballet for the People, Ballet for Life
Hawley Street Ballet has been long in the making-- Jen Polins, Kate Martel, and Ellie Goudie-Averill and Michelle Maroquinn, have each had life long journeys as professional ballet dancers and have been training since they were very young. Their love for the form has kept them all engaged in the art of ballet, and their love for teaching movement and patterns to others has brought them together in Northampton at 33 Hawley Street in 2021. These three incredible teachers are joining forces and offer these holistic, healing approaches to classical and contemporary ballet to YOU!
Students will be invited into contemporary approaches to ballet techniques that include kindness, rigor, coordination, curiosity, and specificity. Together, we will deepen physical exploration and expand knowledge of movement vocabulary. In these classes, dancers will learn and increase familiarity with ballet terminology, and apply anatomical information for maximized freedom within form, function, and joy.
____
Bios:
Kate Martel is a dance artist and Alexander Technique teacher based in Western Massachusetts. She enjoyed fifteen years dancing in NYC with choreographers Laura Peterson, Nora Stephens, Rebecca Brooks, Luis Lara Malvacias and Sarah White Ayon, among others. During this time she trained in the Alexander Technique with master teacher Ann Rodiger, graduating from the Balance Arts Center in 2017. Her choreography has been presented by SCDT (WIP), Women in Motion, Movement Research at Judson Church, Center for Performance Research and Purdue University. She has been on faculty at Mason Gross School of the Arts, Adelphi University and Western Connecticut State University. In addition, she has earned a BA from Goucher College in Dance and Education (2002) and an MFA in Performing Arts from University of Wisconsin Milwaukee (2014). Kate has been a collaborator with Barbie Diewald Choreography since 2017 and is currently on faculty at Westfield State University. She teaches AT privately and in the Somatics Series at SCDT, as well as teaching ballet and modern throughout the Pioneer Valley.
Originally from the Midwest, Ellie Goudie-Averill is a dance artist and educator who works with dancers of all ages on technique and performance. Since graduating with her MFA in Dance Performance from the University of Iowa, she has served as a professor at Temple University, Bucknell University, the University of Kansas and Franklin & Marshall College. In the past, she has danced professionally for Susan Rethorst, Lucinda Childs, Bronwen MacArthur, and Group Motion Multimedia Dance Theater. Ellie is a regular collaborator and dancer with Tori Lawrence + Co. in dance films and site-specific works and has been with the company for nine years. She currently teaches Ballet at Connecticut College and at School for Contemporary Dance and Thought/Hawley Street Ballet in Northampton, MA. Ellie's dance reviews and other writings have appeared online at thINKingDANCE and BAC Stories.
Jennifer Polins is a curator, mobilizer, movement practitioner and performance maker, bridging somatics -performance practices- and contemporary dance techniques for over 25 years. Jen is the founding director of The School for Contemporary Dance and Thought,and the director of Hatchery at SCDT. She holds an MFA in dance from Hollins University/The American Dance Festival and is a 2014 MCC choreographic fellow. Jen is also an assistant programmer for A.P.E.@Hawley. She has danced professionally in America and Europe, starting with the Joffrey Ballet, Milwaukee Ballet and then the Zurich Operahouse Ballet companies before migrating to a professional career in contemporary performance art. Jen specializes in combining dance technique and composition with rigorous improvisational practices, influenced by many mentors, most notably- Bonnie Bainbridge Cohen, Nancy Stark Smith, Steve Paxton, and Lisa Nelson. Jen is certified in Pilates, Gyrotonic, Gyrokinesis, Yoga, and Massage and studied Body Mind Centering for over 10 years.
Michelle Marroquin is a life long dancer and choreographer who works with singers, composers, sculptors and video artists to bring thought provoking performance art to unusual spaces and new audiences. She teaches ballet to teenagers and somatic exercise practices to adults. She is a certified Gyrotonic/Gyrokinesis instructor, Yoga teacher and Thai Massage Bodyworker. More at www.MichelleMarroquin.com
For more programming through SCDT, please visit www.scdtnoho.com.
WEDNESDAYS
HAWLEY STREET BALLET FOR ADULTS 9-10:30AM
September
7 - Kate, 14 - Michelle, 21 - Ellie, 28 - Kate
October
5 - Ellie, 12 - Kate, 19 - Ellie, 26 - Kate
November
2 - Ellie, 9 - Kate, 16 - Jen, 23 - NO CLASS THANKSGIVING, 30 - Kate
December
7 - Kate, 14 - Jen
SATURDAYS
SCDT'S HAWLEY STREET BALLET AGES 12 AND UP 10:30am-12pm
September
10- Ellie, 17 - Sakina Ibrahim, 24 - Kate
October
1 - Ellie , 8 - Ellie, 15 - Kate, 22 - Jen, 29 - Ellie
November
5 - Jen, 12 - Ellie, 19 - Kate, 26 - Jen
December
3 - Kate, 10 - Jen