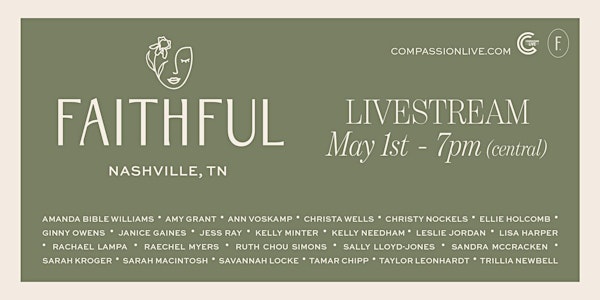 Faithful: A Livestream Event - GROUP ORDERS
Faithful: A Livestream Event
About this event
LIVESTREAM DATE: Saturday, May 1, 2021
TIME: 7:00 PM CT
Ever wanted to spend the evening with the most thought-provoking and influential Christian artists and authors of our time? Join Amy Grant, Ellie Holcomb, and many more on May 1st, as we celebrate the release of the Faithful book and album! This unprecedented livestream will feature a collaboration between Faithful's artists and authors telling the stories of God's faithfulness to women throughout Scripture and all the way to present, through stories and song. Our hope is that you will walk away from the Faithful livestream with an increased understanding of how God has always valued the integral role of women and how He continues to guide, shape, and protect their lives today.
Two Church/Small Group Options Available:
Small Group Package - $150
For group of 10 or less
Includes 5 Faithful books and 5 Faithful CDs
Church Group Package - $300
For group of 11 or more
Includes 5 Faithful books and 5 Faithful CDs
Please make sure you submit the proper email address when purchasing as that will be the main way to keep you updated on all information regarding the livestream. Once you confirm purchase, you will receive an email from Eventbrite with confirmation of your ticket purchase. You will then receive an email from Compassion LIVE no later than 36 hours before the event with the link and instructions on how to download and access the livestream for your group. Your Church or Small Group License will allow for playback to your group no earlier than Saturday May 1st 2021 at 7pm CT and allow you to hold your event for up to 14 days after cutting off at May 15th at Midnight.
No distribution will be allowed on any public platforms including Facebook, Youtube, etc. This license must be used for viewing by your group in a controlled environment (Home, Church location, etc) that will not be broadcast publicly.
Please make sure you check your spam if you do not receive the show link by the morning of the stream. We look forward to seeing you May 1st! Group/Church packages will no longer be available after April 30th at Noon CENTRAL.
CD's and Books: Order by April 5th to receive the Faithful albums and books by the May 1st release date in the Continental United States. Any orders received after April 5th will be delivered approximately 3 weeks from date of purchase in the Continental United States. All orders outside the Continental United States may take up to 3 weeks for delivery depending on location. Shipping delays may occur due to COVID-19.
For any questions, please email info@compassionlive.com.