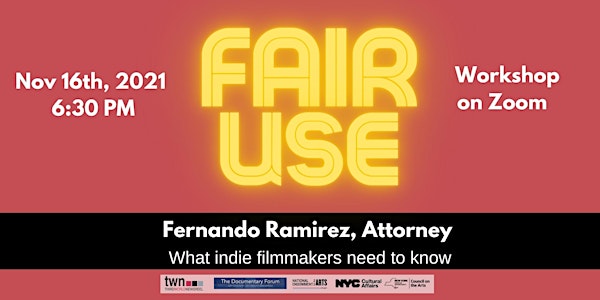 Fair Use for Indie Filmmakers with Fernando Ramirez
If you're working on a film and want to use footage and stills you've found - find out about Fair Use before you make that decision!
About this event
You want to use that image, that footage you found - but can you? What should you do to find out what's freely usable - and what's not.
Hear from attorney Fernando Ramirez, who will take us through the basics of thinking about Fair Use. And bring your questions!
Fernando Ramirez represents numerous independent and major label artists and music industry professionals. In the film and television industry, he has served as legal counsel on over 85 films, including projects acquired by domestic and international distributors, as well as various commercial, cable, streaming networks, and public television programs, in addition to having served as legal counsel to Oscar® and Emmy® nominated clients and awarding-winning series. https://www.entfrlaw.com/
Note: attendees will receive Dropbox links to additional information on Fair Use. This event will not be recorded.
This is a presentation of Third World Newsreel and the Documentary Forum at CCNY.