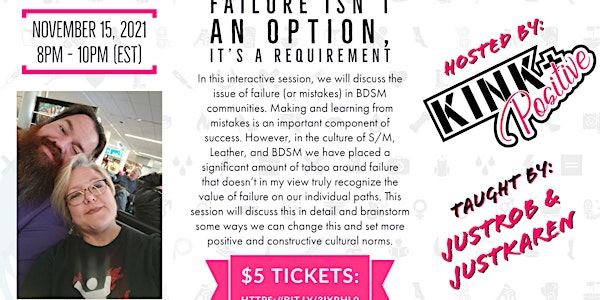 Failure Isn't An Option, It's A Requirement
In this interactive session, we will discuss the issue of failure (or mistakes) in BDSM communities.
Refund Policy
Contact the organizer to request a refund.
Eventbrite's fee is nonrefundable.
About this event
In this interactive session, we will discuss the issue of failure (or mistakes) in BDSM communities. Making and learning from mistakes is an important component of success. However, in the culture of S/M, Leather, and BDSM we have placed a significant amount of taboo around failure that doesn't in my view truly recognize the value of failure on our individual paths. This session will discuss this in detail and brainstorm some ways we can change this and set more positive and constructive cultural norms.
---
Attendance Agreements:
Due to the adult nature of the classes, all attendees must be at least 18 years of age. By obtaining a ticket you agree that you meet this minimum age requirement. Any under-age persons will be removed from the class/discussion.
No recording of any kind is permitted of the class, video, or audio whether it is the instructor, the audience, or shared screen images. Do not re-broadcast the content to other media outlets, screenshot any part of the class, or share information about people you saw within the class or their stories. By attending you agree to the above restrictions regarding information sharing.
---
About Kink Positive:
Kink+ (or "Kink Positive") is a project designed to help spread information, experience, and knowledge in all things related to kink and sex positive thinking.
---
Presenter Bio:
JustKaren (She/Her) and JustRob (He/Him) are a polyamorous couple who have been active in the public community in Jacksonville, FL since 2008. He identifies as a Leatherman and Top and she identifies as a voyeuristic switch. They help run a local educational group Alternative Lifestyles Enthusiasts (A.L.E.) , they are passionate about helping people find their way in this lifestyle and helping those who have already found it to navigate it safely and grow personally.