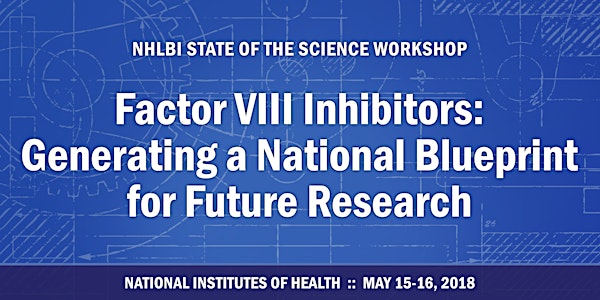 Factor VIII Inhibitors: Generating a National Blueprint for Future Research
When and where
Location
NIH Main Campus Mauser Auditorium Clinical Center, Building 10 Bethesda, MD 20814
Description
REGISTRATION IS NOW CLOSED. Onsite registration will begin May 15, 2018 at 7:30 a.m.
For meeting related inquiries, please contact:
Click to preview Workshop Agenda
The NHLBI State of the Science (SOS) Workshop will be held on the NIH campus in Bethesda, Maryland on May 15 and 16, 2018. The goal of this workshop is to solicit input from all constituencies within the U.S. hemophilia community, as well as international collaborators, into the development of a coordinated and collaborative national blueprint for future, basic, translational, and clinical research focused on factor VIII (FVIII) immunogenicity and FVIII inhibitor prevention and eradication.
REGISTRATION INFORMATION
Four pre-workshop Working Group deliberations on scientific priorities, challenges and opportunities will determine the preliminary national blueprint for future research focused on FVIII immunogenicity and FVIII inhibitor prevention and eradication. This draft plan for research prioritization and implementation will be presented to meeting participants for additional discussion, finalization, and subsequent dissemination. Registering participants are also being given the opportunity to sign up for a breakout session led by one of the four Working Groups for the chance to further inform the national agenda on the scientific topic of their choice.
WORKING GROUPS:
Working Group #1 :: Co-Chairs, Maggie Ragni and Lindsey George
Clinical - Scientific priorities for clinical trials; as well as novel approaches and strategic partnerships for facilitating clinical trials
Working Group #2 :: Co-Chairs, Mike Recht and Barb Konkle
Clinical - Scientific priorities for 21st century data and bio-specimen collection
Working Group #3 :: Co-Chairs, Roland Herzog and Shannon Meeks
Basic/Translational - Scientific priorities for generating predictive models for inhibitor development, and for acquiring an actionable understanding of FVIII immunogenicity and the immunology of both the host immune response and tolerance
Working Group #4 :: Co-Chairs, Debbie Brown and Jill Johnsen
Basic/Translational - Design of pregnancy/birth longitudinal cohorts that leverage 'omics,' existing phenotypic data, and in silico modeling to study FVIII immunogenicity, inhibitor development and eradication
Please click links below for additional info:

REGISTRATION/HOTEL LOGISTICS:
Deidre Young, 301-957-3040, Ext. 259 dyoung@afyainc.com, or
Robin Ford, 301-957-3040, Ext. 217 rford@afyainc.com