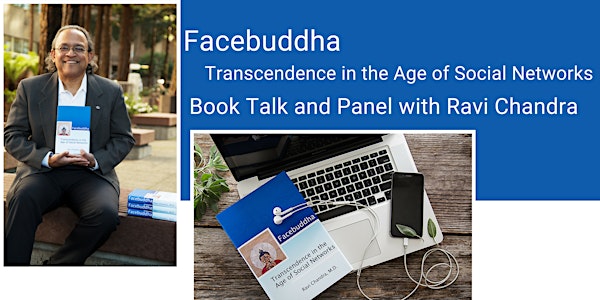 Facebuddha: Transcendence in the Age of Social Networks
When and where
Location
Oakland Asian Cultural Center 388 9th Street Suite 290 Oakland, CA 94607
Description
Eastwind Books of Berkeley and the Oakland Asian Cultural Center present
Facebuddha: Transcendence in the Age of Social Networks
Book Talk and Panel with Ravi Chandra
In celebration of Asian American and Pacific Islander Heritage Month and Mental Health Awareness Month, please join us for a book presentation with Ravi Chandra, author of Facebuddha: Transcendence in the Age of Social Networks.

Book talk followed by panel discussion with Ravi Chandra and Najee Amaranth.
Facebuddha: Transcendence in the Age of Social Networks is a rich modern Asian American cross-cultural memoir of relationship online and off, an exploration of psychological research about social media, and an engaging introduction to Buddhism. We are who happens to us, and what we make of that happening.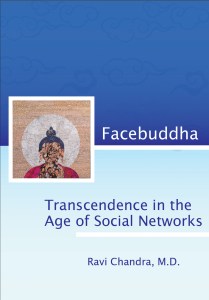 Who do we become when we try to relate online? What happens to our mind and heart? Ravi Chandra is a psychiatrist and Buddhist who values conversation, relationship and their ultimate goals: love and the feeling of society. In these politically charged and divided times, how can we connect? Social media offers many inspiring possibilities. Facebook has become popular because we need belonging, meaning and self-expression. But our time on social media is a bardo, or dream-realm, that has traps for our habitually and unconsciously self-centered egos, which Chandra describes thoughtfully and with humor.
Chandra writes, "Social media is not just a medium. It is a new religion. The Tweet is our Call to Prayers. We thumb our Phones like Rosaries. Food Porn is our Communion and our Offering to the Cloud. The Status Update is our Sermon on the Mount. The Selfie our personal Anointment and Beatification. Facebook Messenger is our Messiah. The Apple Store is our modern Cathedral, our Silicon Sanctuary. New Emoji are released to the fanfare of a new Pope." Where is this religion taking us?
Facebuddha is the 2018 Nautilus Books Silver Award Winner for Religion/Spirituality of Eastern Thought category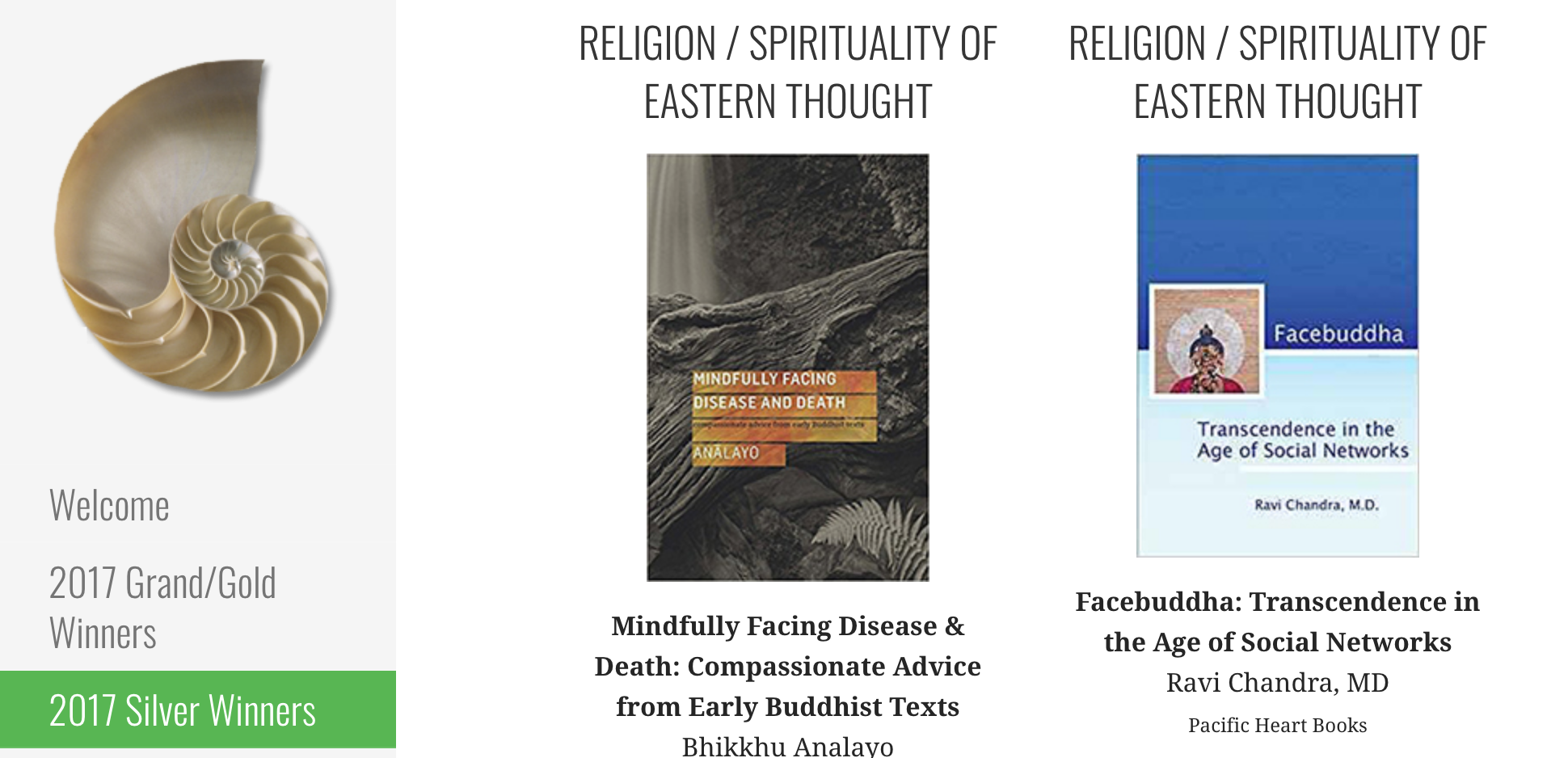 By Ravi Chandra
ISBN: 9780990933922
Publisher: Pacific Heart Books
Binding: Hardcover
Publication Date: October 10, 2017
$30.00
Buy the book and support your neighborhood bookstore:
www.asiabookcenter.com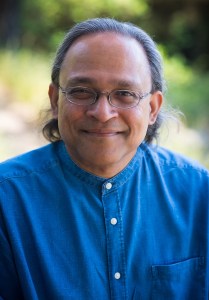 Ravi Chandra, M.D., D.F.A.P.A, is a Distinguished Fellow of the American Psychiatric Association, and a Diplomate of the American Board of Psychiatry and Neurology. He was the medical director of the Adult Outpatient Clinic at RAMS, Inc., a community mental health center, from 2008-2012, and continues to volunteer there. He has a private practice in San Francisco. A graduate of Brown University and Stanford University Medical School, he completed a psychiatry residency at University of California, San Francisco. He has interests in film, creative writing, and spirituality. His poetry was recently published in the groundbreaking anthology of contemporary South Asian American poetry, Indivisible (University of Arkansas, 2010), winner of the 2011 Northern California Book Award.
He is also working on a spiritual/travel memoir about Asia, war, peace and Buddhism, called Going to Peace, and has just published a book on gun psychology, culture and identity, Guns Are Not Our God! The NRA Is Not Our Church!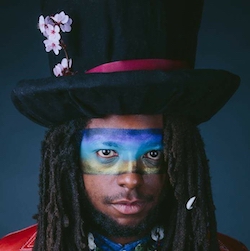 Najee Amaranth, artist and innovator, got his start in 2009 performing for colleges. In 2012 he started the group The Oakland Mind, one of the leaders in the bay area music scene. Through this group and his personal music he was able bring light to real life issues such as human trafficking, the lack of resources in underprivileged communities, and mental health. The music he creates stays true to his hip hop roots while incorporating a strong message into the music without losing the power of his dynamic style. His music has been compared to De La Soul, Souls of Mischief, Andre 3000, and MF Doom. With a wide variety of sounds that find their perfect harmony, he aims to change the game one mind at a time.
@theoaklandmind @sumofman
The Oakland Asian Cultural Center (OACC) was founded in 1984 by a coalition of volunteers who recognized the need for a strong artistic and cultural force in the Chinatown area. Since opening its own facility in 1996 in the heart of Oakland's Chinatown district, the OACC has presented countless high quality cultural programs including performances, workshops, festivals, school tours, classes, and exhibitions. OACC builds vibrant communities through Asian and Pacific Islander arts and cultural programs that foster inter-generational and cross-cultural dialogue and understanding, collaboration, and social justice. Visit http://oacc.cc/ to learn more.
Since 1982, Eastwind Books of Berkeley has been a major source for Asian American literature, Asian Studies, Ethnic Studies, Language Learning, Traditional Chinese Medicine and Martial Arts books. We support and promote various authors at our book events and have been involved in the promotion of books written by socially conscious authors. Visit us at www.asiabookcenter.com