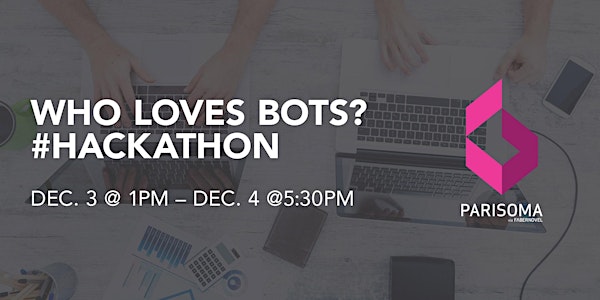 Facebook BOT Hackathon: San Francisco
When and where
Location
PARISOMA 169 11th Street San Francisco, CA 94103
Refund Policy
Contact the organizer to request a refund.
Description
In preparation for this Facebook #Botathon:

Do this online tutorial so you're technically up to speed. Here is an online tutorial for building a Facebook bot: https://docs.recime.ai/facebook_bot.html
About Our Hackathon:
Powered by Parisoma and Recime - #Botathon A 24-hour hackathon on building Bots for Facebook Messenger!
Why? Bots are the future of communications incorporating NPL, AI, and machine learning. Come to the hackathon and kick the tires of the next big thing.
Bonus: All participants get a free year of bot hosting at Recime and Parisoma will award a spot prize of 3 months for a team of 3, of co-working space, valued at $1,000!
Event Schedule:
Registration: 1pm Saturday onwards

Bot Bootcamp: 2pm-4pm Saturday.

Team Formation & Networking: 4pm-5pm

Hackathon Starts 5pm - 24 hours access

Sunday 4pm: Final check-ins

Sunday 4pm-5pm: Show and Tell to panel of experts
Prerequisites for Bootcamp & Hackathon:
Additional Details:
Bootcamp Saturday afternoon 2pm - 4pm:
Learn the basics of building NPL and AI based bots for Facebook and Slack. The kickoff boot camp will teach you the ins and outs of bot development with natural language support (NLP) and publish your bots to various platforms with the same code-base and with no effort for maximum productivity.
Typically building bots requires a developer to spin up their own Node server, wire up the corresponding SDKs, manually integrate NPL, fiddle with API access tokens, and then host it all somewhere by yourself. Luckily we've partnered with Recime, a platform for building bots that take cares of all of that plumbing for you so you can focus only on building bots.
Hackathon Starts 5pm Saturday:
(Almost) everything goes, as long as it is legal, decent and ethical, so rebuild something you already did, or build something new, an example is a Pipedrive Slack connection.
We will invite some local product development people that are available to brainstorm with you if you are out of ideas. We will also showcase the best bots on our platform.
Parisoma is available 24 hours during the event.
Hackathon Resumes Sunday Morning:
Then at 4pm, Show and Tell of al Bots with detailed feedback from a panel of experts
This botathon is for two-way learning purposes only, so no extensive presentations, investor pitches, big prizes or 1-2-3 rankings. Just showing off what you learned and built and an opportunity to get feedback from your peers.
ORGANIZER DESCRIPTION:
Parisoma
PARISOMA, San Francisco's oldest coworking space, hosts 120+ entrepreneurs and freelancers. We support their growth through classes, events, and partnerships. Founded and managed by the innovation agency FABERNOVEL, our vast community of alumni, mentors and partner organizations makes us the destination for the tech, design, and entrepreneurship scene in the San Francisco Bay Area. Created in 2008, PARISOMA is located in the heart of the SOMA district in San Francisco.
Recime
Recime.ai is a cloud-based bot infrastructure backend and hosting platform for developers Bot As A Service (BoTaaS). Recime handles all the plumbing a bot developer runs into and provides with its javascript framework all the required infrastructure necessary to build a rich bot with built-in natural language processing. Recime is an early stage startup from Silicon Valley.