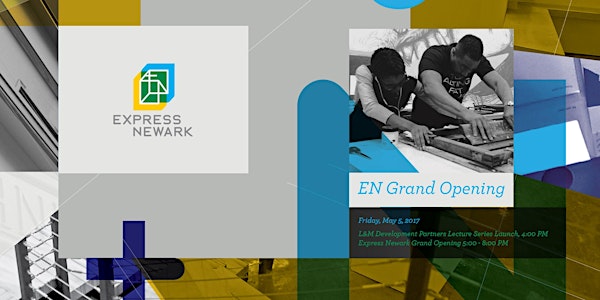 Express Newark Grand Opening & L+M Development Partners Lecture
When and where
Location
Express Newark Hahne & Co. Building 54 Halsey Street Newark, NJ 07102
Description
WE INVITE YOU TO ENTER A 3RD SPACE.
---
---
4:00PM - L&M Development Partners Lecture Series Launch
The L+M Development Partners Lecture Series will launch on May 5th, in the Express Newark Lecture Hall, at 4pm. Guest speaker Professor Nikki A. Greene of Wellesley College will give a lecture entitled "Newark: My Home in the Arts"
---
---
5:00-8:00PM - Express Newark Grand Opening
Express Newark: University – Community Collabratory is located in the iconic, former Hahne & Company department store bordering Broad, New, and Halsey Streets.
Facilities are designed to support cross-unit, cross-sector, cross-institutional publicly engaged scholarship and include an arts incubator where faculty work with community artists and local schools and institutions to cultivate new talent; a community media center that leverages expertise on and off campus to help Newarkers of all generations develop tools to tell stories in multimedia that will weave the counter-narrative of this diverse community, told by, rather than merely about, its members; a design consortium partnering the university and community arts and cultural organizations to immerse students in a real- world consulting company that takes on the challenge of communicating about urgent issues facing metropolitan America; and a community portrait studio where people who live in, work in, or pass through Newark—including student and youth groups—can have complimentary portraits made and practice photography while learning about Newark's historic role in American portraiture; and a space for exhibitions and performances associated with Newark's grand legacy in Jazz.
---
---
COLLABORATE. CREATE. EXPRESS YOURSELF.