Description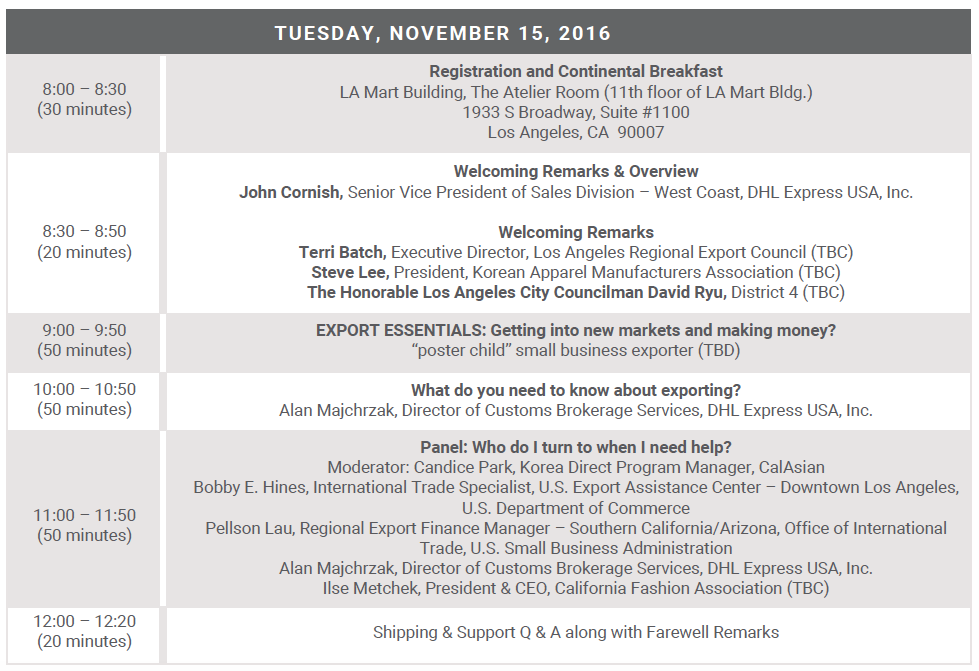 Have you ever thought about exporting but don't know where to start? Here's a great opportunity to learn how to export from international trade experts at no cost!
California is one of the ten largest economies in the world, with much of our state benefiting from international trade, tourism and investment. In 2015, California firms exported to 229 foreign markets. If you are not one of the exporting firms, the California Asian Pacific Chamber of Commerce (CalAsian Chamber) invite you to participate in a no cost Export 101 Workshop series event.
CalAsian Chamber has partnered with the U.S. Department of Commerce and DHL Express to assist small and medium-sized businesses in California on how to leverage Federal, State and Local export assistance programs. International trade experts will share valuable information on how to export and help you understand the benefits of international trade and foreign investment to the U.S. economy.
Register and attend this free event to hear from experts, gain valuable insights, and learn what you can do to drive international business to your doorstep. Contact us today!
FOR MORE INFO CONTACT Candice Park - (916) 616-8032 or cpark@calasiancc.org
Date and Time
Location
LA Mart Building, The Atelier Room (11th floor of LA Mart Bldg.)
1933 S Broadway, Suite #1100
Los Angeles, CA 90007