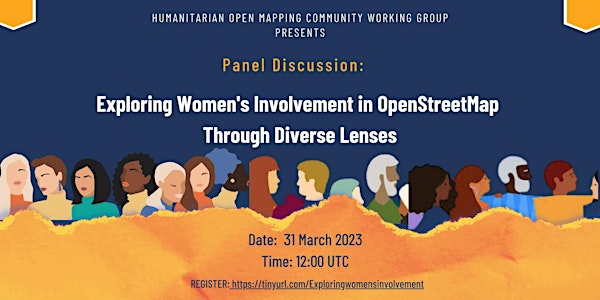 Exploring Women's Involvement in OpenStreetMap Through Diverse Lenses
Come join our panelists explore the involvement of women(everyone who identifies as woman) in the OpenstreetMap Community.
By Humanitarian OpenStreetMap Team
Date and time
Friday, March 31 · 5 - 7am PDT
About this event
This webinar will happen of Friday, 31st March, 2023 at 12 UTC and it will be in English.
This event is being hosted on Zoom. When you RSVP, you will receive a confirmation message with the link. The session will also be livestreamed on Youtube and recorded
About the Humanitarian Open Mapping Community Working Group
Details
We invite you to a panel discussion where our esteemed panelists will share their experiences, insights and strategies for fostering a more inclusive and equitable OSM community.
Program flow:
- 50 mins discussion
- 10 mins Q&A
- [Optional] 30 mins breakout room
Speakers
Our speakers are represented from across the globe!
About the organizer
The Humanitarian OpenStreetMap Team (HOT) is an international team dedicated to humanitarian action and community development through open mapping. We work together to provide map data, tools and training which revolutionises disaster management, reduces risks, and contributes to achievement of the Sustainable Development Goals.