New York Adventure Club | www.AdventureClub.com
About this event
During New York's Gilded Age of opulence at the turn of the 20th century, Riverside Drive was supposed to overtake Fifth Avenue as New York City's "millionaire colony." And by the early 1900s, that transformation was well under way as the once sleepy carriage drive became lined with dozens of free-standing mansions boasting spectacular park and riverfront views. But what led its affluent residents to vacate their palatial homes and abandoned this center of luxury for good by the 1930s? It's time to explore the rise, fall, and repurposing of Riverside Drive over the past century, with a special look at the few homes of this era that still remain.
Join New York Adventure Club as we uncover the opulent history and architecture of Riverside Drive — located on the banks of Manhattan's Upper West Side, this beautiful stretch of land was once home to some of the world's most notable business leaders and creatives before transforming into one of New York's most spectacular parks.
Led by Esther Crain — historian, founder of Ephemeral New York, and author of The Gilded Age in New York — this unique experience down one of New York's most storied streets will include:
The origins of Riverside Drive, from the reasons it attracted some of the wealthiest residents of the day to why it doesn't follow the rest of the Manhattan street grid
A visit to the 1903 Rice Mansion with stories surrounding the owner's beloved wife, who was so annoyed by Hudson River tugboat traffic beyond her landscaped grounds that she founded the Society for the Suppression of Unnecessary Noise
A stop at the 35-room marble palace Schinasi Mansion — built in 1907 by a tobacco baron, this house has a Prohibition-era tunnel that led to the Hudson River
Stories of the builders and barons, as well as artists and eccentrics, who made their fortunes and homes here
A discussion of Edgar Allan Poe's ties to the area, where he would sit and think while residing in a nearby farmhouse
A look at the Schwab Mansion, an 86-room French chateau built in 1906 that was offered to New York City as an official mayor's mansion in the 1930s (but turned down)
The Gilded era memorials lining Riverside Drive, including the Sailors and Soldiers Monument, statue of Joan of Arc, and Fireman's Memorial
See you there!
*Please bring a water bottle and comfortable pair of shoes as we'll be doing a lot of walking!
**This tour will conclude at Riverside Drive and West 107th Street
**This tour does not go inside any of the mansions
Disclaimer
Event takes place rain or shine.
By attending a New York Adventure Club experience, you accept our terms of service.
Categories: In-Person, Neighborhood Tours
Organizer of Exploring the Gilded Age Mansions and Memorials of Riverside Drive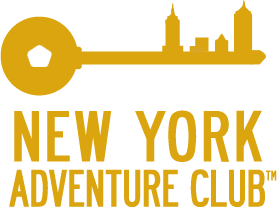 NEW YORK ADVENTURE CLUB
Unlock Your City
We give you insider access to the city's best-kept secrets. But we're so much more than a tour company.
WHO WE ARE

We are a community-driven club that curates the most unique experiences in town, with a focus on history and storytelling. We show you a city you never knew existed, and offer a community you can't live without.
You won't find our special-access tours and exclusive events anywhere else. Think after-hours tours of New York City's most celebrated spaces, themed parties in unexpected locations, and weekend excursions to incredible destinations. All of our events end with social hangouts so you can meet people who love exploring as much as you do.
THE 'CLUB' IN NEW YORK ADVENTURE CLUB

Our current community is more than 23,000 members strong and includes everyone from recent NYC transplants to lifelong residents. Whatever borough you're from (or city or country, for that matter), we'll make it easy for you to take full advantage of the unique places and great people this city has to offer.  
WHERE WE GO
To ensure a one-of-a-kind experience each and every time, we handpick events and outings specifically for the New York Adventure Club community. Recent events include:
* An after-hours tour of New York City Hall
* Special access into some of New York's most coveted private social clubs, including the Explorers Club and National Arts Club
* Petting baby kangaroos, holding sloths, and feeding leopards at Staten Island Zoo

* An NYPD Precinct tour, including a meet-and-greet with detectives and Emergency Service Unit crew members
* A tour of the Polish Consulate led by the Consul General and Vice Consul General of Poland

* A special-access tour of Brookhaven National Laboratory and its Relativistic Heavy Ion Collider (RHIC)
* A Halloween party in a historic gothic crypt, complete with a five-piece brass band
Subscribe with our newsletter to get the inside scoop on the city's most interesting events: http://eepurl.com/1cnVH
Unlock Your City with New York Adventure Club