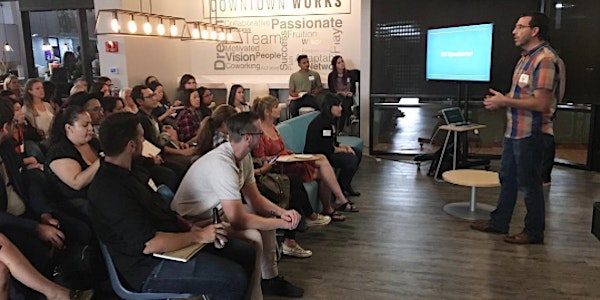 Exploring San Diego Crime Data using Python - Workshop
When and where
Location
Downtown Works 550 W B Street San Diego, CA 92101
Description
Join SCALE San Diego and Open San Diego, exploring our cities' Police Data using Python! Learn about interesting and innovative software, stretch your brain, and equip yourself with the technological skills of the future!
This workshop will be lead by Nawar Khabbaz. Nawar works as a product engineer at Qualcomm, uses data to tell different stories, is a big advocate of Python for automation and data analysis, and has served as co-organizer of the "Qualcomm Python Fest 2017".

Progress begins by collecting data, and using this data to implement change! Be apart of this progress by examining San Diego Police Department's 'Calls for Service' data. This is data for all 2015-2016 calls dispatched by the communications dispatch center to police in the field.
This event will be hosted by Daniel Obodovski of The Silent Intelligence and SCALE San Diego; and Jerry Hall of Code for America and Open San Diego.
Join these industry leaders, network, and learn the basics of Python at this interactice workshop! As well, remember to bring your notebook!
~~~~~~~~
Before arriving:
Plan on bringing your computer, download and install the Anaconda Python distribution on your notebook. This includes all the necessary libraries for the workshop at:
https://www.anaconda.com/download/
or, if you already have Python IDE installed on your computer, you should install the following libraries manually:
pip install pandas
pip install seaborn
pip install matplotlib
Everyone should download the San Diego Police Department Crime Calls for Service data elements in this folder: https://drive.google.com/open?id=0B-sBXvhIZi_gWHJENGd2UkhWbVk
Please do this before you arrive at the meeting so we can get started into the workshop promptly. All user skill-level welcome. If you don't have a computer still come and share. As well, if you need help, arrive early! Thanks!

When arriving, be sure to come to the third floor! We will be having many events going on at the same time, so if anyone asks, say you are here for the Python Workshop.