A Walden Online Workshop (WOW!) presented by guitarist and YMP visiting artist Dan Lippel.
About this event
Exploring Microtonality in Guitar Repertoire
Presented by Dan Lippel, guitar
Wednesday March 31, 7:30pm Eastern/4:30pm Pacific
Dan Lippel, guitarist and 2019 visiting artist at The Walden School's Young Musicians Program, presents an exploration of alternate tunings and fretting systems in guitar repertoire as a window into microtonality, well temperaments, and different divisions of the octave. We will hear excerpts of guitar repertoire composed by Ken Ueno, Vineet Shende, Laura Schwartz, Chris Trapani, Taylor Brook, Wang Lu, and Paul Clift, as well as Takemitsu, Bach and Dowland. Dan will demonstrate different tunings and temperaments on standard guitars as well as guitars with fretting systems in different equal divisions of the octave and well temperaments.
This workshop is free and open to all!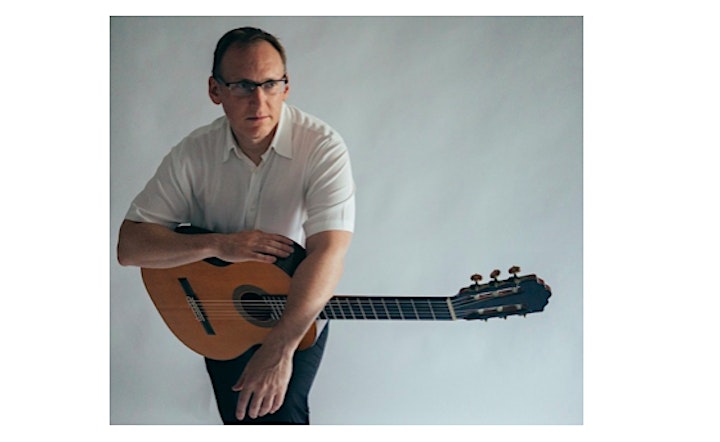 Guitarist Daniel Lippel, called an "exciting soloist" (New York Times) and "precise and sensitive" (Boston Globe), has a multi-faceted career as a performer, recording artist, and label owner. He has premiered more than fifty solo and chamber works, many written for him, recording several on his label, New Focus Recordings. Recent performance highlights include recitals at Le Poisson Rouge (NY), Sinus Ton Festival (Germany), National University of Colombia (Bogota), and the New York and Cleveland Classical Guitar Societies, and chamber performances on the Mostly Mozart Festival, Ojai Festival, Ottawa Chamber Festival, Aspekte Festival (Salzburg), and Kunst Universitaet Graz (Austria).
Lippel has been a member of the International Contemporary Ensemble (ICE) since 2006, counter)induction since 2019, FretX duo with Mak Grgic since 2015, as well as a guest with many other ensembles. He has worked closely with many eminent composers including Mario Davidovsky, Nils Vigeland, and John Zorn, and collaborated with several prominent mid-career composers, including Dai Fujikura, Tyshawn Sorey, Reiko Fueting, Du Yun, Mikel Kuehn, Christopher Trapani, Ken Ueno, and Wang Lu. In addition to New Focus, he appears on recordings on several other labels including Kairos, Bridge, Innova, Sono Luminus, Albany, Tzadik, Wergo, and New World, and as a producer on several New Focus releases. As an educator, Lippel has given guitar masterclasses and presentations at institutions including the Hanns Eisler Hochschule (Berlin), Curtis Institute, Sydney Conservatorium of Music (Australia), San Francisco Conservatory, Cleveland Institute of Music, Peabody Institute, University of Texas at Austin, and New York University. He received a Doctor of Musical Arts degree from the Manhattan School of Music studying with David Starobin, writing his dissertation on the guitar works of Mario Davidovsky.
https://danlippel.com/
About Walden Online Workshops (WOW!)
The Walden Online Workshops (WOW!) are a series of lectures, demonstrations, classes, and presentations on a variety of musical topics, presented over video call by The Walden School's teaching faculty, artists, and special guests. WOW presentations are free and open to alumni of CMR, YMP, OYME, OCME, TTI, and JCC, parents, donors, faculty, staff, artists, and members of the public. Please feel free to invite your friends and colleagues to join us!