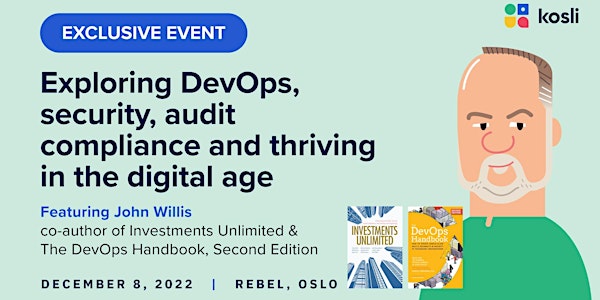 Exploring DevOps, security & audit compliance - Thriving in the digital age
A special DevOps conference for technology leaders in financial organizations. Learn how to improve on old approaches to risk management.
When and where
Location
Rebel 2 Universitetsgata 0164 Oslo Norway
About this event
Tech leaders in finance know the tensions between software automation and regulatory compliance. New tools and processes promise faster lead times, but where does change management and compliance fit into this new automated landscape? Is there a tradeoff between speed and compliance? Can we have it both ways?
Investments Unlimited, the latest bestseller from IT Revolution, takes a deep dive into this very topic and John Willis, one of its co-authors, is here to take you on a guided tour. John will take you through the story of how Investments Unlimited was written before taking a close look at how we can improve on traditional approaches to risk management.
Speakers and Agenda
🎤 John Willis, Distinguished Researcher @ Kosli - Inside "Investments Unlimited"
🎤 John Willis, Distinguished Researcher @ Kosli - DevSecOps: The Broken or Blurred Lines of Defence (followed by Q&A)
🎤 Alex Kantor, Director of Technology @ Modulr -The Misunderstood Troll
🎤 Diptesh Mishra, CTO @ Shoal- Regulations vs DevSecOps: Requiem
🎤 Espen Thomassen Sæverud & Øyvind Fanebust, CTO & Partner @ Stacc - Help, we're doing ISO! Why, what, and how? Continuous Compliance
🎤 Mike Long, CEO @ Kosli - Modern Governance Demo with Kosli
🎤 Panel Discussion with Lamishi Gurah, Service Owner / Head of IEP Engineering Productivity @ DNB - How can tech bridge the gap on compliance, audit, risk and security?
We will wrap up the day with food, drinks and mingling! 🍻