| | |
| --- | --- |
| Exploring Biographical Docs & Latest Solutions from OWC @ March 11th LAPPG | |
Event Details
Join us as we explore the making of biographical documentares as well as the latest solutions from OWC at March's LAPPG Meeting.
EXPLORING BIOGRAPHICAL DOCUMENTARIES

Jon Kean & Anne Stein, the director/editor team behind the documentaries Swimming in Auschwitz and After Auschwitz will be presenting their experiences working in the biographical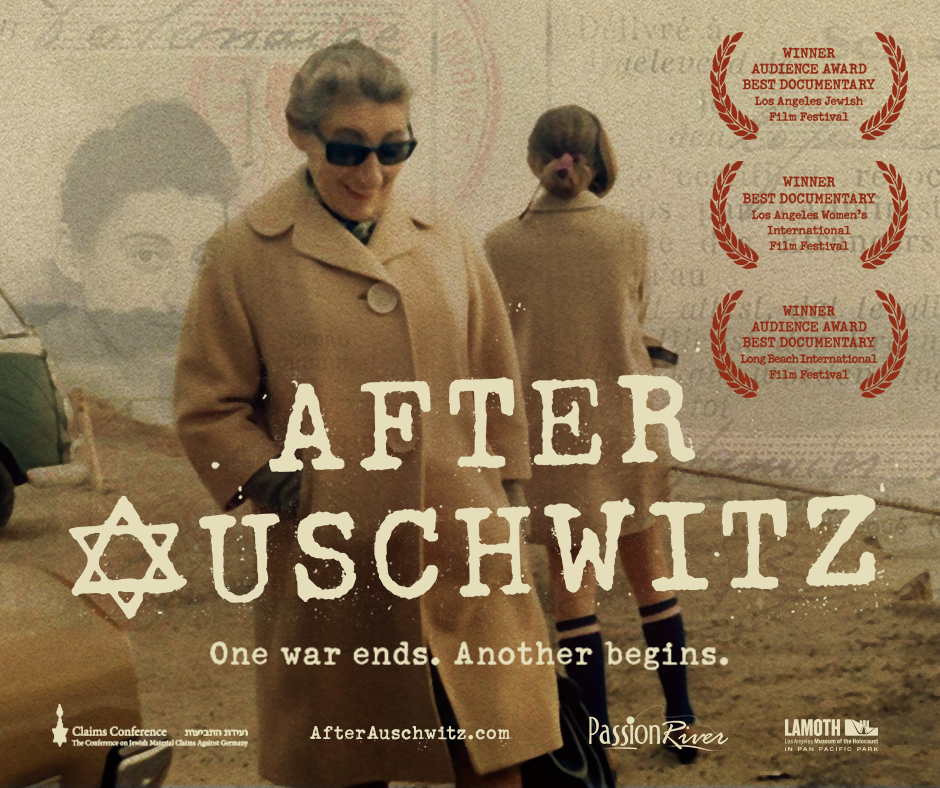 documentary genre. They will discuss the creative and technical strategies and decisions that were used to bring these historically significant films to life.

Jon, who started in the theatre world in LA and New York, has been a filmmaker since his directing debut Kill the Man opened at Sundance in 1999. He is currently in production on two new documentaries including a project about Rwanda 25 years post-genocide.

Anne started her editing career in the sound department of Milos Forman's film, Hair. As an editor she has worked extensively with Freida Lee Mock as well as other Los Angeles based directors and has always gravitated to projects that reflect a social and emotional sensibility in line with her personal values.


THE LATEST
SOLUTIONS FROM OWC
OWC's Director of Business Development, Richard Wright, will visit LAPPG's March meeting to discuss the new OWC Mercury Helios 3S PCIe card expansion chassis for Thunderbolt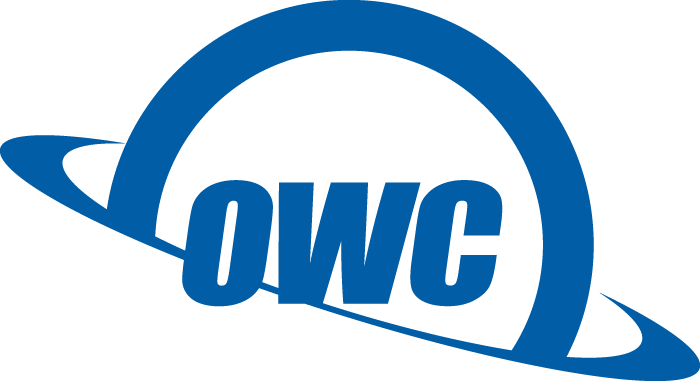 3-equipped Macs and PCs. It adds an external PCIe slot for quick and easy addition of pro-level PCIe cards, and its dual Thunderbolt 3 ports offers the ability to daisy-chain up to five additional Thunderbolt peripherals. Along with the Helios is the OWC U.2 NVMe Interchange System, an optional companion to the Mercury Helios 3S that converts it into a fast-swappable U.2 NVMe SSD storage system. Richard will also have on-hand the newest technology products from OWC including storage and connectivity solutions.

Richard is looking forward to meeting attendees and the opportunity to not only introduce them to the latest solutions from OWC, but to discuss member pain points and workflow needs, so that OWC can continue to produce the solutions that creatives need to deliver their stories.


$8.00 cash kindly requested at the door will include 1 giveaway ticket. (Please note the new price for entrance. Pricing for extra tickets for the giveaway will remain the same.)

Location: 

 Roth Hall

1714 21st Street

Santa Monica, CA 90404
Click for a map here. 
*Street parking is available as well as a Crossroads parking lot on 22nd Street.
**We encourage ridesharing and public transportation. The Metro has two stops within walking distance of the meeting space.
PRODUCTIONS: COMING SOON TO PREMIERE
New tools for managing film projects and collaborative workflow
Adobe is previewing Productions, a new feature set, coming soon to Premiere Pro. Productions provides new tools for managing projects, sharing assets between them, and keeping everything organized, whether you're working on your own or collaborating with a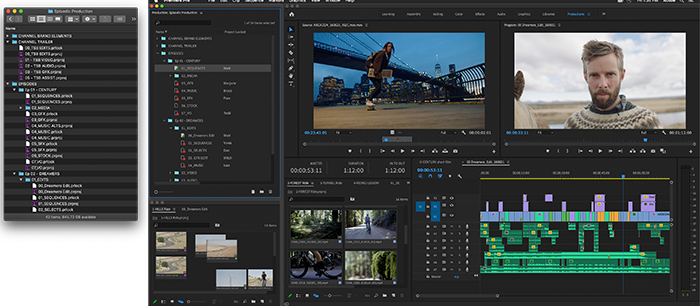 team.
The new Productions feature set for Premiere Pro was designed from the ground up with input from top filmmakers and Hollywood editorial teams. Early versions of the underlying technology were battle-tested on recent films such as Terminator: Dark Fate and Dolemite is My Name. Special builds of Premiere Pro with Productions are being used now in editorial on films like David Fincher's MANK.
For more information, please visit:
---
FROM THE LAPPG BLOG: MEET CHARMAINE CHAN, VISUAL EFFECTS & COMPOSITOR

Posted: February 28, 2020
If you are a fan of VFX and the amazing work being done from ILM, then we're excited for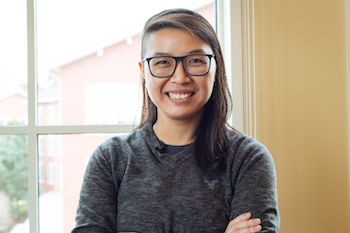 your to meet Charmaine Chan. She kindly took time out from her busy life across the pond at ILM London to talk to us about her work as a VFX artist on some of the world's biggest movies as well as her own project which highlights women in the VFX community.

Interview by Wendy Woodhall

Los Angeles Post Production Group: When people find out you work at Industrial Light & Magic I'm sure they are impressed as well as curious about what it's like being part of the team there. So starting off, you came out of college and ILM was your first job. Were you a big Star Wars fan and did you think as a young person that you would have the opportunity some day to make serious contributions to this legendary franchise?

Charmaine Chan: So surprisingly, I got introduced to Star Wars much later in life. I saw most of the films during my high school years, and thoroughly enjoyed them, but it wasn't my original inspiration into loving films and visual effects. It was actually Indiana Jones and Jurassic Park! I remember watching them as a kid and thinking they were all real life! So I had no idea that it was a profession I could get into, I just thought they were documentaries! But growing up, I had a strong love for both art and technology. I wanted to get into something that incorporated both and visual storytelling. I had no idea the giant breadth of work that ILM did, I had an inkling, but when I first started my first project was Transformers, and I had NO idea what that franchise would become. So being able to work on that, Harry Potter, Mission Impossible, Jurassic, Star Wars, and all the new Marvel Cinematic Universe films has been an absolute dream come true, and I am so grateful for those opportunities.

LAPPG: I know one of the things that most excited you was that you got to be part of the creation of the porgs (wide-eyed avian creatures native to Luke Skywalker's planet). What was it about these little creatures that you think connected to the audience and what criteria did you consider when you worked on creating them?

CC: One of the most fun things about the Star Wars universe are all the creatures that come out of it! When I first saw the concept artwork for Last Jedi, and saw all these creatures, I ran immediately to my coordinator and pleaded with her to give me at least one shot of each of those creatures.
---
BLACKMAGIC DESIGN NAB SPEAKERS NOT TO BE MISSED

Blackmagic Design is hosting a unique collection of speakers at their 2020 NAB Show booth

, from April 19th through the 22nd. Guests from some of the biggest films, YouTube channels, live events and post houses will be talking about their projects, with an opportunity for attendees to ask questions, all right at the Blackmagic booth! Make sure to include these in your NAB Show 2020 plans!

Here's a sampling of some of the guests:

Sunday, April 19th

1:00pm — Designing a Look From Scratch: Colorist Jill Bogdanowicz of Company 3 Shares Insights on Feature Film Look Creation
    
Jill Bogdanowicz, Co-Creative Head of Feature Post at Company 3, will discuss the extensive process of collaboration and experimentation involved in developing unique looks for films such as Joker, the John Wick series and others, touching on the specific expectations and needs of the filmmakers in coming up with an overall approach and the delicate detail work of massaging it into a feature a shot at a time.

5:00pm  — Gerald Undone: Working Smarter, Not Harder with Blackmagic Products

YouTuber Gerald Undone discusses how his workflow has improved since integrating Blackmagic's offerings into his production such as shooting with the Pocket Cinema Cameras, editing in DaVinci Resolve, and live streaming with the ATEM Mini.

Monday, April 20th

1:00pm  — Virtual Production: On Set Visual Effects in Real Time

Sam Nicholson ASC, Emmy-award winning cinematographer and visual effects director, known for his work on "Star Trek - The Motion Picture", Walking Dead, Grey's Anatomy, and CSI will discuss the advances in modern visual effects and highlight his recent advances in creating real time effects using Stargate Studios' new real time VFX process, ThruView.

3:00pm — Shin Lim Magic: How to perform closeup magic for an audience of 1,300

Award winning magician Shin Lim is known for his stunning closeup magic, illusions designed to be seen in small crowds and intimate settings. But after winning America's Got Talent, and being asked to build a Las Vegas show, he had to solve the problem of bringing his work to a much larger audience. In this interview, Shin will talk about using Blackmagic Design tools to create a seamless experience for a massive audience, without losing any of the magic.

5:00pm  — The Making of Chalk Warfare 4.0

Filmmaker Sam Wickert from SoKrispyMedia is joined by Visual Effects artist Brendan Forde as they talk about creating the newest installment to their Chalk Warfare franchise, and how a Blackmagic Design workflow, from acquisition through post, helped them take the battles to the next level.

Stay tuned to the Blackmagic Design website for announcements of more speakers coming soon!

---
SUBSCRIBE TO LAPPG'S YOUTUBE CHANNEL TO CATCH UP ON MISSED MEETINGS
SONY opened the doors on it's new Digital Media Production Centerto LAPPG members and showed us around. They have a mock set with a lighting grid for camera review. Rooms for camera calibrations and testing, as well as quiet spaces for reflection and lounging. They have a 24 foot Crystal Display theatre that offers over 37 million sub pixels for perfect representation of the Sony Venice images. It is a full capture and display center right in the heart of Los Angeles.

In their spacious main room they had a panel discussion for Freeform Production's program "Motherland: Fort Salem" with the post team who worked both on set and off to create this amazing series. Sony offered a wonderful spread of food and beverages for all attendees. The night was capped off with a raffle of their fantastic still camera the Sony RX100.
Watch here: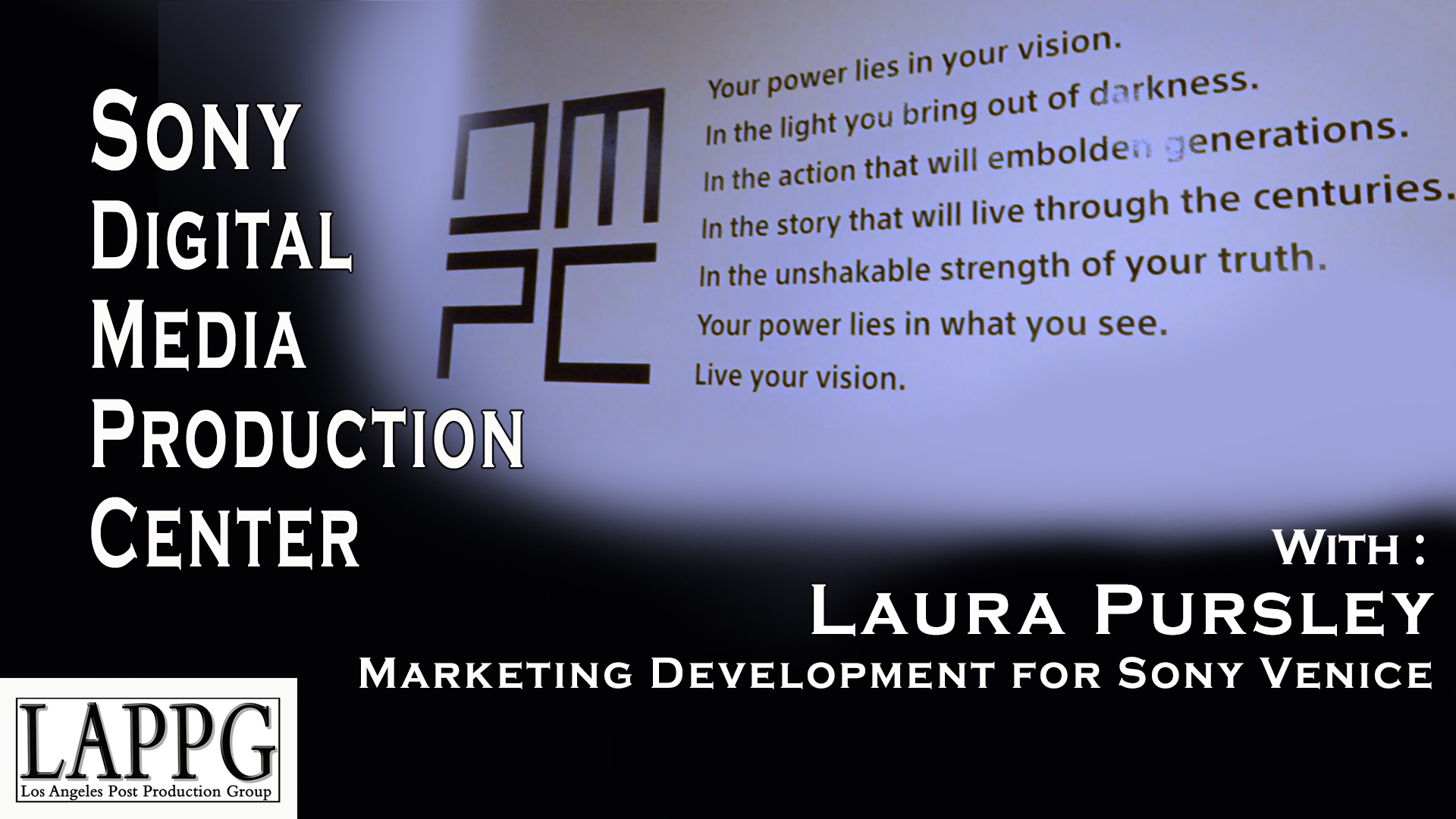 Click the button below to SUBSCRIBE and be notified as new videos hit our YouTube Channel!

---
LAPPG MEMBERS TO RECEIVE $500 OFF FIRST CLASS AT TRADE/CRAFT
Trade/Craft
is a unique trade school that teaches not just the theory, but the practical, day to day job that you will need to know; everything from the forms you need, the way you talk to other creatives and literally the what-do-I-do-on-day-one

questions for the job. Their instructors are not only experts, but they are working in the industry they are teaching as we speak, so they know how it's done, and can teach you how to do it right.
Add to that their new
Placement Portal
, and you have a better chance of landing the job of your dreams more quickly. Simply take a class, get Certified by their industry panel, and your resume will be sent directly to a number of great companies who look to hire trained talent just like you! See the list of who is in their Placement Portal now
HERE
and check back often. They're always adding more companies from around the industry who are eager to be a part of Trade/Craft.
Now all they need is you.
Be sure to check out their upcoming

3-Day Intensives

from June 26-28, 2020.
Visit
http://www.trade-craft.org
and use code LAPPG500 for $500 off your first class!
---
THE SUPERMEET RETURNS TO NAB SHOW IN LAS VEGAS 2020

SuperMeet 2020 is the ultimate community event for creatives to foster interaction, fresh ideas, decisive collaboration, and empowerment. It's a time-honored, inclusive event that places you front and center with NAB Show 2020's diverse community of established production and post-production professionals, independent and student filmmakers, and digital media creatives.

This year, the SuperMeet takes place at the Westgate Las Vegas Resort & Casino on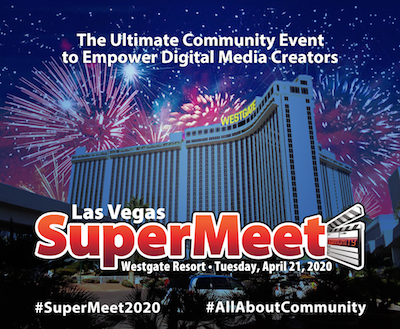 Tuesday, April 21, 2020. The theme for this year's SuperMeet is "Everyone is a Broadcaster." In this SuperMeet, notable filmmakers and industry thought thinkers will engage in forward-thinking and inspiring conversations. This event will be perfect if you are seeking to expand your network and optimize yourself for growth and success as a content creator.

This year's SuperMeet is also organized differently. The stage portion is halved to allow for more time for networking with fellow creators, vendors, and special guests. Throughout the evening, attendees will also have the opportunity to win raffle prizes worth thousands of dollars!

Now you can get SuperMeet tickets directly off of NABShow when you register for a free Exhibits Hall pass or via the SuperMeet website. Early bird tickets are $10 for general admission and $7 for students! Also included in each ticket purchase is 2 free raffle tickets for prizes!

Be sure to look for us! We'll have our own LAPPG table at the event for the first time. See you at SuperMeet 2020 at NAB Show in Las Vegas!
  

---
ATTEND NEW SESSIONS AND FIELD WORKSHOPS AT NAB SHOW LAS VEGAS 2020!

Post|Production World returns to NAB Show Las Vegas on April 18-22, 2020 with cutting-edge training sessions and field workshops taking place at the convention center and at real-life studios for a fully immersive learning experience. The multi-day event is geared towards media professionals who are seeking to learn new skills, improve their workflows, and become more knowledgeable on the latest software and content creation trends.
Don't miss exciting keynotes on April 19th from Oscar-nominee, Jeff Groth at NAB Show in Las Vegas. Jeff Groth is known for his work on the films Joker, War Dogs, and Hangover III with director Todd Philips. Also, Emmy-award winning cinematographer, Sam Nicholson, will present a special keynote address. Sam Nicholson, ASC is the CEO & founder of @StargateStudios, a visual effects production company. He is most known for his work on Star Trek: The Motion Picture & The Walking Dead.

Sessions will include production techniques, motion graphics training, a podcast
bootcamp, and hands-on training on After Effects, Final Cut Pro X and DaVinci Resolve. In addition, to the extensive training program held in the breakout sessions at the Las Vegas Convention Center, several field workshops will take place in a real-world setting. Workshops include a 2-day, 360/VR Production Field workshop taught by Nick Harauz, who will educate attendees on 360 video production for immersive content creation. Jem Schofield will host his usually sold-out small-to-no-crew corporate and in-house production workshop. Douglas Spotted Eagle will also teach beginner and advanced sessions on UAV production for those interested in using Small Unmanned Aerial Systems (sUAS or Drones) during their video shoots.

A new pass option called the Hands-On Studio Experience features interactive training. This is your chance to go into the field with leading experts and see real-world workflows and gear in action, at The Space, an offsite studio venue. You can choose to attend one, two, or all three days. Each day offers 4 rooms with mini workshops taking place in each room, allowing attendees to rotate between training sessions of their interest.
And don't miss the LAPPG's own Woody Woodhall, CAS and EditBlog's Scott Simmons session on Audio for Video Editors!

The training sessions and registration packages are available on the NAB Show Las Vegas website.

All LAPPG members can save $100 off the PPW Full Pass with code PPW10.


 https://nabshow.com/2020/learn/conferences/post-production-world/
---
RECAP OF FEBRUARY 2020 MEETING

For the 2nd year in a row we had a Valentine's meeting visit from the LOVE-ly

Mary Poplin

from Boris FX. The evening started with members checking in and each receiving beautiful journals and pens from the our fantastic partner,

Shutterstock

. These were used to take notes during our first presentation and for our members to use to do their own journaling to help reduce stress. The journaling advice was only a small part of the wisdom that came from the entertaining and informative presentation from Licensed Marriage and Family Therapist Bill Leavitt. He discussed the often ignored topic of mental well-being and shared insights on the topic of stress which affects many of us in this industry when we are dealing with job insecurity, deadlines and long work hours. He shared some helpful tools for dealing with stress including The Four Fold Breath and No-Thing Meditation.
After his presentation we enjoyed some Valentine's themed refreshments during the networking break and then Boris FX's Senior Product Specialist Mary Poplin came to the stage to present an overview of the latest 2020 releases of Sapphire, Continuum and Mocha Pro. There was a lot of ground to cover and Mary, in her own inimitable fashion, knocked it out of the park by showing us many new features as well as showcasing the power of the newly acquired Silhouette. Silhouette is a best-in-class, GPU-accelerated compositing application, delivering the industry's most robust, non-destructive, paint and roto tools for feature film and visual effects teams. We were all wowed! At the end of the evening we had another amazing giveaway thanks to our generous partners.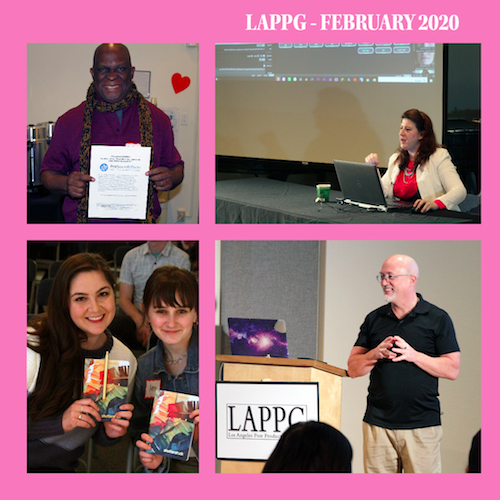 For more photos click here.   
 (Please tag yourself on Facebook since the platform no longer allows us to do so.)

---
REGISTRATION IS OPEN FOR CINE GEAR EXPO 2020

Cine Gear Expo 2020 is the premier annual event for professionals engaged in the film and entertainment technology industry.  The show lasts four days in Los Angeles this June 4 – 7 at Paramount Studios in Hollywood, California.

Cine Gear features 300 exhibits, new product and service introductions, 30+ complimentary seminars led by industry leaders, master classes, film competition, awards ceremony, special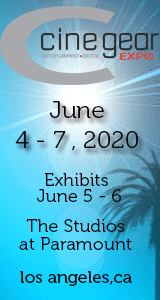 screenings in state of the art theaters, and ample opportunity to network with peers within a studio environment.

Attendee Registration is open!

All attendees must complete the Cine Gear Badge online registration process.         
http://www.cinegearexpo.com/la-expo-attendee-registration


Registration is free until May 23rd, 2020 11:59pm PDT.
Explore and compare the latest tools and services in entertainment technology. Get educated and inspired while gaining insight from old friends, new friends, and everything in between.

Schedule of Events

• June 4 — Film Series Competition Screenings, Technical Awards
• June 5 - 6 — Exhibits, Premier Seminars, Exclusive Screenings, Awards Presentations, Special Events
• June 7 — Master Classes

Updates to the exhibitor list, event map, schedule, presentation topics, speakers, and screening engagements will be posted to the website regularly.    



http://www.cinegearexpo.com
---
SAVE THE DATE FOR THE NEXT BLACKMAGIC COLLECTIVE


Be sure to mark your calendars for March 19th's next Blackmagic Collective event where the theme is "Pitching Your Project".  There will be guests who have sold shows and even some execs from companies who get pitches. Should be interesting!
---
Adobe, Advantage Video Systems, Blackmagic Design, BorisFX, Cine Gear Expo, Digital Rebellion, Indie Shooter, iZotope, Mercury Production Report, MovieMaker Magazine, NewFilmmakers Los Angeles, Other World Computing, Pro Sound Effects, Pro Video Coalition, ProductionHUB, Shutterstock, SONY Electronics, Sound & Picture, The Telly Awards, Vimeo, Zeiss
We look forward to seeing you on Wednesday, March 11th!

Los Angeles Post Production Group
Please visit www.lappg.com for discounts, job listings, industry news and more.
When & Where

Crossroads School - Roth Hall
1714 21st Street
Santa Monica, CA 90403


Organizer
The Los Angeles Post Production Group is a professional organization for people with a passion for film, video and the digital media finishing process.

The LAPPG discusses all aspects of post production, from picture and sound editing to color correction, visual effects, codecs, storage and post workflows.

Expert presenters and leading companies come to our monthly meetings and share new technologies, techniques, tools, products and best practices to aid us in telling great stories.
We also provide our members with great offers and discounts as well as opportunities to network and make industry connections.
Membership is free and you need not live in Los Angeles to take advantage of this great resource.
To become a member please email your name and information about yourself to membership@lappg.com.