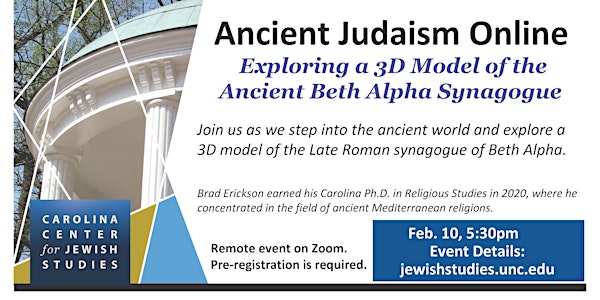 Exploring a 3D Model of the Ancient Beth Alpha Synagogue
Join us as we step into the ancient world and explore a 3D model of the Late Roman synagogue of Beth Alpha. Participants will have the optio
About this event
Join us as we step into the ancient world and explore a 3D model of the Late Roman synagogue of Beth Alpha. Participants will have the option of creating an avatar to join in the virtual synagogue or they can watch the talk through Zoom. [Avatar set-up is very quick and attendees will do this once the talk begins.] During the conversation, Brad will describe how digital tools are changing the study of ancient Judaism; give a tour of the Beth Alpha synagogue; and analyze the the personifications of the seasons, zodiac, and the sun god Helios that all appear in the synagogue. This will be an interactive talk, and while not required, participants are encouraged to explore the 3D model and ask questions.
Brad Erickson completed his Ph.D. in Religious Studies in May, where he concentrated in the field of ancient Mediterranean religions.
Thisevent will be recorded, and by joining in our session you are consenting to be recorded. The recording will be made available on our web and social media sites.