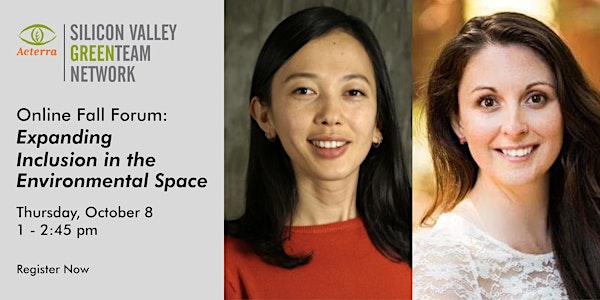 Expanding Inclusion in the Environmental Space
Join us for this Silicon Valley Green Team Network Forum to learn about how to incorporate equity, diversity and inclusion in green teams
About this event
The Silicon Valley Green Team Network is comprised of volunteer representatives and sustainability professionals from a company or organization who strive to increase sustainability within their workplace.
Silicon Valley Green Team Network Fall Forum: Expanding Inclusion in the Environmental Space.
Keynote Speakers:
Parwana Ayub – Environmental Equity Policy Fellow, The Greenlining Institute
Parwana's passion for environmental justice is motivated by her personal history. Growing up in underserved communities in the Bay Area and abroad, Parwana understands that when it comes to addressing environmental issues equitably and inclusively, we must acknowledge their race and class dimensions. As a policy fellow, Parwana is looking forward to serving her Bay Area communities while learning about the policy landscape.
Diedre Tanenberg – Public Affairs Assistant Coordinator, San Francisco Department of the Environment
Diedre has been a recycling and waste reduction advocate for several years. Her passion focuses on laying the groundwork to establish public education & outreach materials for the Deaf & Hard of Hearing community in all things related to sustainability. Currently, she is a Public Affairs Assistant Coordinator for the San Francisco Department of the Environment where she supports the Policy and Public Affairs Officer.
Interactive Work Sessions: After our keynote speakers present, guests will be participate in a breakout session where groups will discuss and creatively think of ways they can expand inclusion into their green teams and work space.
This event will be ASL interpreted. If you anticipate needing any type of accommodation or have questions about the access provided, please email us at greenteamnetwork@acterra.org
This will be a virtual event hosted through a third party application. The link to this virtual event will be provided once you have registered.