Exile and Resistance Lecture Series Presents: Last Letters
Date: April 19, 2021 Time: 5 PM PST / 8 PM EST **Zoom link will be posted and sent to those who RSVP closer to the event**
About this event
ZOOM LINK: https://usc.zoom.us/j/99392568875
Dorothea and Johannes von Moltke, grandchildren of Helmuth James von Moltke and his wife, Freya, discuss "Last Letters: The Prison Correspondence Between Helmuth James and Freya von Moltke 1944-45," a profoundly personal record of the couple's love, faith, resistance, and courage in the face of fascism.
In 1940, a group of politicians and intellectuals gathered together to plan a different and bette Germany. They met at Kreisau, the von Moltke family estate, and hence became known as the Kreisau Circle, one of the most important resistance movements against the Nazis. Many members of the Circle were attached to the assassination attempt on Adolf Hitler. The trail of that failed coup led back to Helmuth, and he was sent to prison to await trial and execution. By a stroke of good fortune, Helmuth and Freya were able to exchange near daily letters until his execution in January 1945. Freya guarded this treasure for another half century, but considered it too personal for publication during her lifetime. After her death in 2010, the letters were published to great acclaim in Germany, and they are now available in an English translation by Shelley Frisch, which is introduced and edited by Helmuth and Freya von Moltke's son Caspar and their grandchildren Dorothea and Johannes von Moltke.
The presenters will discuss the letters against their familial and historic backdrop and reflect on their contemporary relevance.
Dorothea von Moltke received her PhD in German literature from Columbia University. She is a co-owner of Labyrinth Books in Princeton and has a sustained engagement with social justice issues, particularly through building libraries in NJ prisons and, most recently, through Princeton Mutual Aid.
Johannes von Moltke received his PhD in Literature from Duke University. He is a Professor at the University of Michigan, where he is jointly appointed in German Studies and Film, TV & Media.
Dorothea and Johannes are the grandchildren of Helmuth James von Moltke and his wife Freya.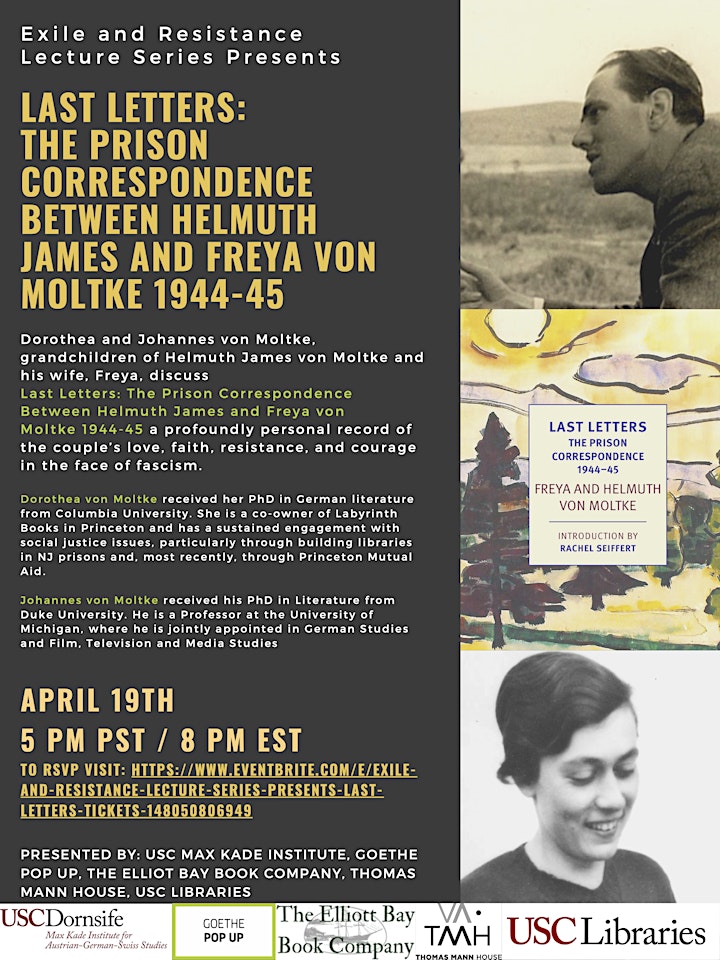 Organizer of Exile and Resistance Lecture Series Presents: Last Letters