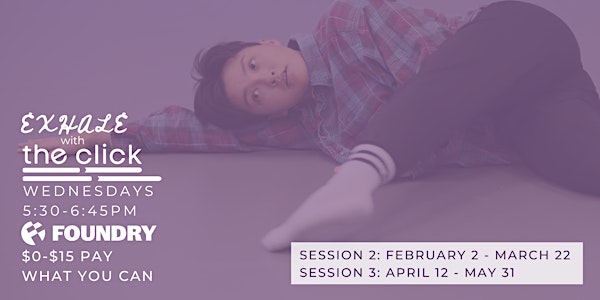 Multiple dates
Exhale with The Click
All bodies and levels are welcome for this mindful movement class centering joy in motion.
When and where
Date and time
February 1 · 5:30pm - May 31 · 6:45pm EST
Location
The Foundry 101 Rogers Street Cambridge, MA 02142
About this event
"Exhale with The Click" is a mindful movement series taught by Lonnie Stanton, Kristin Wagner and Angelina Benitez designed for all bodies and movers. Pulling from our collective experiences as somatic practitioners and contemporary dancers, the improvisation class will offer rest for the mind, release for the body, and an opportunity to connect the two through a combination of guided improvisations community-built choreography.
Session 2 Schedule:
February 1: Kristin
February 8: Kristin
February 15: Angie
February 22: Lonnie
March 1: Angie
March 8: Angie
March 15: Angie
March 22: Angie
Session 3 Schedule:
April 12: Kristin
April 19: *SPECIAL GUEST: KATRINA!*
April 26: Angie
May 3: Kristin
May 10: Angie
May 17: Angie
May 24: Angie
May 31: Angie
About The Instructors:
Angelina Benitez graduated from Salem State University with a B.A in both Modern/Contemporary Dance and has since studied at Bates Dance Festival and continues to study with local Boston-based artists. Her choreography at Salem State was presented at Boston's American College Dance Association Conference and earned her a Presidential Arts Scholarship and a Creativity Award in Dance. Angie has immersed herself in teaching dance in the Greater Boston area at local studios, schools, and residencies. Her recent performance experience includes local arts festivals and events such as Verse / Visual, 24 Hour ChoreoFest, Salem Arts Festival, Art Walk with Luminarium, and more. Much of her work is focused on collaboration. When she's not teaching dance, you can find her working as a social media strategist, creating fiber art, and taking pole dance classes.
Katrina Conte is a dancer and choreographer based in Boston MA. She was raised in Mt Pocono PA, where she attended the Lehigh Valley Charter High School for the Arts. Katrina graduated with her BFA in Dance with a minor in Technical Theater from Ball State University. She has had the opportunity to work with Sidra Bell, Jamy Meek, Shen Wei Dance Arts, Noa Shadur and Kairos Dance Theater. Katrina also has a passion for lighting design; she designed several dance shows at Ball State, and has had the opportunity to work as a technical crew member for Terri O'Conner, Rosie Herrera Dance Theater, Paul Taylor, Pilobolus, and Shen Wei Dance Arts. For the 2022-23 season, she is dancing The Click, Alive Dance Collective and Luminarium Dance, she is so excited to share this season with these inspiring artists.
Lonnie Stanton is a proud native Hawaiian raised in rural Northern California and based in Boston. For the last decade Lonnie has been committed to dance education with a strong somatic focus as well as a professional contemporary performance career. She graduated from the Boston Conservatory with a BFA in Dance (2009) and has completed her 200 hour yoga certification through Yogaworks (2011). For 10 years she worked with Prometheus Dance performing and teaching with the company. Lonnie is a freelance dancer performing with Jean Appolon Expressions, Peter DiMuro/ Public Displays of Motion, Callie Chapman, Lynn Model, and BeHeard.World. During her time dancing in NYC, she worked with Kinesis Project Dance Theater focusing solely on site specific performance. Stanton is passionate about sharing dance in unconventional, often outdoor spaces where a broad audience can be reached. She has produced and structured dance for film or public space for the American Repertory Theater, Somerville Arts Council, Neoscape (advertisement), Tamara Al- Mashouk, Silvi Naci, Moe Pope, Linda Tegg, and Toni Lester (all visual or sound artists). Stanton is on faculty at the Boston Conservatory at Berklee, The Harvard Dance Center, and Deborah Mason School of Dance. Bringing dance education into public schools through Notes in Motion, New York City Ballet, and Boston Ballet has been especially rewarding to Lonnie.
Kristin Wagner is a movement enthusiast living, learning and growing in the Greater Boston area. Since 2012, Kristin has been performing with a number of local contemporary dance theater companies and freelance choreographers, most notably: KAIROS Dance Theater, for whom she serves as Rehearsal Director and Principal Dancer, and Peter DiMuro/Public Displays of Motion. As "Decent Dance", Kristin - with partner Tony Guglietti - creates accessible contemporary performance works that dabble in comedy, dramedy, and all things silly, sweet and true. Kristin also creates work independently and as part of "The Click". She has also implemented educational programming and structural administrative systems for a number of established and influential community dance institutions, most notably The Dance Complex, and now, primarily, for The Click. In her administrative work, Kristin is motivated by the mission to make the experience of movement more financially, emotionally, intellectually, and physically accessible for students, performers, and audiences alike. With a passion for supportive, rigorous, and eclectic dance education, Kristin has shared these philosophies and more with students ranging from youth to adult in competitive, pre-professional, and collegiate environments across Massachusetts. In all that she does, Kristin is guided by the belief that authentic, uncensored movement can be a pathway for personal growth, authenticity, and healing. She is fiercely femme-focused and painfully Type A, plays mom to cat Lilah and puppy Lola, and inappropriately (but lovingly) inserts herself as co-parent to her niece and nephew, Jamie and Owen.
About The Click:
Developed in 2021, The Click is a collaborative dance company and creative collective in Greater Boston. Its members are dancers whose primary medium of physical expression is through contemporary dance forms, but who experiment in many modes and genres of creativity. As a collective, The Click's members are each deeply invested in answering the universally complex question: who am I and what am I doing here?
The Click contributes to the consistent presence of creativity in Boston and beyond in several ways: by educating pre-professional youth dancers, professional adult dancers and the dance-curious of any age; performing original creations several times a year at traditional and non-traditional venues across Massachusetts, New England and beyond; and by investing in the curiosity of those new to dance in Boston or new to dance in general by maintaining an open, inclusive and accessible community.
Follow us on Instagram: @the.click.boston